Painted pianos bring peace to Atlanta
By Tyler Jones , Henry W. Grady High School
October 2, 2018
Composer and activist Malek Jandali performs a peaceful demonstration near the front of the White House in Lafayette Park in Washington D.C. in July of 2011. Playing "Watani Ana" or "I Am My Homeland," Jandali speaks out against the atrocities of the Syrian civil war. Shortly after this performance, his parents are severely beaten in their home back in Syria.
"I performed for freedom and supporting the children of Syria as an American artist," Jandali said. "Within 72 hours, my dad was handcuffed and forced to witness the torture of my mother in their bedroom. My mother was screaming and said, 'Why are you doing this?' and they told her, 'Because of your son's music.'"
Ever since the attack on his parents, music has taken on a whole new meaning for Jandali. From creating pieces about global conflicts like "The Silent Ocean" to founding the non-profit Pianos for Peace, Jandali has combined his musical abilities with a passion for world change to impact his community.
"It's not a joke for the head of state, the dictator, to make an executive decision to send 'the police' to attack your mother in her bedroom," Jandali said. "Music is powerful; it can impact people. That's where Pianos for Peace came along. I said, 'If music can impact people in such an ugly way, maybe we can do the opposite.'"
Founded in 2015, Pianos for Peace is an Atlanta-based organization that aims to spread peace through music. From Sept. 1-21, the organization placed 50 painted pianos around Atlanta — from MARTA stations, to the BeltLine, to the airport. The pianos are eventually donated to schools and nursing homes throughout the city.
"Visual arts have incredible capacity to touch people in their lives, but I think there is something with music that from a very young age we remember music," said Michael Hobbs, who joined the Pianos for Peace team after meeting Jandali through Georgia Lawyers for the Arts. "I think Pianos for Peace [puts] people in places they haven't been in the past as recently, and it's immediate … A lot of public art can be 'don't touch,' and this is the opposite."
Grady became involved with the organization after being chosen to paint one of the public pianos. Covered in geometric patterns and branded with the Grady logo on the front, AP art students spent time after school designing the piano's final look.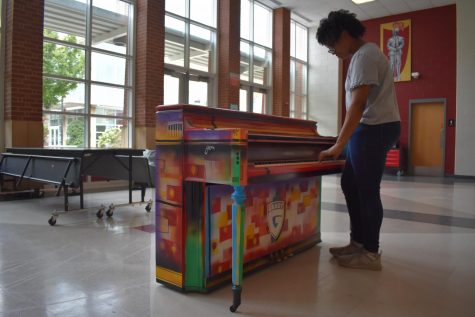 Pianos for Peace is part of a larger movement of public art. From New York to Rome, public pianos have become a staple of subways and street corners. David McGough travels globally to perform on street pianos and came to Atlanta to play with Pianos for Peace, despite the limited number of pianos on display in the beginning of the event.
"You meet some strange folks when you sit on a piano and play it in the street," McGough said "I think that the merger of the art and the music makes a pretty powerful statement … What it really does is make people stop on the street and come together and go 'Oh, I know that song,' or 'Let me play one for you, do you remember this one?'"
The organization brings together schools, community centers and individuals to design and paint the pianos. Everyone from children playing "Chopsticks," to passersby playing Beethoven, to even dogs, can be seen interacting with the pianos.
"When they are playing the piano, you can tell it touches some curve of chord or note in their own lives where they remember a different time or place, and we hope that gives them hope to come home to that place again," Hobbs said. "It's not limited as to who it touches. I think it really expands past age, race, economics and I think there is something really magnificent about something that can touch people in that way across the spectrum of experiences in Atlanta."
Jandali uses his diverse background to combine elements of music from around the globe to unite people. He even notes differences between composition in the East and in the United States.
"I get all of these modes, or we call them 'makams' in the East, and they are different from the scales, which only have majors and minors, and with the makams, we have so many other things," Jandali said. "We [in the U.S.] only have flats and sharps, and we have half-sharps and quarter tones. It's all about the human emotions and expressions. I consider myself very lucky to have all of these cultures embedded in my soul and in my music … because I am trying to preserve the beauty of my culture at the very moment it is being eradicated."
Ever since the the creation of Pianos for Peace, Jandali has been astounded by the impact music has made in the city … From commuters taking time out of their day to tap out a tune, to schools creating music programs after the donation of pianos, Pianos for Peace has worked to create a more united community.
"It is social," Jandali said. "There's nothing more social than making music. It takes an orchestra, it takes an audience, and it's amazing. We are all in a symphony for peace."
This story was originally published on The Southerner on September 26, 2018.