Walking through the decades
By Ellie Melvin, Lake Zurich High School
October 23, 2018
Students took a trip through the decades this Tuesday as they walked down hallways decked out in retro fashion for homecoming week.
The school's diverse clubs set the atmosphere with hallway decorations mirroring the Bears Through the Decades theme. The decorations transformed the school, but a few truly stole the spotlight.
Most Eye-catching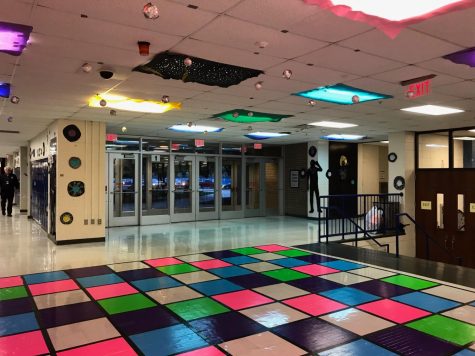 Disco decorations are hard to miss, especially when you can walk right onto the dance floor. National Honors Society took on the area outside the main office and library entrance to recreate the classic disco scene. The vibrant checkered floor tape and corresponding light colors created a complete and groovy atmosphere to explore. Every surface was used in this transformation, and the unique use of the floors made this hall stand out.
Most Crafty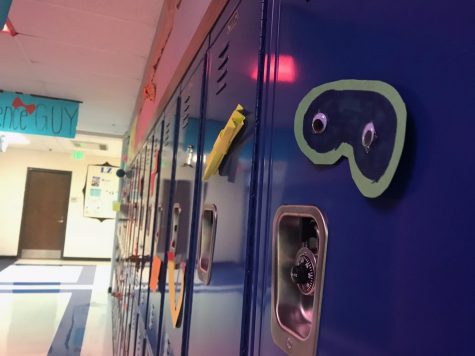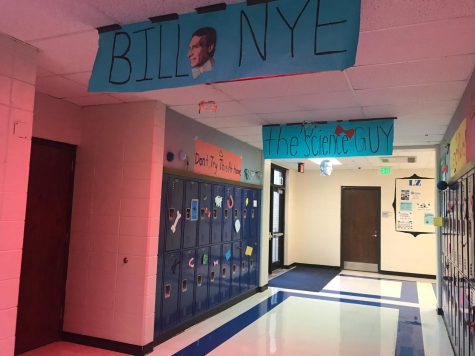 The Science Team threw students back into their childhoods with decorations featuring Bill Nye, the iconic 90s scientist. The team was clever in choosing a recognizable theme that was sure to draw smiles from students. Detailed cutouts and crafts lining lockers had the B-wing popping with color, giving students a fun, familiar feel while reflecting the club's passion.
Most Impactful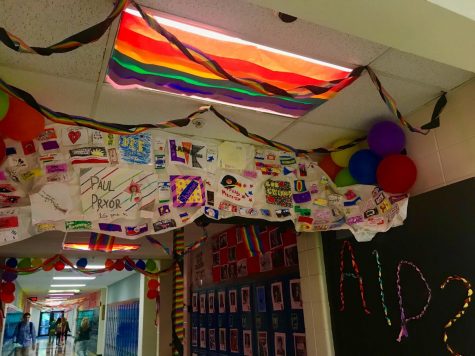 The B-hallway packed with color carried with a dynamic message. The Spectrum hall was neatly lined with the photos of victims of the aids epidemic during the 80s. The commemorative quilt and splashes of color added a beauty to the production while still carrying an impact by addressing an event in history rarely discussed in the classroom. The club avoided the cliche expectation and instead took advantage of the opportunity to educate the school community, a mature and conscious decision that deserves recognition.
Most Flashy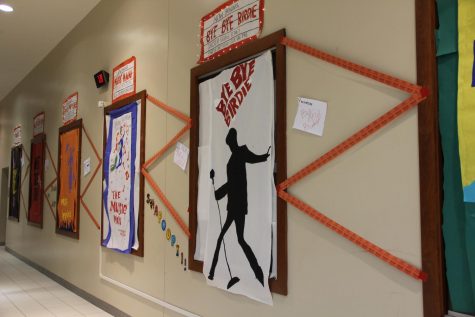 Drama Club delivered on bringing the lights and action of the musical 60s to the P.A.C. foyer. The big show posters and lights were a surprising attention-grabber and captured the decade and its fun energy. Unlike some of the others, this hall had fewer, larger decorations, but the obvious attention to detail resulted in an impressive sight. With all their potential material, Drama Club did well in staying true to a neat idea: big and bold is the way to go.
Most Rockin'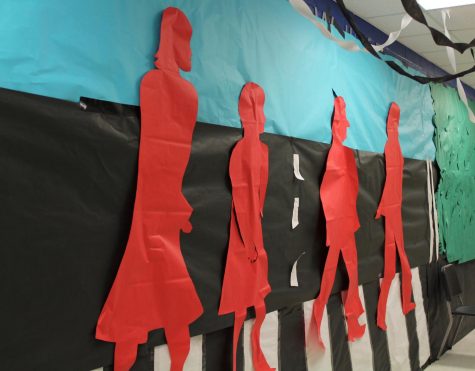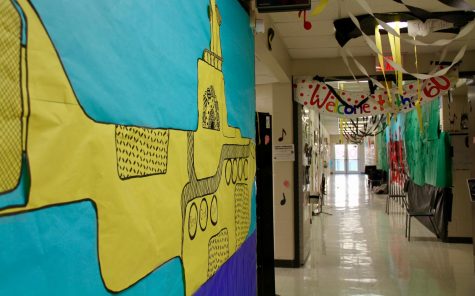 The band hallway was brimming with 60s music references. Music notes and lined the hall between multiple Beatles murals, and even the air was usually filled with the sound of instruments from the band room. Tri-M captured the homey feel of classic 60s music and successfully packed it all into one colorful hallway.
This story was originally published on Bear Facts on October 10, 2018.