"Dear Pretty People,"
By Daniela Esquenazi, A.W. Dreyfoos School of the Arts
October 29, 2018
It's usually on Twitter, Snapchat, and Instagram where we see the irony—a beautiful person posting a picture of themselves with the caption, "Ugh, I'm so ugly." These photos are taken flawlessly, precisely during golden hour. Their hair is glowing with the vibrant rays of sunlight, their eyes twinkling, their lips slightly curved in a pout. They pose as if their profile was taken off-guard, as if someone caught them mid-conversation; and yet, they look absolutely gorgeous.
For those of us that take a hundred photos, struggling for a long time to find the right angle, turning, and turning again so that the light hits  just the right way to make our faces look slim, our noses look small, and our jawlines look prominent, only to give up after the 101st picture. These people are super annoying. How dare these beautiful people come into our social media feeds with their perfection and claim that they are ugly? Being ugly is an aspect of our lives, it makes us who we are, and these pretty people are just coming in and claiming it? We have to make self-deprecating memes and jokes just to make ourselves feel better, as if our humor will compensate for our lack of physical attractiveness, and these beautiful people just want to come in and steal it? That's cultural appropriation!
…Or so it goes.
Beauty is subjective; everyone has a different standard of beauty, and sometimes we don't fall into those standards ourselves. Someone that you may think is beautiful might not think so in their own eyes. All of this insecurity and doubt is because of the way beauty is portrayed in consumer media, as well as social media.
The "Don't Judge Me" internet challenge involves an individual posting a video  of themselves standing in front of the camera, their face decorated with faux moles and acne, their hair ratty and messy, their eyebrows wild and untamed, as a song plays in the background. Just as the beat is about to drop, the individual covers the camera with their finger, and when they remove it, a beautiful version of themselves is revealed: perfect hair, perfect skin, perfect smile. It could not be more insulting.
This challenge, along with many variations of it, doesn't celebrate the false concept of "glowing up," an ideology that a person will grow out of their awkward, unattractive phase and emerge as a beautiful and mature. It glorifies the notion that we need to be beautiful in order to be accepted or liked. All of the little boys and girls watching these videos, children who have the acne, the moles, the untamed eyebrows, feel worthless and disgusted with themselves. It also gives them a false hope that someday in the future, they too will "glow up." But what happens when they don't?
Children look up to and imitate the people they are exposed to, and if all of those people are beautiful and flawless, won't that mean that they will want to be that way too? They will most likely spend a majority of their childhood and pre-pubescent years trying to conform to that mold they look up to, years that they will never get back. Years that they will spend hating themselves, wishing they were different, blaming themselves for not being able to become what they feel is beautiful. And thus, a new generation of insecure and self-deprecating kids is born. Again.
Along with plaguing nearly every social media site, it also occurs in consumer media. In every single coming-of-age teen movie, the trope is the same: the ugly girl becomes pretty, gets everyone's attention, and wins the heart of the hottest boy in school.
"Insatiable," the new series on Netflix starring Debby Ryan, is a perfect example. Ryan plays Patty, who is a fat, lethargic teenager who gets made fun of for eating a lot and being, well, fat. It's only after she loses all that weight and is suddenly considered attractive that people in the show want her attention. There's nothing wrong or unattractive about being fat, but so many shows like "Insatiable" play the message like a mantra to young viewers that unless you don't fit in a certain mold, you will never be accepted.
Revolve, a fashion company that normally targets millennial women, recently received backlash for releasing a sweatshirt that reads, "Being fat is not beautiful, it's an excuse." This further drives home the idea that women who don't fit the typical skinny trope are not beautiful, and should not be considered as such.
"Ugly Betty," a Colombian sitcom originally created in 1999—and has had many variations of the trope—and more specifically, the Mexican version of "La Fea Mas Bella," has the basic premise of a nerdy girl who is taken advantage of by her more attractive coworkers and ignored by the love of her life. When she transforms into a conventionally beautiful woman, suddenly all her male coworkers pay attention to her, her female coworkers get jealous of her, and she gains two love interests that fall madly in love with her. Even though there was nothing wrong with her appearance before, the moment she took off her braces, let her braided hair loose, and wore makeup, she was attractive. All the little girls with braces, braided hair, and natural complexions look at this show and begin to feel that they are not beautiful, and that no one in their careers will take them seriously. That is, until they change every aspect of themselves.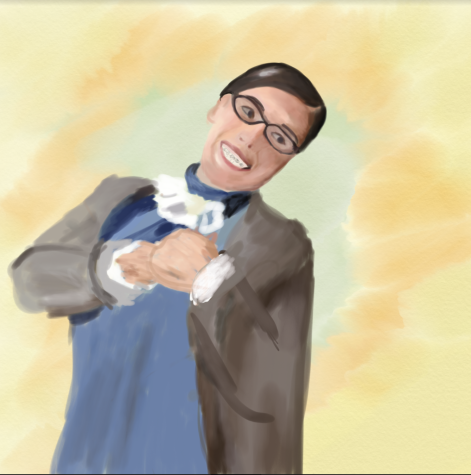 To cope with these feelings, many turn to self-deprecation. Self-deprecation is a subconscious mindset. It is the act of being overly modest and critical of oneself, and for teens today, it takes the form of humor. It is especially prominent on Twitter, where memes upon memes are created with the subject being the flaws that we have in ourselves. Calling ourselves ugly and having that mentality that we will never be loved or that we will always be taken advantage of is wrong. The fact that so many people can relate to this means that self-deprecation is a social thing, and that in itself is a destructive behavior.
It is not fair to ask ourselves to conform to a societal norm. We are not perfect, and we cannot be bound to the stereotype. By expecting ourselves to uphold a certain standard, we are being unnecessarily unfair to ourselves because we cannot physically meet every standard we are held to. This ugly understanding that we are flexible, complex beings that will never be close to perfect, is just one step forward in accepting ourselves and breaking free from this so called "ugly culture."  
This story was originally published on The Muse on September 22, 2018.