Senior sets goals high, toe touches higher
By the end of her junior year, Naiya Antar was determined to make the most of her upcoming last year at McCallum. The basketball athlete tried out for the cheer squad, and now she's spending the football season on the sidelines, dancing with pompoms in a blue-and-white dress.
"Since it is my senior year, I wanted to go all out; I wanted to get all the McCallum gear, be in every football game, and support." Antar said. "Most of the seniors are on the football team and I've been growing up with them since middle school so it's really great to see them from seventh grade to now."
Antar, McCallum's resident senior cheerleader, supports her team in more ways than one. As her groups backspot, her role is to serve as a base and spotter to the stunters. In their other cheers, she leads the group with enthusiasm and attitude. Antar may not be a captain, but her commanding presence can be felt at every football game when she leads the crowd in cheers.
"[Naiya] is so kind, but she's also fierce. She's a go getter and a hard worker, she's determined, she's fun, she's got personality and sass." cheer coach Kristen Cerame said. "She adds a lot of her personality into the routine. She's the only senior too, so she's also like the 'Mamma'. A lot of people look up to her for that."
"
Since it is my senior year, I wanted to go all out; I wanted to get all the McCallum gear, be in every football game, and support."
— Naiya Antar
Like most at Mac, the football teams Taco Shack victory was the highlight of her season so far. Even though the cheerleaders put a lot of hours into the game, waking up at four in the morning to decorate the Taco Shack and cheering well into the night, supporting McCallum in their win over Anderson made it all worth it.
"[Taco shack.] was like the longest day of my life but it was the best day." Antar said. "To see the crowd going crazy over the football players and then get pumped up when they see us cheer, it's really fun."
Like in Basketball, one of Antars favorite aspects of cheer is the experiences she's had with the rest of her team.
"When we went to UCA over the summer we all really bonded." Antar said. "Before we were like 'Oh, we're just a cheer team and we cheer at McCallum,' and afterwards we were like, 'Yeah, were from McCallum, what's up!' It was really great to have that bonding experience."
When basketball season starts, Antar will take back to the court on the Varsity basketball team. Although she has enjoyed her season as a cheerleader, Antar admits that Basketball is still her favorite.
"There is different aspects that go into each of them." Antar said. "Cheer, it's so much fun cheering people on and being a part of the game, but basketball, being in the game and being in people's faces and scoring points on people, thats what really makes me feel good."
Antar has a much deeper history with basketball; she's been playing since she was three or four, and has played for teams since elementary school.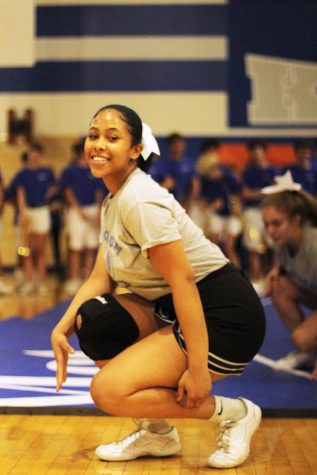 Basketball has always been personal to Naiya. Her parents and coaches serve as big motivators, constantly pushing her to succeed and inspiring her to love the game, especially her father who was at every game.
"Going into eighth grade, my dad passed away, so I dedicated the rest of my basketball career to my dad." Antar said.
"The very first eighth grade game I dedicated to him and I said ' we're gonna win this game.' It was against Fulmore, and we were down five points and there was like three minutes left, and we won the game. That was probably my biggest accomplishment."
Antar also hopes to play basketball for college. So far she has attracted the attention of two Virginia colleges including Howard University, although her dream college is Prairie View A&M.
"Coach Kehn has really helped me because she used to be at the University of Houston in the basketball program, so she's been helping me step my game up as a post and having a higher basketball IQ." Antar said.
Although the first basketball game of the season is still a ways away, Antar has already set her goals for her last season at McCallum. Above all, she is intent on winning the district championship her senior year, and maybe even moving on to state. Antar may be too busy with cheer to play in the fall basketball league, but she is still exceedingly hopeful and confident in her team.
"I think we have a really powerful team this year." Antar said. "The basketball team, we kind of had issues in the past with bonding and everything, but as the years have progressed we've gotten closer, we've squashed those issues, we've come together and we're doing really well during practice. From what I hear we are cancelling other teams out."
This story was originally published on The Shield Online on November 21, 2018.