Working to tip an election, one front door at a time
Thousands of canvassers, including Shalhevet students, joined campaigns during the midterm election season
By Shani Shaham, Staff Writer and Eva Brous-Light, Staff Writer
December 17, 2018
Richard Ceseroni, a 69-year-old former Marine, was returning home to his ranch- style house in Santa Clarita from church on Oct. 28 when someone he recognized approached him in his driveway.
"Why is the mayor of Los Angeles in my driveway?" said Mr. Ceseroni, who served in the Sheriff's Department for 37 years before retiring.
Sure enough, it was Mayor Eric Garcetti, who, like thousands of other Americans, was spending this Sunday canvassing, just two weeks before the midterm elections.
Canvassing is the word used to define a time-honored form of political activism– in particular, informing voters about a candidate running for office, finding out whether they favor or oppose him or her, and making a record of it so people who work on turnout will help them get to the polls.
Usually it is done by knocking on doors and explaining to whoever lives there what makes a candidate worth voting for. Other kinds of canvassing involve texting and calling voters to inform them about a certain issue on the ballot or candidate.
Mr. Ceseroni immediately noticed that the Mayor was holding a Katie Hill clipboard and wearing a Katie Hill pin. Still beaming that the Mayor of Los Angeles was standing at his door, he respectfully told Mr. Garcetti that he would not be voting for her.
"We've had a few people come to our door canvassing for Katie Hill," Mr. Ceseroni said. "We say, 'We're Republicans, bye!'"
"Okay sir, have a nice day," said Mayor Garcetti.
Also canvassing that weekend was Shalhevet junior Maia Lefferman, who went with her family to volunteer for Democratic Senate candidate Kyrsten Sinema in Arizona. Sophomores Sivan Karz and Kate Orlanski, also canvassing, made phone calls from their homes for Republican Ron Bassilian, running for Congress against incumbent Rep. Karen Bass in the district that encompasses Pico-Robertson.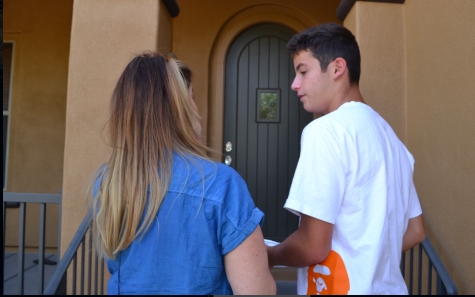 The Democratic and Republican parties fought this year over issues ranging from immigration and health care, to who should serve on the Supreme Court, and the election — expected to be extremely close — would determine control of the House of Representatives and U.S. Senate.
"My Sundays are not very eventful," said Maia. "I usually do homework and hang out with friends. But that Sunday, I wasn't just going to sit around while our democracy was being threatened. I had to take action."
Maia went to the Arizona Democratic headquarters in Phoenix, houses.
"There were a lot of people that we literally convinced to vote, and to vote for our candidate," said Maia in an interview with the Boiling Point.
When she knocked on doors, she said that residents mostly reacted well, and were willing to have conversations with her.
"It's really inspiring that you actually have a chance to share your ideas with people and that people want to hear them," she said, "and knowing that other people share the same passions as you."
Ms. Synema beat her opponent Republican Martha McSally in one of the closest Senate races in the country, suggesting that every single vote counted. The win helped Democrats counter Republican Senate gains in North Dakota and Missouri.
---
"It's not just about the literal votes that you change, but it's about the process of being a part of a community…. and to figure out how to build bridges with people who maybe don't seem that similar to me.
— Mr. Joel Snyder, Canvasser

---
Some canvassers who did go door to door to canvass, used their thumbs to text. Texting and making phone calls can help limit the suspicion voters often get from having strangers knocking at their doors.
Last year, Sivan Karz wanted to get more politically involved in her community. She had previously attended political events, like the Republican Jewish Coalition California Bash, but she wanted to do more. One day, Sivan Karz and Kate Orlanski visited their middle school at which they spoke to their former history teacher about their crave for political action.
"We wanted to get more involved, and he told us about telephone canvassing for a Republican candidate who is Jewish and Israeli," said Sivan.
She and Kate started by contacting Ron Bassilian, the Republican candidate for Congress in California's 37th Congressional district. He told them all about his campaign so that they would be able to answer any questions that voters might have. Over email, he sent them a list of names and phone numbers to start calling.
"The first time we called, I was nervous," Sivan said. "The first few people we contacted immediately asked to be taken off the contact list. But when people did finally ask to hear more, it felt really refreshing."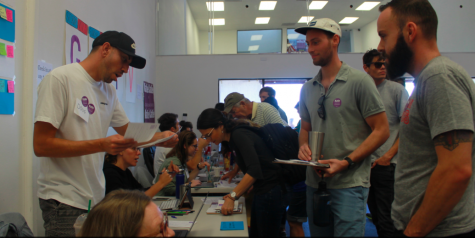 Sivan began dialing numbers whenever she had a spare moment. Instead of doing her homework or hanging out with friends, Sivan used her time to inform voters about Ron Bassilian and help him win the primary election in June.
Eight or more Congressional seats in California were considered "flippable" this year, meaning that Democratic challengers hoped to defeat Republican incumbents.
One of those candidates was Katie Hill, in California's 25th Congressional district, which includes the northern parts of Los Angeles County and the eastern parts of Ventura County, and the cities of Simi Valley, Santa Clarita, Lancaster, Palmdale and northern parts of the San Fernando Valley.
Representative Hill won her race against incumbent Rep. Steve Knight, but it was such a close race, that it wasn't decided until Nov. 10, two days after the election. Rep. -elect Hill had 52.6 percent of the votes, and Mr. Knight had 47.4 percent. Mrs. Hill won by 6,026 votes.
About 200 people showed up to the Katie Hill headquarters to canvass on Oct. 28, and the headquarters were packed from wall to wall. Volunteers had come from all over Southern California, having woken up early to try to influence the tight race.
Standing or leaning on walls as they listened to instructions, they were told to remind residents about the importance of their votes, and to make sure everyone finds his or her way to the polls on Election Day.
---
"There were a lot of people that we literally convinced to vote, and to vote for our candidate,
— Maia Lefferman, 11th grade

---
Volunteers then spent the day walking around unfamiliar neighborhoods, knocking on doors and speaking to strangers about why Ms. Hill deserved their votes. They told residents that she was passionate about safety and security, access to health care, and rebuilding the middle class.
Joel Snyder, a high school government teacher from Los Angeles, was there to model for his students how to get involved and how to engage themselves in what is going on around them.
His regular Sunday includes a late breakfast with his family and an afternoon spent hanging out with his kids.
"I think there are two things to canvassing," said Mr. Snyder in an interview. "The first is to get people to vote for your candidate and get the vote out, which is great, and the second is what I would call internal efficacy — so to feel like you are involved, to be part of the community of people who are here, and to be part of something bigger than yourself.
"It's not just about the literal votes that you change," he said, "but it's about the process of being a part of a community….and to figure out how to build bridges with people who maybe don't seem that similar to me."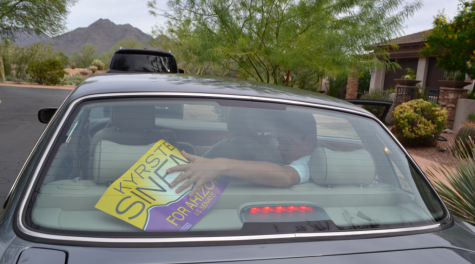 Chava Danielson, a volunteer from Los Angeles was there, and said she'd been canvassing since she was a little girl. She continues to canvass for every election.
"[Canvassing is] convincing people that their votes matter, that participating matters, and that is usually the hardest thing to convince people," Ms. Danielson said.
"I truly believe that the face to face human interaction calms the anger and tensity and falseness that are in billboards and tv ads and indirect communication, and I just think there's no substitute for the human face-to-face."
Mayor Garcetti started his day there, too, and offered a short speech to the crowded room about how canvassing was even more important in light of the Pittsburgh shooting, which had happened the day before.
"We are here because we love this country," Mayor Garcetti said. "Most politicians say that this is the most important election, but they are on the ballot. I am not on the ballot in this election, and I can tell you, credibly, that this is the most important election."
He then, like the other volunteers, hit the road.
This story was originally published on The Boiling Point on November 28, 2018.