Collaborative efforts ensure safety
By Morgan Torre, Londonderry High School
December 19, 2018
Anyone who stayed after school Wednesday afternoon, whether it was for sports, clubs or extra help, had the chance to see how effective the school safety procedures are in a non-drill scenario. At 3:07 p.m., the school went from being in "secure campus" mode, to "lockdown" mode, and even to the point of evacuation from the 600s. This extensive incident lasted until 4:15 p.m. These many steps taken by administration and police were solely for security and protocol purposes.
Even so, the situation was both "frustrating and scary" for teachers, students, and all those present, according to principal Mr. Parent.
Senior Caitlin Wood had just completed a test when the announcement commenced that the school should enter secure campus, a procedure in which personnel simply cannot leave the building or allow anyone in.
"I wasn't scared when we first went into secure campus since that seems to happen all the time now and normally only lasts a few minutes," Wood said. "I was kinda mad because I had just finished my test and was about to leave and now I had to stay longer. My teacher and I were kinda joking about how it sucked that we had to stay because I needed to leave and she had a doctors appointment too."
For Parent, he was on his way to pick up his son at Matthew Thornton and was in the area between the high school and elementary school when he was notified of what was happening. He quickly headed back to LHS to help deal with the problem.
All of the schools in Londonderry, not just the high school, stopped what they were doing when the alert sounded and administrators at each of the schools kept everyone contained in the buildings. The SRO at LHS, Officer Wiggin, notes that the "schools work together" in cases like this.
The cause of the initial secure campus was a COPsync alert that activated at exactly 3:07 p.m., originally believed to have come from the old district office. COPsync is an icon on the computers that are used by faculty throughout the district. When pressed, the police dispatchers are notified. The school was placed under secure campus, since the "issue" was outside of the school, but within close proximity.
When the administration read further into the alert, there was additional information that indicated the message came from within the school. Now a lockdown was called, and police came to check it out.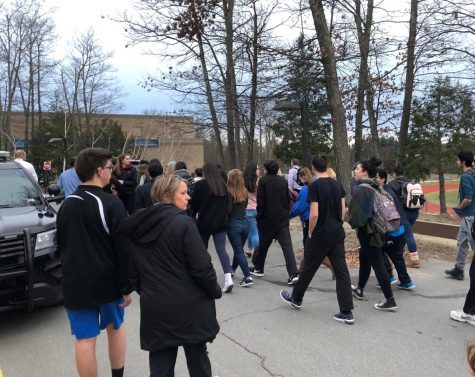 "[My teacher] and I were hiding under her desk for so long so it just kept making me feel more anxious," Wood said. "It was just me and her in the room. She did get an alert on her phone saying we were in lockdown. She kept checking the app to see if there were any updates and what was going on, but there really wasn't anything."
This app Wood's teacher was getting notifications from is called Remind and is utilized by teachers and administration since PA system announcements cannot be trusted in times such as these. Details were not released via the app either though, only instructions to go into lockdown and later to evacuate.
"I was texting my mom during [the lockdown], and she called the police department, and they put her on hold for a while," Wood said. "Then they said they didn't really know what was going on. While we were in the middle of the lockdown, a custodian unlocked our door and took out our trash. We were obviously scared because we were in lockdown and some random person came into the room, but we stayed under the desk, and he didn't see us."
The source of all of Wood's and her teacher's fears came from a lack of communication about exactly what was going on.
"Communication can't happen in real time during a situation," Parent said. "We focus solely on keeping everyone safe. We can't do both at the same time. We ask for patience while we carry out our responsibilities."
The final step Londonderry Police Department and the administration took was in evacuating the building and sending everyone to the gym, which Parent characterized as an "extra precaution." The point of this was to conduct a final sweep of the building, especially in the area where the COPsync alert was traced back to.
North and South schools were released first, followed by Matthew Thornton and Londonderry Middle School, and Londonderry High School was the last to be cleared, since it was the site of the event.
Meetings took place throughout the school day on Thursday. What these entailed were discussions about improvements LPD and admin could make if this happened again. Parent described it as a talk about "what went well and what didn't," as well as how to "correct" things.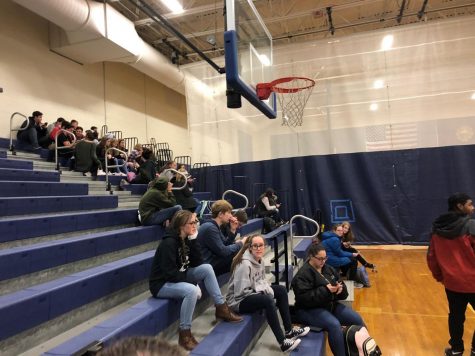 Parent reassured worried students Thursday morning over the announcements C period, clarifying for everyone that there was a security alert accident. He also complimented those students who were here after school, calling them "cooperative" and thanking them for a "great job."
Scenarios such as this one are always hectic and chaotic, but Parent was positive that everything ran as smoothly as it possibly could.
"I applaud LPD's efforts," Parent said. "We are thankful and appreciative. The students and staff were also great at listening and following directives."
This story was originally published on The Lancer Spirit on December 6, 2018.