Two freshmen explain their lives through skating
By Carol Kornworcel, H.B. Plant High School
December 20, 2018
Their dresses spin, glitter visibly flying onto the rink and some onto their faces. Their pearly-white shoes hit the ice after a successful jump, chipping a small part of the frozen surface. Smoothly skating to the beat of their songs, freshmen Isabella Costa and Lauren Lampinen do this six days a week.  
"I actually started figure skating when I was two," Costa said. "I had been doing it just for fun but began training for performances at five."   
Both Costa and Lampinen have had to find ways to balance their school lives with their skating lives. To arrive to their practices on time, Lampinen leaves school after fourth period, and Costa leaves after seventh. 
"Where I practice is 45 minutes away, so it's very hard for me to get there," Costa said. "Though I do my homework in the car, it's still hard to get all of it done in such little time. I have been able to manage my time much better with both activities lately."  
Costa skates at the Ellenton Ice and Sports Complex, and Lampinen skates at the Florida Hospital Center Ice. Both compete in multiple competitions like the South Atlantic Regional Championship, Orange Blossom, Sunshine State Games and more. For each performance, they must do their makeup and hair as well as get a dress made.  
"My coach knows my personality pretty well, so they help me choose my music and get the right cut for me," said Costa. "I have always loved my outfits and the music chosen for me, since it fits me pretty well."  
During competitions, the skaters are judged based on the International Judging System. They are evaluated on jumps, spins and footwork on a scale that rates skaters from 1.00 to 10.00.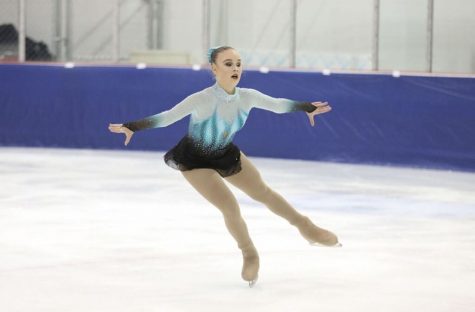 According to Lower Extremity Review, most of the injuries incurred by figure skaters since 2012 are mainly because of physical stress. Many of the injuries are not life-threatening, but they do force the skaters to take a break from the ice.  
"I just recently had my first injury about a month ago," Costa said. "I hurt my hip flexor. The doctor thought I tore it, and I had been laying off for a while. I was really worried and ended up not being able to go to Regionals, but I got better."  
Costa is a third-generation skater in her family, following her mother and her grandmother from her mom's side. Lampinen is a two-time regional finalist and a gold medalist for moves on the field. 
"I just do it for fun," Lampinen said. "I don't see myself going to the Olympics or anything, but it keeps me focused and helps me set my priorities. Obviously, it's very rewarding when you place well, but the friendships you make are also very rewarding."  
Skating is something they both said they love to do, and even though they are not sure how they would like to continue using skating in the future, they are enjoying it now. 
"Skating makes you feel really good," Costa said. "When you slip out on the ice, all of your worries and nerves go behind you. It is just a free moment for you to feel free."  
This story was originally published on The Pep O' Plant on December 6, 2018.