In times of destruction, many feel grateful to return home
By Anusha Rao and Mina Jung
December 21, 2018
The Woolsey and Hill fires threatened many communities where Oak Park High School students live, forcing them to evacuate. Some students lost their homes, while others were more fortunate.
Those who lived closer to mountains and hills where the fires descended tried to leave as soon as possible.
"I thought that we wouldn't be forced to evacuate, so I was very calm until I could slowly see flames moving in on the hill my neighborhood is on," freshman Vishaka Bhat said. "After that moment, I was extremely worried that we would come back to nothing."
Freshman Siena Reale lost her Oak Park home during the Woolsey fire.
"Emotionally, it was really hard because that's been my childhood home since I was 3," Reale said. "We have good memories there and it's really sad to see them all gone because of [the fire]."
Freshman Alison Khordodi lives on Churchwood Drive in Oak Park where 13 homes were damaged or destroyed. The yard of her home was burned.
"It was shocking to see what happened to my neighborhood and it was a relief to see my house was still standing, but it was heartbreaking to see that some of my neighbors' houses burnt down," Khordodi said. "The damage to my own house looked like nothing compared to some of my neighbors' houses."
In some surrounding areas near Oak Park and Agoura Hills, evacuation orders were not put in place until the following day, Nov. 10.
"It was scary but we had been prepared from the night before," junior Vikshara Dave said. "As soon as we saw fire on the hill bordering my community, we jumped in the car and drove."
A few students said they helped make the evacuation process easier for their parents.
"I was only with my mom since my dad was out of town, which made things a bit tricky since my mom handles emergency situations in a sort of hectic way," freshman Jack Gilbert said. " I was calm and helped my mom feel the same way."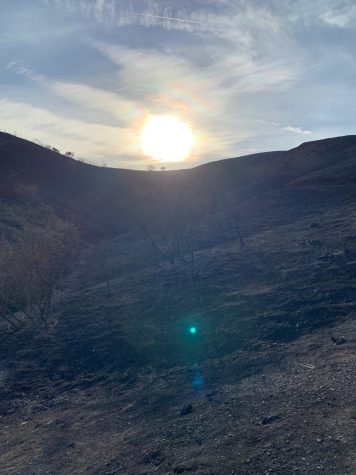 Many students brought personal family heirlooms with them as they were evacuating.
"I took with me clothing to last five days, some toiletries and valuables," Aliza Lam, an eighth-grader at Medea Creek Middle School, said. "I also took other items that were meaningful to me like jewelry that was my grandmother's."
Some said the evacuation process was stressful.
"It was a hard experience — we had to sleep on the floor in our clothes the first night, and we couldn't go home until almost a week later, but I know it could have been much worse," freshman Ava Marino said.
Some students had neighbors who didn't evacuate, letting others know the status of their homes, putting them at ease after evacuating far away.
"I did know that my home was fine because of our neighbor's security cameras," senior Akshata Vartak said. "But it was still devastating driving back into the town you have grown up in and seeing the amount of damage."
The effect of the fires and evacuating was oftentimes amplified by the mass shooting earlier that day in Thousand Oaks.
"I was definitely emotionally overwhelmed," freshman Lucy Anne Heine-Van Fossen said. "I was already in a bad state of mind with the shooting in Thousand Oaks. Overall, it was a lot to take in."
For many students, this was their first time evacuating.
"It was very scary and I didn't know what to expect," sophomore Khushi Diwakar said. "I hadn't experienced anything like this before so I was freaking out."
After mandatory evacuations were issued in Oak Park and nearby communities, many students say that the traffic exiting the cities was congested. Some students left early in the evening before the evacuations were mandatory in order to beat the traffic.
Both Pierce College and Taft High School in Woodland Hills served as shelters for evacuees.
"I stayed the night at Pierce College in the parking lot with 200 other people and their pets," junior Aidan Schnurr said. "I then went to my sister's college, Loyola Marymount University, and spent the night there. I returned home that Saturday night."
In response to the fires, the Oak Park Unified School District canceled school for one week, prior to the scheduled Thanksgiving Break, until Nov. 26 in order to take the necessary precautions needed to ensure student health and safety.
Many of the students from Oak Park High School agreed that without the firefighters, the damage done to their communities would have been much worse.
"I'm just so grateful for the firefighters because they were able to keep our town safe and the fires contained and I don't know where I'd be without them," Reale said.
This story was originally published on The Oak Park Talon on December 7, 2018.