Fire survivor shares experience
Ehret: 'It was overwhelming and at times mentally paralyzing'
By Oliver Carter, Oak Park High School
December 21, 2018
Over a year has passed since the Thomas Fire began on Dec. 4, 2017. The fire directly affected Ventura County and many families within, persisting until Jan. 12, 2018 after 1,063 structures were destroyed.
Mindy Ehret lived in the neighborhood of Ondulando, Ventura, with her husband and two sons, aged 2 and 5 at the time. At about 9 p.m. on the first night of the Thomas fire, Ehret retrieved her patio furniture to protect them from the strong winds and noticed the fire's glow in Santa Paula. Shortly after, her power went out.
At 10:30 p.m., Ehret and her children evacuated her home voluntarily about 15 minutes before her husband, who stayed behind to search for their cat in the darkness. Then, the police arrived and told Ehret's husband to evacuate.
"We grabbed our kids' favorite toys that they sleep with [a sweater-knit owl and a small unicorn gifted to Ehret's older son as an early birthday present] our passports, wallets, and a few photo albums," Ehret wrote to the Talon.
Ehret and her family then drove to her parents' house in Oxnard — a safe and familiar place for her and her kids.
"We never believed the fire would get to our house," Ehret wrote. "I remember looking at the hillside as we turned from Victoria Avenue to Doris [Avenue] and having to stop the car because it was the first time I could see the flames had reached our hill."
Ehret got a notification from Ring at 4 a.m. on Dec. 5 showing her front yard up in flames. By this time, she was almost sure she had lost her house. By morning, her neighbor confirmed her suspicions and was able to get a picture of the destroyed house.
"I remember decisions being overwhelming. Simple ones," Ehret wrote. "There was so much information that I was needing to process that my brain would shut down for the 'easy' things … Post-fire, if I bought a new shirt, I most likely had to find new pants, shoes, socks and jewelry to go with it. It was overwhelming and at times mentally paralyzing."
Ehret wrote she felt support and generosity from friends, family and even strangers.
"It was hard to be on the receiving side when we have traditionally been givers, but it was also beautiful to be held up by so many," Ehret wrote.
Ehret and her family's home was completely lost to the fire. She was able to rent a house next to that of her best friend, about five minutes away from her old house, just off of the Ondulando neighborhood.
Ehret and her family were fortunate enough to not be directly affected by the Woolsey Fire, which began in Ventura County on Nov. 8, ending on Nov. 21.
"The Woolsey Fire made me on edge and anxious," Ehret wrote. "I had friends who evacuated, and I obsessively watched the fire maps to see if their homes were OK. To be honest, the part that has been hardest for me has been seeing the pictures of the burned homes and knowing that each one of those comes with a family like us."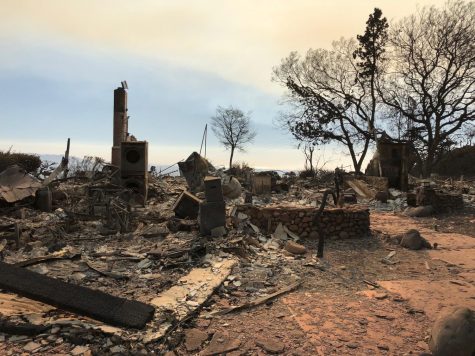 The Woolsey Fire burned 1,500 structures, over 400 more than the Thomas Fire.
"Each of those families is starting on this painful journey," Ehret wrote. "It's heartbreaking, and I hope to be able to help them, even if it's just to [help them] know it gets better."
About three weeks ago, Ehret's family received building permits from Ventura. As of now, Ehret is having her old home rebuilt almost exactly like the original 1962 home, other than an added bathroom and closet space.
"To those that are looking to rebuild, I highly recommend planning celebrations along the way," Ehret wrote.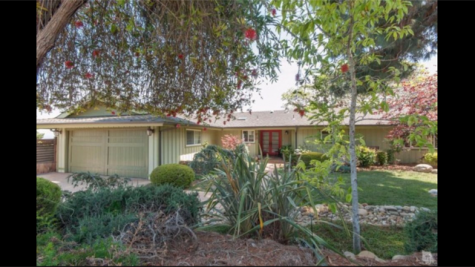 Ehret's friends and family held a groundbreaking ceremony at her old home, celebrating the start of the construction. She is currently planning a "Bless Our Walls" celebration, an event where friends and family get to write notes on their newly framed wall before their drywall goes up. Ehret will eventually host a ribbon-cutting ceremony once her house is built.
"The rebuilding process is a long road," Ehret wrote. "It's good to celebrate when you can."
This story was originally published on The Oak Park Talon on December 13, 2018.