Class of 2018 gifts two new murals to the SCHS campus
By Cleo Chow, Santa Clara High School
December 26, 2018
While the Class of 2018 may be gone, the school will bear their mark for years to come. Two new murals, intended to liven up the campus and motivate school spirit, are being gifted by last years' seniors.
The new murals are of an SCHS bruin and the school name. The bruin will be painted on the upper half of the theater overlooking the quad, and the school name on the main gym wall facing the football field. The school will be commissioning Boss Graphics, a painting company that had been commissioned several times by SCHS before the renovation of both the main and small gyms, which took place from 2010 to 2012.
The pieces are estimated to cost about $22,000 together, and are paid for by the Class of 2018 through their fundraising and extra money resulting from holding last year's prom at Levi's Stadium. Vice Principal of Activities, Facilities and Communication Erin Brown, attributes the extra gain to the ticket sales and reduced venue price offered by Levi's Stadium.
The idea for the murals first came up last year during a Leadership class community service assignment, according to Brown. A group focusing on campus beautification presented the idea of murals to some  faculty members as a way to bring greater school spirit and color onto the otherwise white-walled campus, and the Class of 2018 expressed an interest in displaying school symbols.
"The mural facing inward would give more school spirit, and the other one is to express Bruin pride and to let the community know this is our school," Brown said.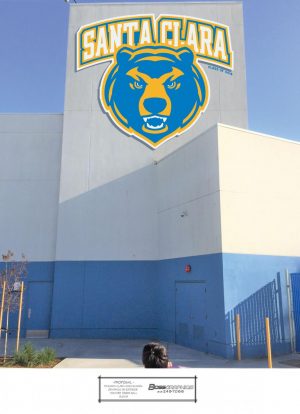 SCHS junior Bai Zhang agrees.
"It's kind of extra, but it's a good way for the Class of 2018 to leave a mark behind," Zhang said. "Both the people outside and the students will be able to see the murals and be impressed."
Some students like senior Minh Vu believe the murals may attract more school spirit and attention if they depicted something other than logos for visuals.
"People would want to take pictures more," she said. "It could be like one of those Instagram-able walls where people take pictures to post on their social media."
The two pieces were approved by the district at the end of October and are expected to begin being painted in January.
This story was originally published on The Roar on December 4, 2018.