Maddi Shinall
Education was not a guarantee for Veronica Kharunda '19. The first school she attended was at a refugee camp in Kenya when she was 10 or 11. Children ranging from five to 20 years old attended before it was even finished being built. When it first opened, kids sat on the floor in the roofless building.
From ages seven to 16 Veronica lived in that camp. She was born in Uganda, but her mom brought Veronica and her five siblings to Kenya because of war and lack of security. At the camp, she was separated from two of her older siblings.
"I just say I'm from Kenya because I know everything about Kenya, I don't know anything about Uganda. I left there when I was seven years old and the memories I left there were so bad. I don't want to think of Uganda," Veronica said.
With help from the UN Refugee Agency, Veronica, her mother and older sister Rachel Kharduna were relocated to Arizona in 2016. Veronica was excited to continue her education in the United States, where she had access to more educational resources.
"I was determined to get an education because I know that that was the only way for me to get out of poverty and make my world better, because I did not want to live in the same situation. I wanted a better life for me and my family," Veronica said.
Veronica moved to Iowa City in February of 2017. She finished her 2016-2017 school year at City High and then became a West student in the fall of 2017, her junior year of high school.
At West she felt more a part of the community and a sense that people were willing to help her. Counselor Greg Yoder was one of those people. Yoder worked through the Iowa State application process with Veronica. Veronica wrote about her experience in an essay to Iowa State.
"Ever since I got to the camp I knew I had to work hard to be where I wanted to be, so I just thought maybe writing that to Iowa State and telling them that if they give me the opportunity I'm not going to waste it. I'm really gonna work hard," Veronica said.
"I was just so moved by Veronica's story and I just felt like she really exemplifies what Iowa State is all about," said Phil Caffrey, Director of Admissions Operations and Policy at Iowa State.
On November 16 Yoder was contacted by Iowa State. Not only was Veronica accepted into the college, but the Iowa State staff wanted to surprise her in person.
The following Monday, November 19, Jean Morsch's fifth period Pre-Calculus class was interrupted when faculty members from Iowa State University appeared at the doorway with balloons, a cookie cake and Cy, the Iowa State mascot.
"I'm really sorry about this, because I know how passionate you all are about Pre-Calculus, but we have a very special student that we wish to recognize," Caffrey said as he entered room 215.  "Is there a Veronica in the classroom?"
Veronica rose from her desk and walked to the front of the room.
"We received your application of admission and we were very impressed by you; we were very inspired and motivated by your story. You show dedication, passion, resilience and those are the type of qualities that we look for for students that embody who we are at Iowa State, so we are going are going to offer [you] admission for the fall of 2019," Jesus Lizarraga from Iowa State said.
Veronica stood in front of her clapping peers, absorbing the shock of the moment. It was her dream school, with its engineering program and in-state location. A decade earlier, this achievement would have seemed unimaginable to her.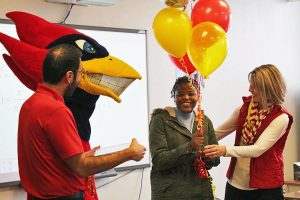 The cluster of Iowa State staff then led Veronica to another room near Morsch's classroom.
"I was explaining to Veronica what the next steps would be … She would be receiving her official admissions letter in the mail very shortly, and I wanted to make her aware of a couple of scholarships that I thought she was the ideal candidate for that she should apply for," Caffrey said. "During the course of that conversation, Veronica broke down. It was a really emotional time for everybody."
"It was [emotional] because where I'm from, education is not your right," Veronica said. "Only the rich people get to go to school and all that, so I didn't start school until I was like 11 years or 10 years old … thinking of all the things that I've gone through to get to college is, sometimes I just think back and think, I don't know, I'm lucky or something. Not everyone gets that opportunity, especially where I'm from, it's a blessing."
After class, Veronica told her sister Rachel, a student at Kirkwood Community College, not to go anywhere. When she got home, Veronica didn't even use her keys; she knocked on the door and waited for Rachel to open it and find her standing there with balloons.
"She kept praying to get into this school so the first thing I was like, 'Oh my God. Her dream came true. Her dream just came true,'" Rachel said. "She was so excited, actually I've never seen her excited …  the way I saw her face that day."
Veronica is hoping to be one of 100 Iowa students that will receive the Hixson Opportunity Award to pay for her schooling. She will find out in January if she received that award.
Along with her perseverance, Veronica's volunteer work also stood out to Iowa State. She has worked nearly 100 hours at Crowded Closet, where she enjoys interacting with customers. One day she hopes to give back to the kids in Kenya as well.
"Once I'm done with education and get a good job I just want to go back and help them with their tuition fees because Kenya has some really good schools but it's really expensive," Veronica said.
Rachel hopes that her sister can be an inspiration to kids in the same situation she and Veronica were in a few years ago. She also reminds Veronica to never forget how far she has come.
"Remember where you come from, that you didn't have even a chance to sit in a class and not worry about food, safety, where you're gonna sleep. It's a blessing, it's blessing," Rachel said. "So I tell her everyday: Do not forget. Do not forget. We've come a long way… and you need to keep pushing."
This story was originally published on West Side Story on December 16, 2018.