Woolsey Fire destroys Gindling Hilltop Camp
Life Skills retreat moved to new location
By Juliette Setudeh-Nejad, Oak Park High School
December 28, 2018
As the Woolsey fire burned through Malibu, many religious camps, including Gindling Hilltop, Camp were severely damaged.
The Gindling Hilltop camp has been the location for the Oak Park High School senior year Life Skills retreat for the past 17 years, since 2002. For upcoming retreats, however, retreat director and math teacher Bri Hazlewood, former life skills teacher and current Moorpark assistant principal Dr. Jeff Appell, and the administration have chosen a new location — Angeles Crest Christian Camp in Palmdale.
Hazlewood learned that Gindling Hilltop had burned by checking social media and from other OPHS graduates who are involved in the program.
"I had seen a post on Facebook from the camp that said we were going to have losses," Hazlewood said. "We didn't really know how much until they covered it on the news, and that was hard."
When Hazlewood found out about the destruction of the camp, she said she felt that it was her job to keep the retreat alive. The second retreat was rescheduled and will take place from Jan. 30-Feb. 2. The third retreat remains scheduled for April 10-13.
"The program is such a special thing to a lot of people who attend and is something that I believe is truly important. Just because the retreat is somewhere different, does not mean that the retreat shouldn't continue on," Hazlewood said.
According to OPHS alumna and University of Mississippi freshman Maddy Quon, the Life Skills retreat was one of the best high school experiences.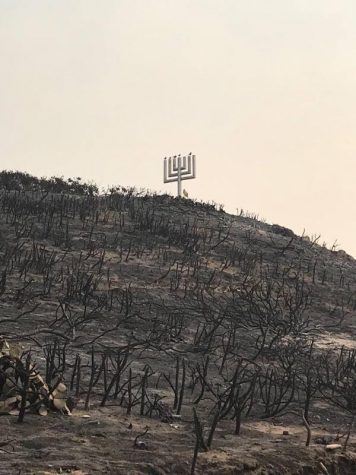 "The retreat, for me, was in January and that was 10 months ago, but it still has a very big impact on me," Quon said. "I still have the Life Skills retreat necklace with me. I'm holding it right now. That was such a good retreat and I hope that everyone who hasn't gone on it yet this year will still be able to go and get the same experience that all of us got."
Although the new retreat location has been determined, Hazlewood expects Oak Park to transfer back to Hilltop if it is rebuilt.
"We moved the location to a new camp that's out in the forest and it's really beautiful," Hazlewood said. "[The new location] has a different type of beauty than Hilltop, but it still provides that atmosphere of remoteness and being away from the everyday pressure of life."
According to past retreatants, it's not the location that makes the retreat special, but the togetherness students share.
"I'm a little sad that my friends won't get to see the beach and the boat lights at night. Nothing else about moving the retreat upsets me," senior Allie Tack wrote to the Talon. "It's the people at the retreat that make it special. Not the place where it's held."
This story was originally published on The Oak Park Talon on December 12, 2018.