Art Students Given New Paths to Success
New AP Studio Art class for the 2018-2019 school year offers the most to passionate art students.
By Kelly Brosey, Dallastown Area High School
January 8, 2019
Finding it difficult to schedule intriguing classes? Need a creative outlet? Luckily, Dallastown added several new classes, one of which is an AP Studio Art class.
Taught by art teacher Mrs. Kohler, AP Studio Art is designed to challenge passionate art students, prepare them for the college level, and give them an opportunity to create projects unique to them.
Kohler stated, "AP Studio Art will positively impact students by pushing them to a college level pace and rigor."
She also explained why Dallastown offered the class.
"Dallastown is focusing on creating opportunities for students to personalize and individualize their schedules. Offering more AP options is one way to do this."
Providing this new class brings endless possibilities.
AP Studio Art student, Catalina Baselli said, "I want to attend either Pratt Institute or FIT, which are both art schools in New York. I would like to major in painting and have a minor in fashion design."
This class can help students like Baselli by teaching them how to use their artistic talents in a career field.
Since the class is relatively new, few students learned of its existence.
Kohler said, "This year we only have five students. I am expecting that number to grow as more students become aware that AP is an option in art."
Due to the small class size, it has been combined with other classes.
"We are currently offering AP Studio Art at the same time in the schedule as Drawing III and Painting III, and since I teach those classes, it made the most sense for me to teach AP," Kohler explained.
However, the combination of classes may not be helpful for students.
"I think we would get more done without them there because we work at a faster pace," Baselli said.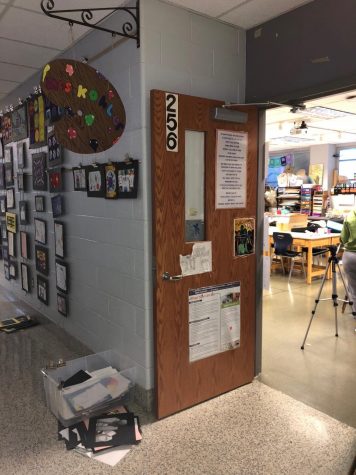 Combining classes was a practical choice. However, a growth in students taking AP Studio Art could result in a separate class.
This class differs by not distributing written exams. The AP exam is creating a portfolio.
Kohler stated, "The AP exam for Studio Art is a portfolio review. Students create 29 pieces: 12 that show a concentration (sustained investigation), 12 that show a significant range of skill and technique (breadth), and five that are of outstanding quality (quality). The concentration and breadth portfolio pieces are photographed and submitted digitally and scored by viewing on a computer screen, but the five quality pieces are actually physically mailed to the college board for scoring."
Depending on the college, students can earn college credit from their portfolios.  
"Most art schools require a portfolio review for students to gain acceptance in their art program and AP Studio is a great opportunity for students to develop stronger portfolios," Kohler said.
Unfortunately, taking this class comes with a heavy workload. It is two trimesters long, but requires summer work, Saturday studio days, and coming in for Wildcat periods throughout the third trimester.
AP Studio Art student Mya Quick said, "There is a lot of work, but if you prioritize, it is manageable."
With an expectancy to grow and a positive outcome from students, AP Studio Art has shown success.
This story was originally published on The Beacon on January 3, 2019.