Senior wrestler overcomes setbacks in final season
By Nick Desrosiers, Londonderry High School
January 15, 2019
Overcoming an injury can be a slow and painful process for most athletes, but for senior wrestler Vincent Del Signore it's an opportunity to grow and understand the realities of competing in a physical sport.
Del Signore has been sidelined since his first match this season when he suffered a gruesome injury. He received eight stitches after bashing heads with an opponent, splitting his face open. He has been eagerly waiting for his chance to compete as he recovers.
"Preparing for my first match was a process," Del Signore said. "You had to think about everyone improving and getting matches in while I was stuck sitting on the sidelines for two weeks."
After a taxing two-week recovery, he got a chance to compete in a match two weeks ago at the Lowell Holiday Tournament.
"[The recovery] has been motivating for me," Del Signore said. "I've worked so hard to get to this point knowing that my opponents will have an advantage on me when I return."
The 170-pound veteran was named a captain in his final year wrestling at LHS. While he has been a victim to an unfortunate setback, his goals for the season haven't wavered.
"My goal is still to be top three in the state both individually and also as a team," Del Signore said.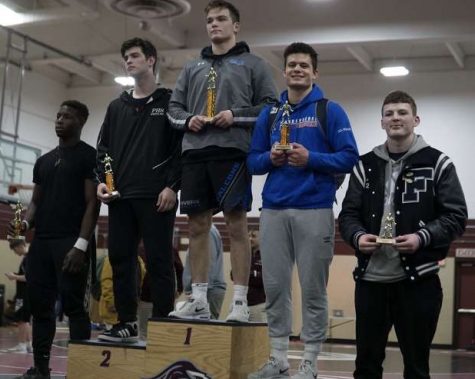 The team-first mindset is a quality every good captain should portray, and that is definitely something that resonates with Del Signore. His positive outlook and encouraging ways are infectious when he is around his teammates.
"There's really nothing Vince can't do, he's a leader on and off the mats," said senior teammate Jack Kelley. "He's always offering help to our team in any way he can, from helping everyone with their homework to spending extra time after practice drilling with our teammates."
Since Del Signore has returned to the mats, he has enjoyed a flurry of success in the past two weeks. His greatest feat of this season came at the Chelmsford Invitational this past Saturday when he earned a spot on the podium with a 3rd place finish. He will look to keep it rolling against our rival Astros this week
While wrestling has been a big focus for Del Signore throughout his four years at LHS, he has decided that he will "pursue academics in college rather than continue wrestling." Even if he ultimately calls it quits at the end of the season, he still potentially sees himself staying involved with the sport later in life.
"My future in wrestling realistically lies in a coaching position or assisting my hometown team when I can," Del Signore said. "I would love to help [the up-and-coming wrestlers] grow their talents and allow the program have repeated success."
It doesn't seem like a far stretch to see Del Signore in a role like this, as his drive for the sport stands out from the rest.
"Vince has such a strong passion for wrestling that only the best and most committed champions have," Kelley said. "There's not a lot of people out there like him, but if you ask me he's someone I aspire to be like."
This story was originally published on The Lancer Spirit on January 8, 2019.