Flipping through high school
Senior gymnast signs to college team
By Ellie Melvin, Lake Zurich High School
January 25, 2019
It's his life, his love, his challenge, and his success. Cooper Giles, senior, is a gymnast.
Giles is the national champion of pommel horse, fourth on the floor, and tenth all around in the 2018 Men's Junior Olympics. And it all started at age three.
"When I was three years old, my brother and I were watching the 2004 Olympics and we were watching, actually my now coach, Paul Hamm win the olympics," Giles said. "We were jumping around on the couch doing backflips and everything, and my mom and dad said, 'maybe we should sign them up for gymnastics.'"
Giles became dedicated to the sport early on because of pure "passion," he said.  
"I did baseball when I was younger as well, and I just didn't enjoy myself," Giles said. "I think I saw myself have more of a future, and it was just more fun doing flips than it was swinging a bat."
Giles' gymnastics career eventually became more than just fun and games. He currently attends practices Monday through Saturday, averaging 20 and a half hours at Premier Gymnastics Academy in  Downers Grove every week.
"I have to sacrifice school friends, down time, [and] homework is always hard to get done," Giles said. "It's a giant sacrifice that I'm definitely willing to make."
Giles does not face the challenge alone, however. Aside from his coach and Olympian icons, Giles has support much closer to home.
"[My family], they've been my number one cheerleaders even through the worst times, they've always been there," Giles said. "They've always been supportive, which is amazing."
The worst times come with the pressure of competition, Giles said, particularly on the the regional level. Giles has experienced his own successes and setbacks at top competitions that made an impact on him.
"At regionals, you have to qualify for nationals and you have to be within the top 33 people," Giles said. "And that is the most heartbreaking thing when you don't qualify because all your work just failed. If you had a bad competition and it just did not pay off, that is the worst of times right there."
Tournaments do not always take that turn for the worst, though, and Giles' taxing schedule and work does pay off during competition. The reward does not just come in bronze, silver, and gold, but in emotion as well.
"You have one chance to hit your routine, and it's the best feeling when you get off the event, when you stick the dismount, have a great routine, and just [get] that feeling of success and pride," Giles said.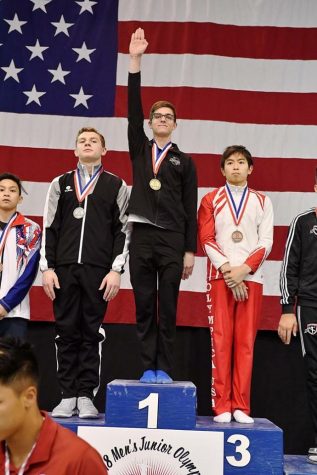 But the greatest accomplishment of Giles' career was not in competition at all, he said. In November of his senior year, Giles signed to University of Nebraska, claiming his place on the college gymnastics team. He had called the school's head coach, who was familiar with Giles' brother, and told him he was committed to the team if they had a spot for him.
"[The head coach at UN] telling me that I have a spot is like being drafted," Giles said. "I just had a big smile on my face, I was really happy to just have some security knowing that he wanted me on the team."
College was a long term goal for Giles, especially because the recruiting process starts as early as junior year.
"[Us athletes] have looked up to colleges our whole entire gymnastics career," Giles said. "So to see myself become that person, it's like no other feeling in the world."
Giles expects to continue to focus on pommel horse first and eventually other events on the Nebraska team throughout college, he says, but his career as a gymnast is unsure after he graduates from the University.
"I don't know about after college. The biggest question [I get from people], besides 'Do you do beam?' is 'Will I see you in the Olympics?' Most people don't go to the olympic," Giles said. "But I think I could [compete regularly] a year after college and then slowly retire and get out of the sport, because I've been doing it for almost fifteen years of my life right now. By the end of college, I will have been doing it for almost twenty."
Officially signing to a college team has been relieving, Giles said.
[Gymnastics is] my life. It's the most important thing in my life for sure," Giles said.  It's a lot of stress, so to commit to a college basically removes all that stress, and then to sign removes so much more because all that hard work paid off."
This story was originally published on Bear Facts on January 6, 2019.