From pans to Pasadena: Drum captain Eva Gertz has beats in her bones
By Alex Peters, Londonderry High School
February 7, 2019
Ding! Bop! Thump! are the sounds senior drummer Eva Gertz made when she was just five years old as she sat on the ground in her house with a spoon or two in hand, hitting pots and pans. These household items found in the kitchen are the big reason why Gertz has that love for drumming today.
"I just wasn't ever able to stop drumming when I was young," Gertz said. "I wasn't able to do anything longer than 15 minutes when I was five because of my Attention Deficit Disorder (ADD), so when I would be hitting the railing on my stairs for more than a couple hours at a time, that's kind of when my parents knew that drumming was my passion."
Her dad and her uncle used to be drummers themselves and are another reason why Gertz's passion for drumming is as strong as it is. Her uncle attended Worcester, and had a band that he drummed in for the years he was there. When her dad wasn't focusing on hockey, he drummed a little bit on the side just for fun.
"My dad pushed me towards drumming, and he would encourage me a lot," Gertz said. "He was the one who got me my drumset."
Initially, her dad and uncle were the ones to teach her how to drum, until Gertz's mom got her lessons.
"It was a good outlet for me because I was really energetic as a kid, so it would get me tired which was actually good for me and my mom too," Gertz said. "With my ADD it would be very hard for me to learn how to read the music as I was drumming."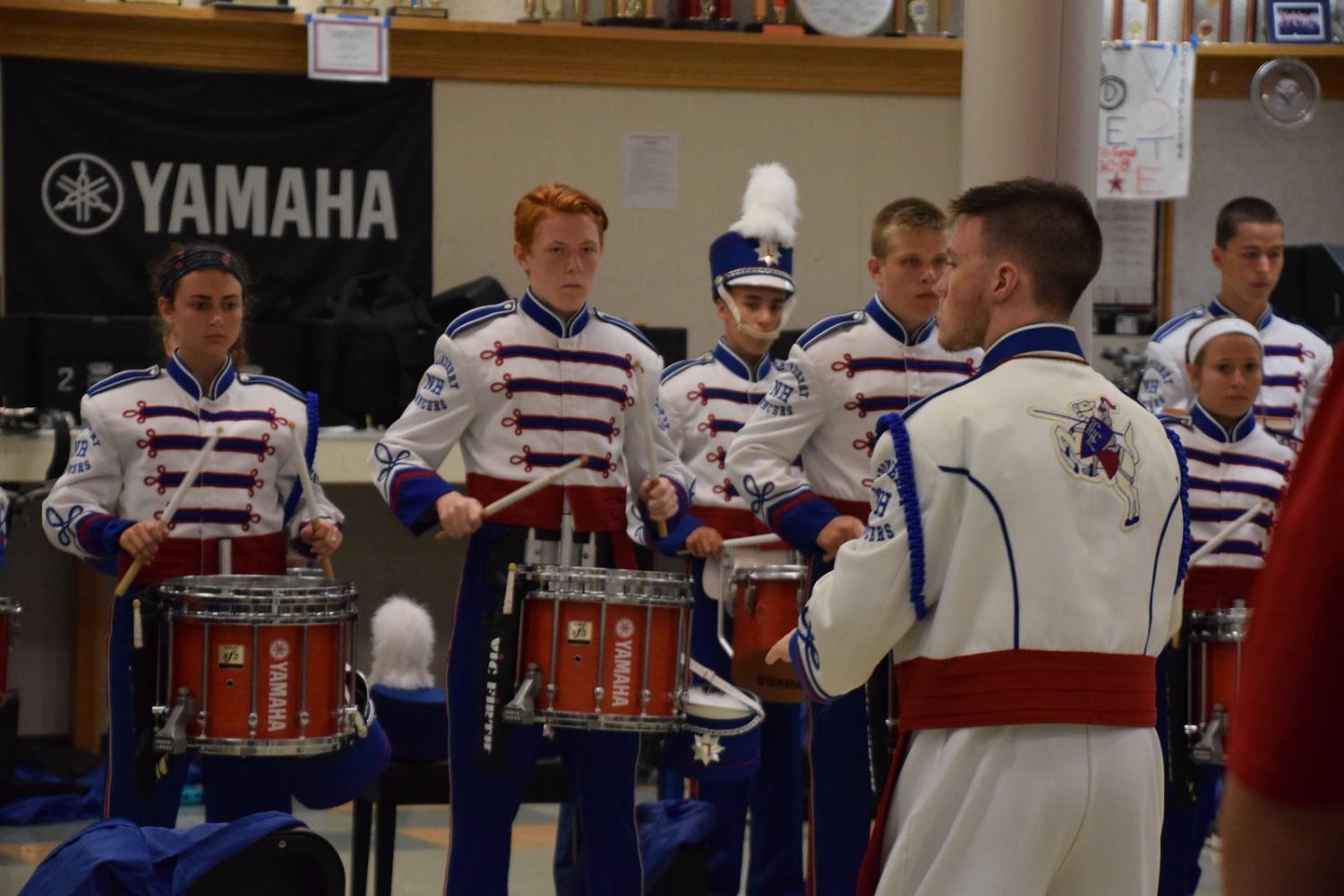 Her drumming career at LHS began as soon as she stepped foot into the school freshman year, where she auditioned for a spot on the drumline, and was eventually given the role of playing cymbals.
"My freshman year, I was kind of quiet and I didn't really feel like I could talk to the upperclassmen because they weren't the best at including the underclassmen in things," Gertz said. "I was on drumline freshman year and played the cymbals for just my first year. Being on drumline my freshman year was a big time commitment, but I didn't mind because I came to love drumline so much."
Gertz also earned the title of drum captain, the second highest position in the band behind drum major, in May 2018 along with senior Eric Marsden. It has been her goal to achieve this status ever since she was 10 years old, and she was blown away when she first found out that she had been named drum captain.  
Marsden thinks very highly of his fellow captain. He said she connects very well with members of the percussion and thinks she is "effective as a drum captain."
"Eva is very clear with her instructions and her expectations of the group," Marsden said. "She really understands the needs and wants of those in the percussion section of the band, and connects with the instructors and me to meet those needs. She really makes an effort to make sure everyone is heard and involved no matter what we do."
With the band having members from all four grades, many underclassmen look up to Gertz as a leader, including sophomore snare line drummer Alex Gruchot.  He aims to have the same type of impact for the band that Gertz has right now after she graduates.
"I just respect her for being able to lead us and show us how to be a good leader, which I want to be able to do," Gruchot said.
As drum captain, Gertz has the responsibility of tapping off and leading the cadence, a type of drum song that keeps the beat while the band is marching. She also is one of the main leaders at practices. However, the responsibilities as drum captain have their downfalls. Gertz says there is a lot of added stress with helping everyone along and trying to get them to listen.
"Band camp was pretty rough, no one listened and everyone was hot and soaked from the rain, along with just being miserable in general so that was a difficult time," Gertz said. "As the drum captain, I just had to talk to them and I was like 'I know we're all stressed but this week is almost over and we need to get through it'."
Gertz has evolved into a leader that her peers can count on since she became a member of the LHS band.
"I think Eva is an exceptional leader," senior and pit section leader Joel Feldmann said. "She is a role model that people, not just in drumline, but in the band as a whole aspire to be like."
Gertz hopes that she can treat everyone differently than the way she was treated as she was coming up through the band. She aims to include the underclassmen in all aspects of the drumline like she wasn't, and wants them to be comfortable involving themselves as well.
"It means a lot for not only me, but for everyone, that we can learn to work better together and become a team when everyone is included," Gruchot said. "When everyone is included, we can get things done easier and faster."
Gertz has many memorable experiences from her time in the LHS drumline. She says that the trip to Pasadena, California may be her most memorable experience, as it was was her first time going on the trip across the country.
"It was insane, like the best trip of my life. It was a whole week of being with my best friends, doing my favorite thing, and exploring a new state," Gertz said. "I felt like I was part of a bigger thing, and I felt the strongest bond I had ever felt with the band after spending a week with 300 of my closest friends."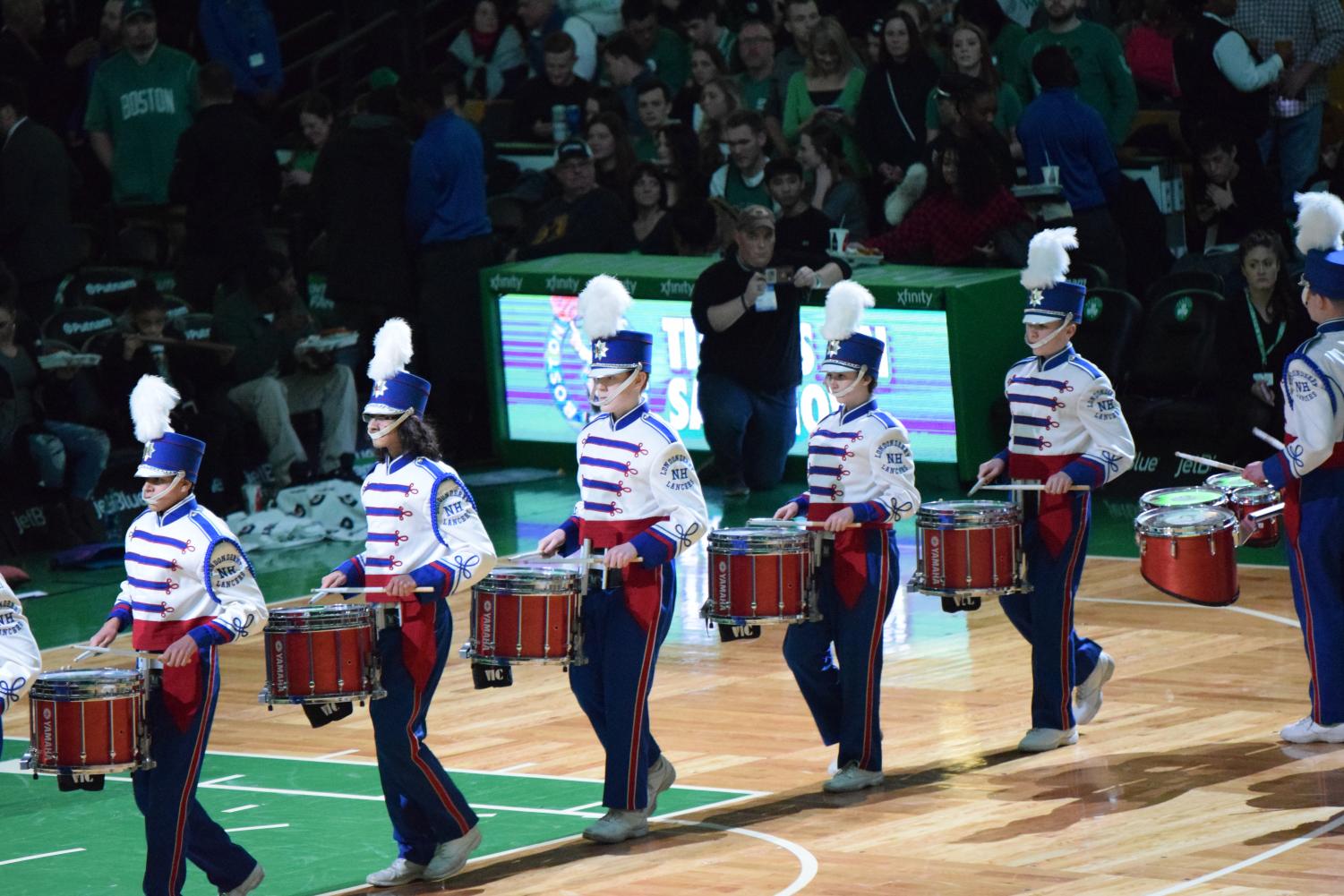 Gertz also performs twice a year at Celtics halftime shows and at the end of school pep rallies. She says that performing at Celtics games is amazing because of how many people are fans of the drumline. She loves the energy inside of the TD Garden when they perform, and loves when the lights are lowered because it makes it "theatrical".
However, school pep rallies are Gertz's favorite place to drum with her peers.
"Pep rallies are amazing because you feel the sense of school pride and you get everyone hyped up," Gertz said. "As a freshman, it was kind of nerve wracking, but now I just kinda get beyond excited for them."
Throughout all of this, however, Gertz has had to endure mild amounts of discomfort as she deals with scoliosis. Scoliosis, a curvature of the spine, is something that Gertz has had to deal with all four years of high school, but the thought of quitting drumming has never crossed her mind. She says she loves drumming way too much and that her scoliosis isn't severe enough.
"My doctor originally told me my freshman year that I shouldn't do drumline because the longer I had a strain on my back, the worse the scoliosis would get," Gertz said. "I'm always having to adjust my harness a lot and move my back around so that I'm comfortable when I drum."
The impact on her band peers around her is going to be felt as they go their separate ways and enter college life. From events like band camp and trips to Pasadena, her spirit and humor is going to be something that Feldmann misses the most.
"I'm gonna miss the times we goofed around at band camp," Feldmann said. "She and I would always laugh and lose our minds about the amount of repetition we had to endure during band camp."  
According to Gruchot, Gertz created a fun environment for everyone in the band and that made her a good person to work with.
"She was pretty funny and it was nice to have someone who is funny and serious when we needed to be," Gruchot said. "Our drumline as a whole this year has had struggles, but she was always able to bring us back when things weren't going well."
This story was originally published on The Lancer Spirit on February 4, 2019.