Mr. Whiz to retire after 49 years of teaching
Thirty-three years after he first came to McCallum, Whisennand will leave Mac at end of 2018-19 school year
By Lucy Marco, McCallum High School
February 10, 2019
Forty-nine long years. That's about 17,885 days since McCallum's Richard Whisennand began teaching. Whisennand or "Mr. Whiz" started teaching in 1969 but first came to McCallum in 1985, where he's been for 33 years. All the way from algebra, to organic gardening, to oceanography, to a variety of different kinds of biology, and lots more, Whisennand has taught it all. He has decided that the time has come to retire, and he will be leaving his position as a biology, anatomy and physiology teacher here at the end of the school year.
Whisennand says that in order for a teacher to have success they must genuinely care for their students.
"They have to know that you care for them," Whisennand said. "If they know you care for them, they don't mind working for you."
Getting to know his students and understanding their obstacles is Whisennand's best advice to new teachers.
"
You can tell he really cares about each individual student, just by the way he interacts with them."
— biology student Ileana Nicholson
"Establish appropriate relationships with your kids and understand that they come from some backgrounds that are very difficult for them to even have time to do their homework," Whisennand said.
Whisennand's began his teaching career as a student at Stephen F. Austin State University by instructing labs in his sophomore year of college and giving substitute lectures for teachers who were absent or in meetings.
"Because I went to a smaller university, I got to do this kind of stuff you wouldn't get to do at a larger university," Whisennand said.
Whisennand wasn't always going to be a biology teacher. He initially studied pre-med for three years before deciding against it after realizing how his brother's career as a doctor negatively impacted him.
In class, Whisennand likes to teach by handing out notes with the basic information and definitions before going in depth on each individual subject. While speaking, he likes to look around, making eye contact with each student as if he were just having a normal conversation. He prefers to provide opportunities for hands-on learning, such as studying skin and plant cells under a microscope and creating artificial cells that demonstrate osmosis.
"He relates science topics to real-life situations to make it more interesting and understandable to the students," said Ileana Nicholson, one of Whiz's biology students. "You can also tell he really cares about each individual student, just by the way he interacts with them."
While Whisennand says he will miss his students most after retiring, he will also miss his fellow faculty members.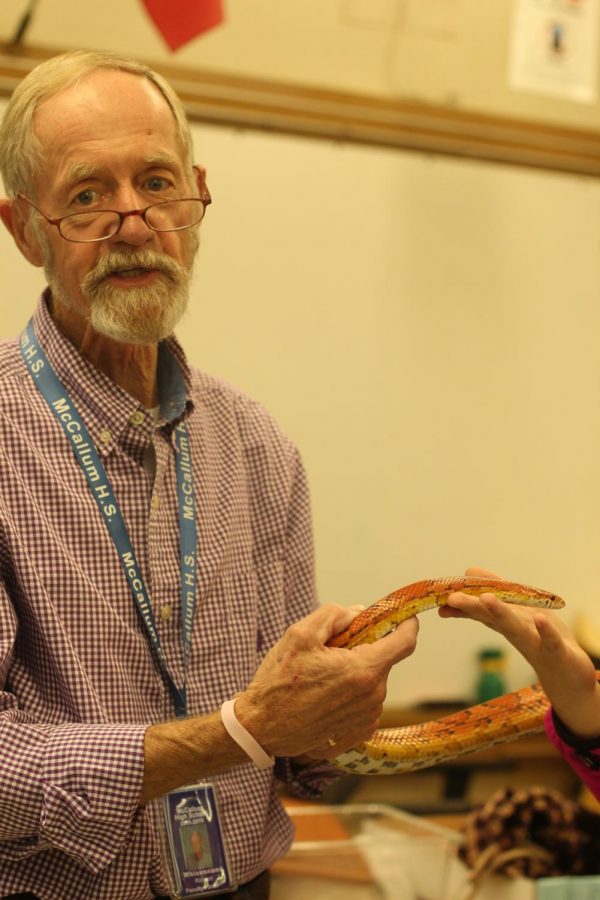 "The faculty members have become part of my family," Whisennand said. "There are people here who were here when my mom died and my dad died, when I got divorced, when I got remarried. Really close. Especially Mr. Lehman. He's been my mentor. He was my mentor when I got here, and he is now, male-wise, my best friend."
Mr. Whiz has also been a mentor to other teachers at McCallum. Latin teacher Nick Martin has worked with Mr. Whiz since he first started at McCallum in 1997. Martin says the most important lesson he learned from Whisennand was to "find a subject you love and learn everything you can about it."
When he compares his beginning year of 1969 to today, Whisennand finds vast differences.
"AISD's focus on quality education has become more about money and what it costs," Whisennand said. "Decisions have been made that are not necessarily good for kids' education. That's one of my main concerns and is one of the reasons why I didn't go for 50 years like I was planning to. Another thing that has changed of course is technology, which has been really good in some aspects and not so good in others. This trend of more work on computers and less interactions between teachers and students doesn't build real positive relationships between students and teachers."
"
The faculty members have become part of my family. There are people here who were here when my mom died and my dad died, when I got divorced, when I got remarried."
— Richard Whisennand
Whisennand says that other teachers and his great aunt inspired him to continue teaching throughout the years and the changing times.
"It's been a variety of teachers that I have had the honor to work with, one of them being Mr. Lehman," Whisennand said. "He really has built special friendships within the staff of the school, even a best friend. My inspiration came from my great aunt who lived from riding in wagons to the space shuttle. She was an old-maid school teacher and was amazing. She was one of the few women to coach basketball at Columbia University. She was a math teacher in the Houston school district for as long as I can remember. She was true, 100 percent completely honorable and straightforward her entire life. She would have had no regrets when she passed away."
Throughout his career, Whisennand has passed down one important piece of advice that he first received from a former McCallum administrator, to other teachers.
"You don't gain a kid's mind until you gain their heart."
This story was originally published on The Shield Online on January 31, 2019.