Plastic straw ban pending in California legislation
New plastic straw laws take effect at establishments across California
By Hunter Keaster, Oak Park High School
February 13, 2019
Plastic straws have been made only available upon request at full-service restaurants in California. Bill AB-1884 was signed by Gov. Jerry Brown on Sept. 20, and will take effect Jan. 1, 2019.
State laws are not the only things that have been changing, new policies are being considered in local companies and in schools regarding plastic straws. For example, the coffeehouse chain Starbucks Corp. announced on July 9 that it would replace plastic straws with strawless lids or straws made of alternative materials.
The Oak Park Unified School District has implemented new rules regarding plastic straws — as of April, single-use plastic straws have been eliminated from school cafeterias. As an alternative, the cafeterias offer paper straws.
"Our district likes to be a leader in environmental areas," Superintendent Tony Knight said. "It's a no-brainer for us to be doing this."
According to Knight, more emphasis should be put on the reusability of materials and products.
"Buy a stainless steel straw, bring it with you … that's going to be a new way of eating and drinking," Knight said.
California state Senate has taken steps in attempts to reduce plastic straw distribution. AB-1884 prohibits full-service restaurants from providing plastic straws to customers, unless requested by the customer. It passed the Senate Aug. 20.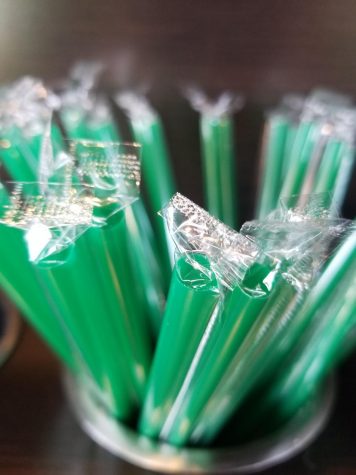 On Sept. 20 Gov. Brown approved the bill, and at the beginning of next year it will take effect.
"AB-1884 enables California to take a very basic and important first step to reduce unnecessary waste that results when restaurant customers are given plastic straws they don't want, don't need, and don't use," state Sen. Jerry Hill, D-San Mateo, wrote to the Talon. "At the same time, the legislation does not prevent individuals who need straws to ask for and receive them."
Other senators voiced their concerns about AB-1884.
"If you walk into our lounge we've got [plastic] straws in there," state Sen. Joel Anderson said on the senate floor. "We haven't even required of ourselves not to use those [plastic] straws, and yet we're forcing that on others."
Oak Park High School students have mixed opinions on AB-1884. Senior Katie Trux shared her opinion on the bill.
"It just automatically cuts down on tons of waste, and if someone does need a straw, they have a straw available to them," Trux said.
Other students are not in support of AB-1884. Sophomore Chase Willet commented on the new legislation.
"If personal businesses decide to do that, I'm for it, but I don't feel like the government needs to be involved with the passing out of straws," Willet said.
In Malibu, new legislation on plastic straws went into effect June 1 that forces all restaurants to cease distributing plastic straws. Some restaurant owners have faced complications with alternatives to plastic straws.
"Children definitely have issues with the paper straws as they melt before they finish the drink," owner of the Malibu Farm restaurant, Helene Henderson, wrote to the Talon.
Knight said that straws are not the only environmental issue in the Oak Park district.
"Anything that you're throwing away these days or even recycling is a considerable problem," Knight said. "Single-use is a concern."
Henderson, however, suggested her own alternative.
"Who needs a straw anyway?" Henderson said. "Drink straight from the glass."
This story was originally published on The Oak Park Talon on September 26, 2018.