It all started here
Seniors Rashad Wisdom and Sincere McCormick develop their bond, and love for football, early.
By Raven Gatson, Judson High School
February 17, 2019
Judson's football program is known for having substantial talent, containing a rapport of committed and signed players throughout the years. Seniors Rashad Wisdom and Sincere McCormick are adding their names to the list with both of them verbally committing to the University of Texas at San Antonio, to continue their football journey close to home.
Similar to other athletes, Wisdom and McCormick began their love for the game early. Wisdom began playing for the Junior Rocket flag football team at the age of six and McCormick played for the Junior Spartans in California, both at the same age.
Without knowing it, their seventh-grade year became an important year for both of them. Not only would they continue their football development with the Junior Talan flag football team, but their friendship was born.
"I had just got back into football, after sitting out for a year. That was the first team I had came back with, and Sincere was on the team already," Wisdom said.
Once at Judson, McCormick showed off his talent on the offensive side with Wisdom doing the same on the defensive side. Both their effort and contribution did not go unnoticed, receiving offers from various schools including UTSA.
"My first time [at UTSA] was at a camp. I got to go on to the campus and see what it was like. The first time I was introduced to the players was at a game," McCormick said.
While each of them received offers from UTSA, neither of them paid close attention to the program itself and did not consider them at first.
"At the time, I did not know much about UTSA. I saw them as a school down the road and overlooked them at first," Wisdom said. "It wasn't until we began going to their camps and actually started looking at the school [that we became interested]."
However, that changed quickly as each of them were approaching the beginning of their senior year. UTSA became a strong contender for Wisdom that eventually led him to commit.
"I committed first. Right after I committed, I called up Sincere and told him we need to go over there and change some stuff up and that they had something good going on," Wisdom said. "He was going up to a camp a week later and I told him once you talk to Coach Frank, you're going to commit."
A week later, McCormick was convinced and committed himself to the school as well.
"When you meet Coach Frank Wilson, he talks to you like Martin Luther King. He's really convincing," McCormick said. "There was a lot of stuff happening at UTSA that we give us an opportunity coming into our freshmen year."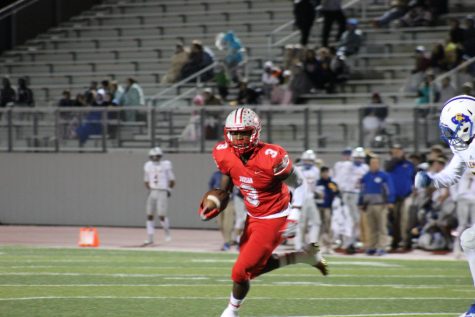 While UTSA has made a name for itself, it is still a relatively small football program when compared to Texas A&M and the University of Texas at Austin. Yet, this didn't concern either of them with their decision, having reasons why the school was a great choice for both of them.
"Being at a smaller school wasn't much of a big difference, because I wanted to be in college," McCormick said. "Not a lot of my family members went to college, so it was a big step."
As for Wisdom, it allows him to stay close to his family and keep those bonds.
"It's right up the road and my family can come to every home game guaranteed. The Alamodome is twenty minutes from my house, so it's not hard to get up there," Wisdom said. "If I ever need help or want to have a free meal, they are there and I can easily go home."
McCormick and Wisdom have a goal to carry the legacy of Rocket fundamentals and pride on to the UTSA campus.
"Taking what we learned here and bringing it over there – that's something that we have that they don't have, which is playing together and having a brotherhood. That's we hope to bring into the system," McCormick said.
This story was originally published on The Fuel on December 11, 2018.