Moms are Taking Over Cookie Sales
Girl Scouts' efforts have started to go downhill as their parents begin to control the sales
By Kiersten Watkins, Millard West High School
March 6, 2019
Being a Girl Scout used to be an important part of some girls lives because they got to participate in a lot of fun activities and other group projects. Girl Scouts learned to do many things when they meet with their troop. They learned to value the world and how they can impact society. Many group leaders decided to continue helping the girls in current years because they saw how it impacted little girls' lives.  
Over the years, the process of selling Girl Scout cookies has changed. Many former Girl Scouts have explained that they did a lot of extra work on their own in order to meet their goals, but some current Girl Scouts are letting their parents take control of the sales.
Changes have happened due to the amount of kids who want to be involved but don't want to put in the work. Many former Girl Scouts are getting frustrated with the lack of effort being put in by current Girl Scouts and the overachieving parents.
"I don't think that mom's helping as much as they do is benefitting the girls," former Girl Scout sophomore Golden Kelly said. "It doesn't show the purpose of little girls selling cookies. Selling cookies is something that shows the hardwork and effort that is put in, but when mom's do it for their Girl Scouts, i don't think it is showing them the entire purpose of selling the Girl Scout cookies and the stories behind each sale, because there is a story about each box being sold."
Hard work is important when it comes to supply and demand, but some girls are keeping up with it and making sure that they are pulling their weight. Learning about economics and selling products at a young age will help them in the future, but they should know what it's like to take time to work for something that they want.
Parents have always helped their children when it came to working with money at a young age, but now this "helping" has gone too far. Many girls aren't doing enough of the work on their own anymore and they aren't understanding the point of being able to profit from personal sales. Selling cookies is supposed to teach the girls that hard work will eventually pay off. Girl Scouts' moms are have been able to sell by getting ahold of people on social media or selling at their jobs while their kids aren't around.
Girls used to do as much as they could to be the top seller in their group. Being the best seller also meant getting better or more prizes. Some of the prizes consist of trips to the zoo or smaller personal prizes such as T-shirts or water bottles.
Some current Girl Scouts like to do their own work because it gives them the satisfaction of knowing that they can do things on their own.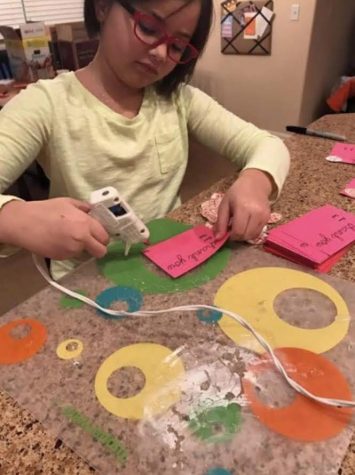 "My sister doesn't like it, but my mom tries to keep her on track to make sure that she's meeting her goals each year," junior Maddie Signh said. "My mom likes to double check that everything is going to the right places and all the money is accounted for. I only help out by driving my sister to drop cookies off, but she likes not having to walk around with stacks of boxes."
Girls are doing the work when they want to, however, there has been a problem with parents taking over in more recent years.   Parents are making selling cookies into a competition even though they shouldn't be the ones doing the work. The girls aren't putting in the effort and their parents are arguing over who can sell more, even though they shouldn't be involved as much.
"I think that selling cookies should be something that the girls like to do all by themselves," sophomore Savannah Weitl said. "If they don't want to put in the effort then they shouldn't decide to be a Girl Scout. It can be a difficult task, but girls should be work together to sell what they can."
Putting in the work makes selling cookies important, some girls put in extra work just to make customers happy.
"When I was little I always wrote 'thank you' notes for each customer that ordered cookies from me, but now people just hand you the box and just snatch the money right out of your hand," Kelly said. "I've overheard moms at my work talking about how they are doing all the work for their kids and by doing this, they don't understand what they are taking away from the girls."
Girl Scout cookies have been around for many years and selling them has only become a problem in recent years. Former Girl Scouts want things to change because girls aren't understanding the idea of selling. The girls should learn to do their own thing so they can be strong independent women in today's society.
This story was originally published on The Catalyst on February 28, 2019.