Improving improv skills under the bright lights
'Best jazz band Mac has seen in years' brings down the house, takes home $1,000 at Parker Jazz Club gig
By Madelynn Niles, McCallum High School
March 7, 2019
Hang on for a minute...we're trying to find some more stories you might like.
Members of the jazz band had the opportunity to play Sunday night at the packed Parker Jazz Club on Fourth Street, a prestigious club known for its incredible music. Along with raising more than a $1,000 for the jazz band program, the members also got the chance to play with the owner of the club, Kris Kimura, and professional saxophonist Joe Morales. Solos, famous tunes and a combo feature brought the audience members to their feet with a standing ovation for the "best jazz band MAC has seen in years," as director Carol Nelson described her students.
Junior trumpet player Clifton Pike said the experience was a far cry from a normal jazz band performance.
"It was a completely different environment, but the vibe was very strong, especially from the crowd," Pike said. "Being on a professional stage for this genre of music was just phenomenal."
We are pleased to share some of our favorite images from the concert this Tuesday for a very special edition of our #TuesdayTop10 weekly photo essay.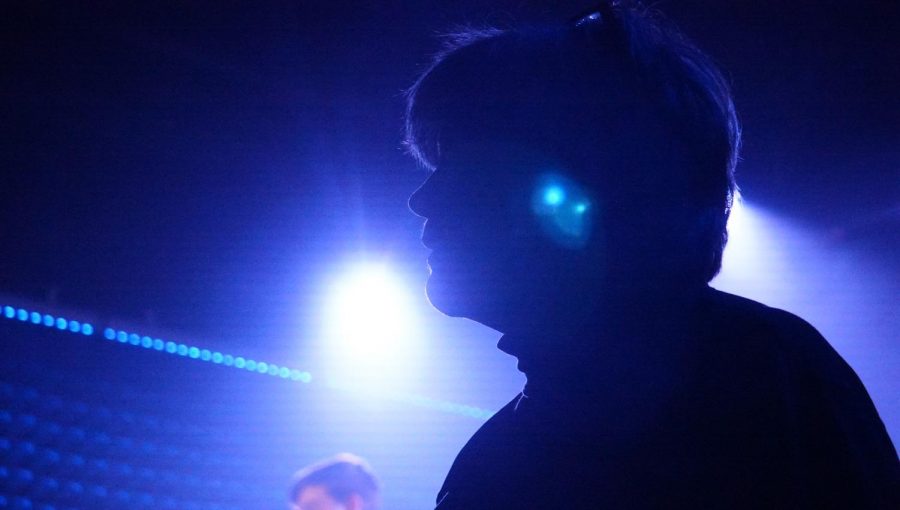 LIGHT REACTION
Band director Carol Nelson watches her students as they play on stage at Parker Jazz Club on Fourth Street, a prestigious venue known for its production of spectacular music. The show was a professional gig for the Mac Jazz Band as well as a fundraiser to gain money for their upcoming New Orleans trip. Nelson stated at the beginning of the show that this year's group is "the best jazz band Mac has seen in years."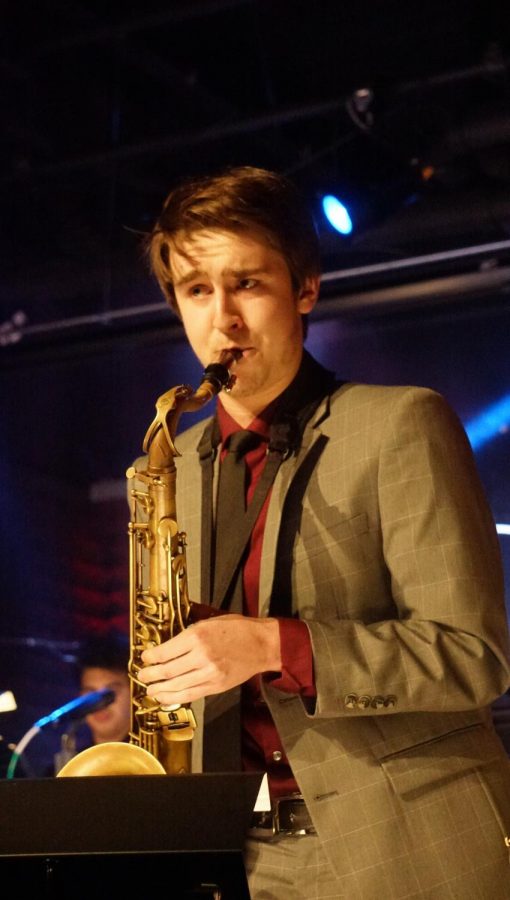 FEELING SAXY
Junior saxophonist Jackson Bennett stands for an improvised solo. The song he is playing, along with several others featured throughout the night, includes members of the band making music on the spot — or improvising. "Each solo you have is a chance to improve your improv skills," Bennett said. "It makes you better at coming up with licks on the spot."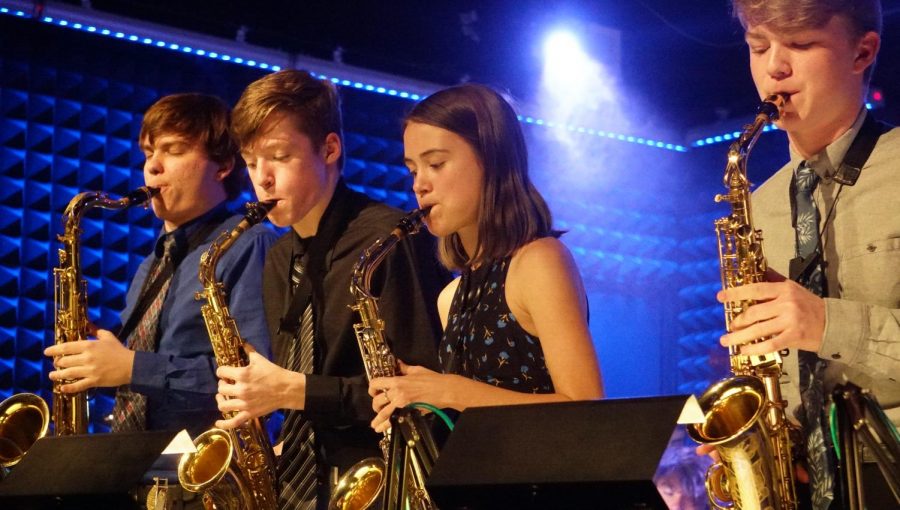 FANTASTIC FOUR
Jazz band members Dan Thomas, Will Sharp, Mercedes Gonzales and Gavin Owens rise to their feet for a saxophone feature in "Four," one of the songs played at the gig. Throughout the night, certain members and sections of the jazz band were featured as they four are in this picture. The feature spots put an emphasis on individual talents. "The sax solo was really fun," Owens said. "I liked the style that Joe helped us make on that song a lot."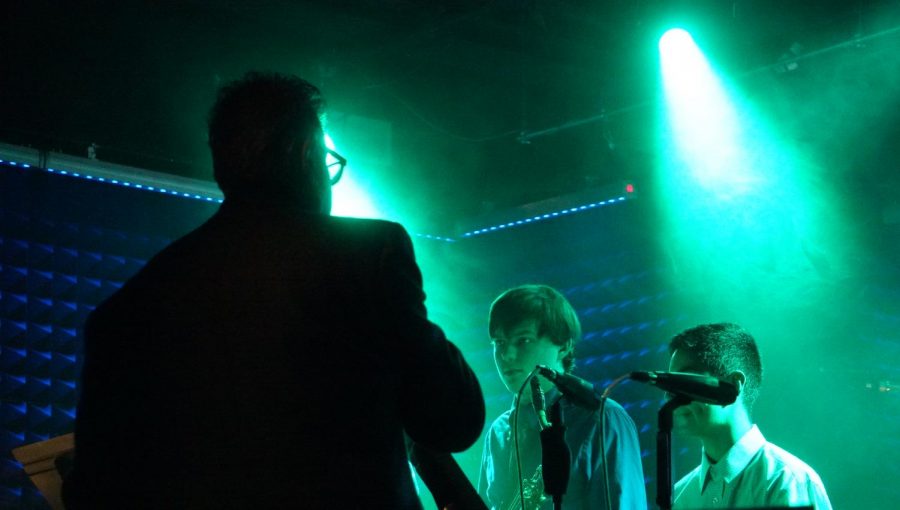 MORALES MENTORS McCALLUM
Members of the "Blue Knights" combo Dan Thomas and Jacob Martinez take a moment to listen to Joe Morales, a famous saxophonist who had started working with the jazz band earlier this semester. "I love working with him because of his energy and passion for music," Thomas said. "He's come in and fine-tuned our playing and really taken it to the next level."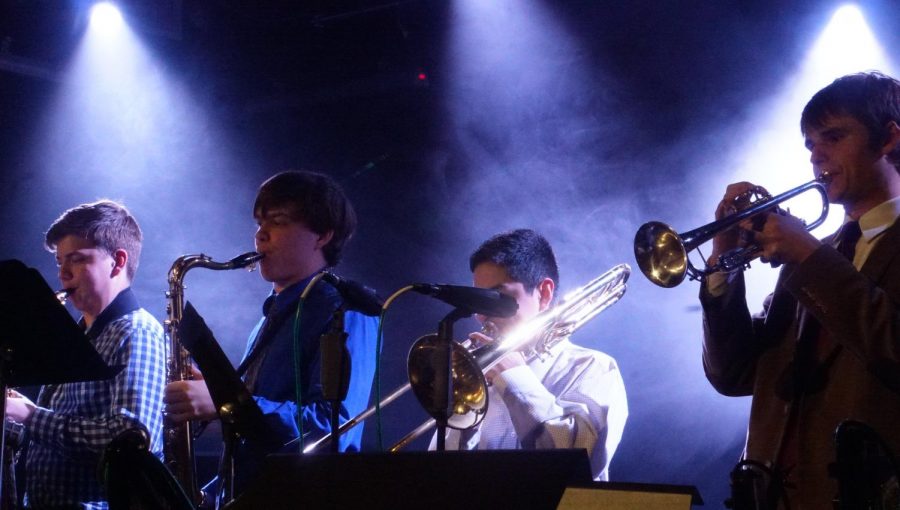 TRUE NIGHTS FOR THE BLUE KNIGHTS
Phoenix Bozeman, Dan Thomas, Jacob Martinez and Joe Roddy soak up the spotlight in the final tune of the night. These four musicians, along with pianist Luke Tiessen, were featured at the performance as the "Blue Knights" combo. "I enjoyed playing for such a big crowd of people who truly enjoy jazz," Martinez said."Gaining experience on what it's like to be a professional jazz player is something I'll never forget."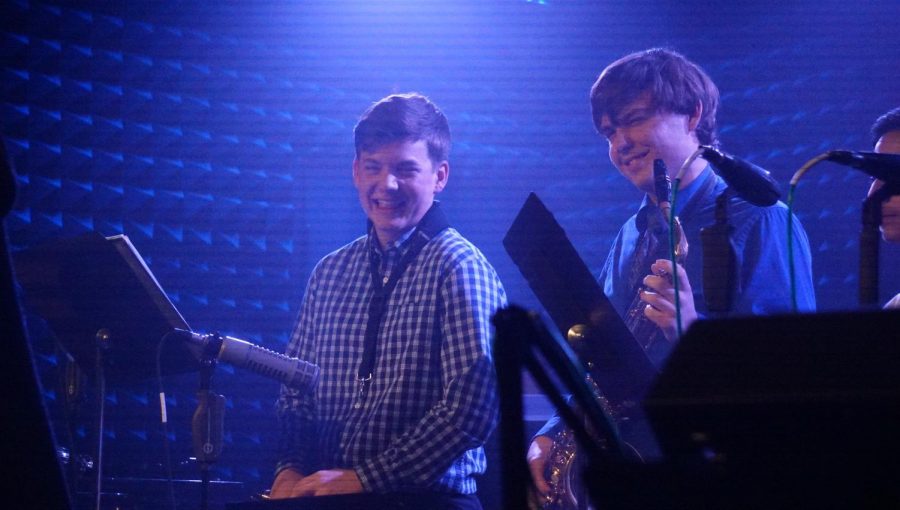 CRACKING A SMILE
Saxophone players Phoenix Bozeman and Dan Thomas grin as the audience applauds after a song. Even though the show was a serious, professional gig, the jazz band members still laughed and goofed around as they enjoyed taking in the experience. "My favorite part about the whole thing was playing in such a nice club with such nice equipment," Bozeman said.  "It really made the music pop, and it was so much fun."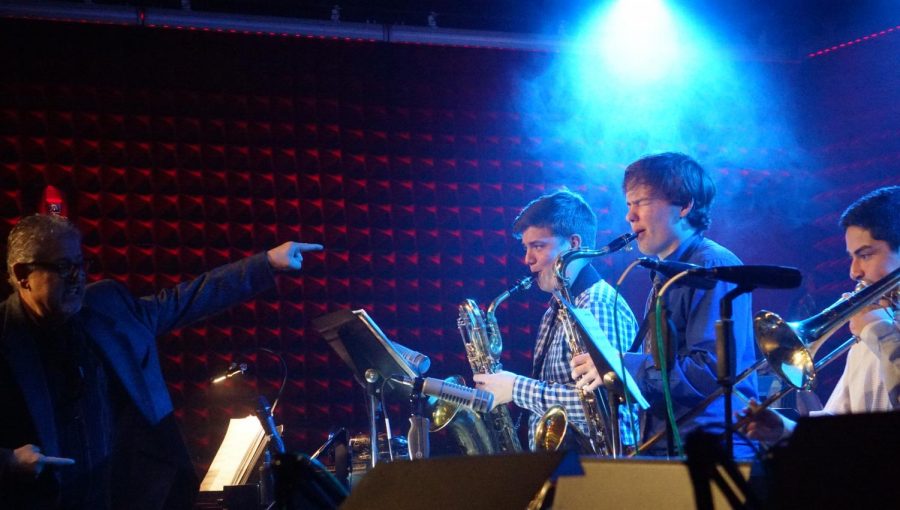 HITTING THE HIGH NOTE
Mentor Joe Morales points to Dan Thomas during a solo as he focuses in to hit an extremely high note on his baritone saxophone. Thomas was featured throughout the night with improvisational solos, some planned and some unexpected. "Joe always keeps you on your toes," saxophone player Phoenix Bozeman said. "You never know what he's going to do."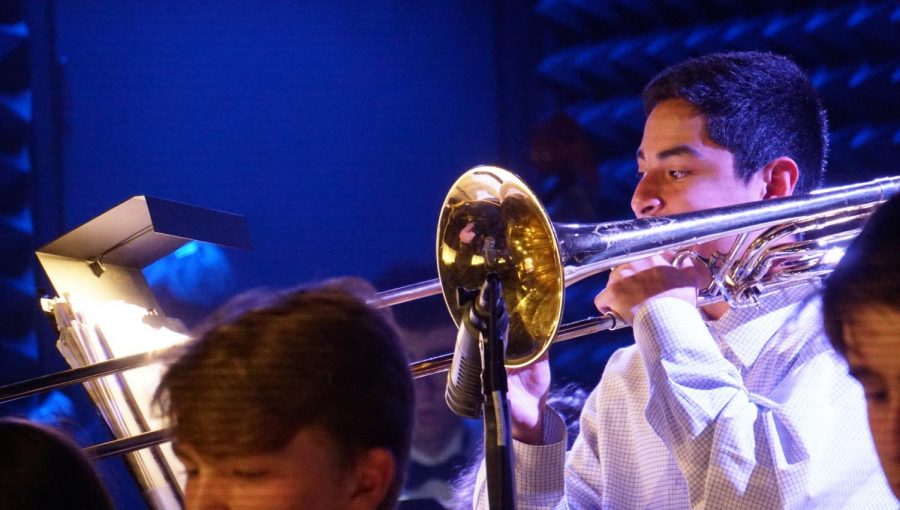 JAZZY JACOB
Trombone player Jacob Martinez stands as he plays a solo for the packed crowd. In addition to being in the jazz band, Martinez was also one of the three members of the Mac band program to attend the TMEA All-State Convention this February. "When I went and played at state both freshman and sophomore year, the band was huge, and it was a lot different than this," Martinez said. "The jazz band is a lot smaller, and we play a completely different genre of music; both both are very enjoyable."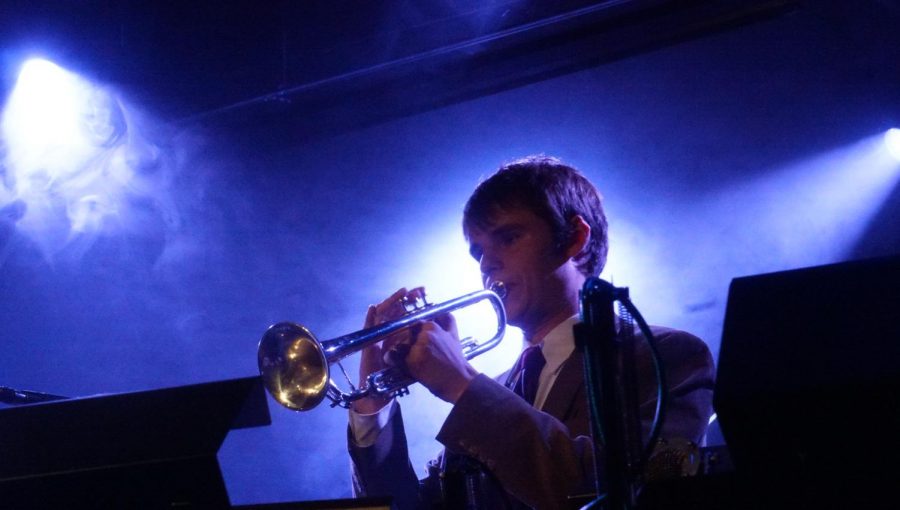 TOOTING HIS OWN HORN
The spotlight shines down on trumpet player Joe Rodey as he plays a sweet jazz solo. Along with being featured as a soloist in several of the band's tunes, he also participated in the "Blue Knights" combo with four other members.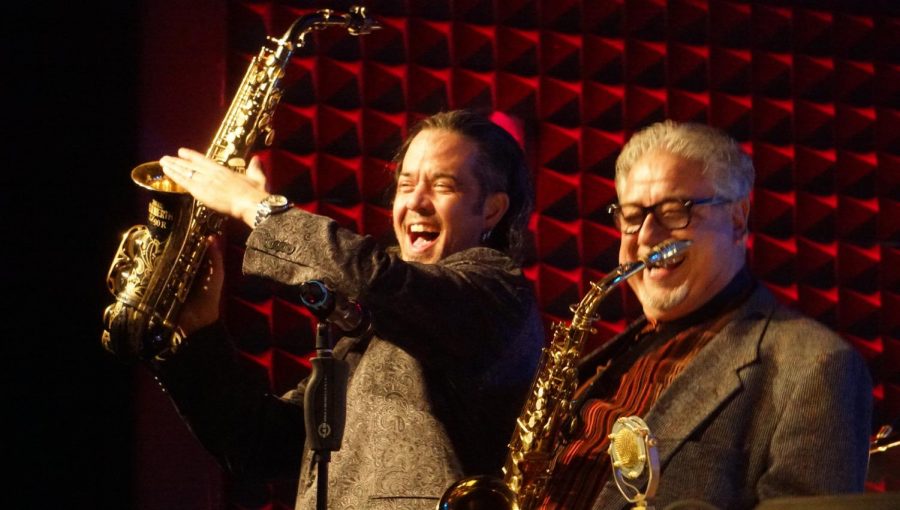 SMILEY SAXES
After making a surprise entrance and accompanying the jazz band for the end of the show, owner of Parker Jazz Club Kris Kimura lifts his saxophone into the air as mentor Joe Morales laughs along. The two men joined the band to play solos and read through the music as a last hoorah for the performance. They then went on to congratulate the band on a fantastic performance and told the audience that the young musicians there would soon steal their jobs because of how talented they are.
Photos, videos and captions by Madelynn Niles.
This story was originally published on The Shield Online on March 5, 2019.