Lynsay Garrett leaves an impact on girls' basketball program
Foresti: 'She's not only a teammate, but family forever.'
By Amanda Lurey, Oak Park High School
April 5, 2019
Senior Lynsay Garrett started playing basketball when she was around 6 years old. She is a two-year varsity player and co-captain on the 2018-19 girls' varsity basketball team.
Garrett wrote to the Talon about why she started playing basketball: "I love the sport and watching it so why not play it. Plus I'm a competitive person so it's right down my alley."
She was player of the game 11 times for her varsity career, the earliest being on Nov. 30, 2017 for a game versus Viewpoint High School.
In her two years on varsity, Garrett has played in 62 games, has a scoring average of 7.9 points per game, as well as 2.9 assists per game, 7.3 rebounds per game and 2.1 steals per game.
Girls' basketball Head Coach Doris Park wrote to the Talon that while Garrett primarily plays guard, she can really play every position.
"Even though she isn't the tallest kid out there, she plays big," Park wrote.
Senior Abby Messe has known Garrett for four years and has played basketball with her for two and a half of those. Messe is a three-year varsity player who was a co-captain with Garrett this year.
"Lynsay is an amazing person, friend, and teammate. She's hard-working, competitive, and always has her teammates' back!" Messe wrote to the Talon. "I love playing basketball with Lynsay because we work well together and I know I can count on her."
Park wrote that, this season, Garrett learned how to be a leader.
"One moment I will always remember is the leadership Lynsay showed in our 3rd round CIF (California Interscholastic Federation) southern section playoff game win against Whitney [High School]. We [were] down by 12 points right away, but Lynsay never gave up on herself or her teammates," Park wrote. "She lifted her teammate's spirits and was like a coach on the floor, inspiring and talking her teammates through the point deficit."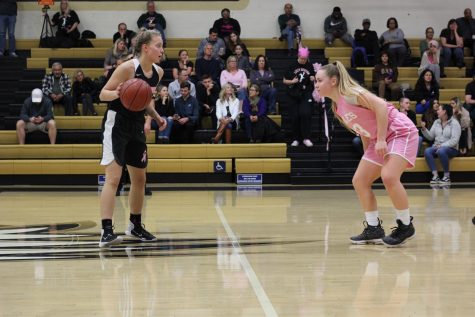 Park has been coaching Garrett for the past two years. She called Garrett a "straight up competitor."
"She goes out every game and leaves her heart on the court. She has led by example in the program," Park wrote. "Both on and off the court, Lynsay is always herself and honest with everyone she comes in contact with."
Garrett, no. 23, continues to play basketball because she "enjoys it so much." She is not pursuing college basketball, but her future will probably include playing basketball for fun and continuing to watch it.
Even though junior and three-year girls' varsity basketball player Mia Foresti has known Garrett since they were both in Medea Creek Middle School's choir, their friendship truly began through high school basketball.
"Lyns is one of the most competitive players I know. She's always working hard and keeping the rest of us in check," Foresti wrote to the Talon.
Messe describes Garrett as a "leader who plays with her heart."
"I'm so lucky to have gotten to play with Lynsay and become good friends with her," Messe wrote.
Foresti wrote that "it'll be hard to watch her graduate."
"She's not only a teammate but family forever," Foresti wrote.
This story was originally published on The Oak Park Talon on March 26, 2019.