Committing to coaching
Head baseball coach Mike Campbell celebrates 45-year career
By Valerie Benzinger, Lewisville High School
May 15, 2019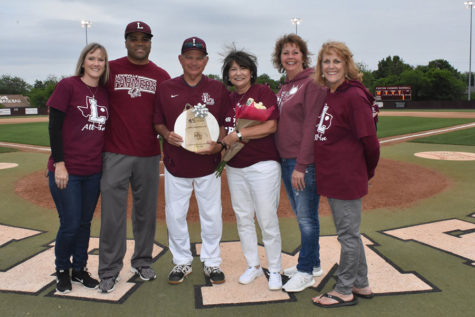 The sun sets slowly in the background as the Fighting Farmer baseball team lines up together on the field, brought out by head baseball coach Mike Campbell. The opposing team, the Hebron Hawks, is led onto the field by their coach as well.
The announcer begins a speech about Campbell, praising him for his hard work and dedication while coaching. Taken off his guard, the coach smiles as he looks back toward the box to thank his friend.
"[The ceremony] was a complete surprise," Campbell said. "It was a neat experience."
A group of baseball booster club parents then approach Campbell, presenting him with a custom-engraved cutting board celebrating his 45-year career with the Fighting Farmer baseball team.
When he thought the last of the night's surprises were over, he turns toward his team to see them all donning his name and jersey number. The boys have huge grins as they look back at their coach with appreciation and love. Their idea of honoring the man who has changed young men's lives through baseball had finally became real.
"We planned on celebrating with him at our banquet, but the players came to us and said they really wanted to honor him during a game," baseball booster club secretary Kim West said. "He was totally surprised, he had no idea we were doing it. [His reaction was] pretty much utter shock. He was totally elated, [with] tears in his eyes."
"
I can't thank him enough for everything he's done for me and everyone else who's had him."
— baseball captain senior Caleb Vuono
This ceremony was a combination of the efforts by the booster club, school administration, the teammates and even Campbell's wife. They worked together behind the scenes to keep it a secret from him.
"We were planning it for weeks and then it got rained out and pushed back," principal Jeffrey Kajs said. "It's always fun to surprise people and recognize people for the job they do. It was great to get the past players and parents out here to see the legacy he's created."
Campbell has been involved with baseball for his entire life, which fueled his passion for the sport later in life. This led him to decide to pursue coaching.
"I knew I didn't want to sit behind a desk all day long," Campbell said. "I've always loved athletics in general, like baseball and football. I love all sports and I played all the time as a kid, so I knew that's what I wanted to do."
Throughout his 45 years of coaching, Campbell has learned to adapt to the changing mindsets of new generations of players. His ability to modify his teaching to suit the needs of his students allows his teams to succeed thanks to the tailored training.
"I've had to adapt to different types of kids all the time," Campbell said. "Every few years, they seem to change, so I've got to be able to grow with that and see that and adapt. [My goal has been] to make the young men I coach into better men and people, so they can take that into life."
"
[My goal has been] to make the young men that I coach into better men and people, so they can take that into life."
— Head baseball coach Mike Campbell
The baseball players look up to Campbell for his dedication and work ethic. He inspires them to better themselves by using himself as an example of how to truly love what they do.
"He's a good role model because he's a Christian man, he's hardworking and he's loyal," baseball captain senior Caleb Vuono said. "He's been here for 45 years and that's a good example for everyone, not just as a player but as a man."
As Campbell has seen numerous students come and go, he has been able to watch alumni move on in life and earn achievements in diverse fields. He bonds with his alumni over the memories from long hours of practice and tournaments together.
"There seems to be a fraternity of guys who played baseball here out in the world today," Campbell said. "The teams that overachieved and excelled made a lot of good memories."
Campbell aims to make a difference in his players' lives. He pushes to instill strong morals and positive values in the students he works with. Campbell's ability to work with the players has earned their trust and admiration. The players believe his empathy makes him an effective coach.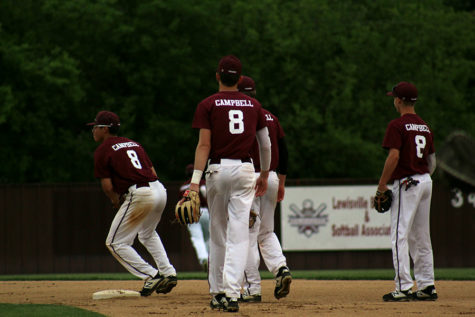 "He's able to relate," Vuono said. "He's really good at motivating us and tapping into us."
Campbell touches the lives of his players through not only teaching them how to play the game, but also how to be a productive member of society. The players look up to Campbell as a role model and aspire to emulate his work ethic.
"He's impacted me tremendously, whether it be through baseball, in the classroom or off the field," Vuono said. "He's always there for me and has words of encouragement. I can't thank him enough for everything he's done for me and everyone else who's had him."
Campbell's long-lasting career has given him a unique perspective on the school. His dedication to the baseball program allows him to create a strong environment for the players.
"He's seen coaches, athletic directors and assistant coaches come and go, but he's been the consistent piece to Lewisville High School for 45 years," Kajs said. "He pours his heart and soul into it. Anyone who does that for any organization, club, sport or school is really special."
Coaching for 45 years has kept Campbell's love for baseball alive. His dedication to molding young players into well-rounded men helps him remain involved in the sport.
"[What keeps me motivated is] the passion for the game and the passion to be around young men to teach them to be better people," Campbell said. "I enjoy it. I'd miss it if I retire."
This story was originally published on Farmers' Harvest on April 30, 2019.