Different paths, same degree
By Ella Wishchuk, Cathedral Catholic High School
May 21, 2019
As "Pomp and Circumstance" plays loudly over the speakers, graduates wearing colorful full-length robes, jet-black graduate caps, and beaming expressions proceed into the university auditorium. Applause and cheer fill the air while the graduates accept diplomas proudly with a firm handshake in front of their closest friends and family.
While most students dream of this monumental college graduation scene, many students take a different path towards earning a bachelor's degree than the conventional four-year university.
In recent years, the trend of attending a two-year community college before transferring to a four-year university has become widely popular among high school students, especially in California, for a plethora of financial, academic, and personal reasons.
According to the Foundation for California Community Colleges, almost 51% of graduates of the California State University System and 21% of the University of California system transferred from a California Community College.
Students commonly use community college as a stepping-stone into junior year at a four-year university and a bachelor's degree by earning transferable credits or signing up for a transfer program. Then, once a student has transferred and graduated, only the four-year university's name will appear on their bachelor's degree.
Additionally, acceptance into prestigious universities as a third-year transfer is an easier process than straight out of high school, which interests many students who did not get accepted into their dream school as a high school senior.
One specific transfer program which appeals to many students in California is called Transfer Admission Guarantee (TAG), in which students in California are guaranteed admissions to participating UC schools, such as University of California Davis and University of California Santa Barbara, after completing two years at community college and meeting the agreed grade point average and course requirements.
Cathedral Catholic High School college counselor Miss Colette Reid shares her unique perspective on helping students choose whether starting at a community college may be the appropriate decision.
"I recommend this strategy if it's the right choice for you," Miss Reid said. "If you are unsure about some things or maybe just not feeling emotionally ready to go to a four-year college, there are a lot of pros."
Students most often choose to attend a community college to save money, test out college life, or to take advantage of having a more flexible schedule and future.
Attending community college saves students thousands of dollars a year due to cheaper tuition and no room and board fees.
The following graph illustrates the difference in cost between community colleges and public and private four-year universities from the 2018-2019 year with information from U.S. News and World Report and Columbia University's Community College Research Center.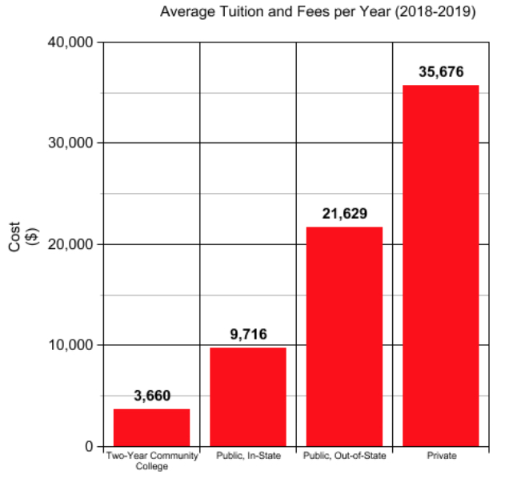 The lower cost of community college also appeals to students who are considering higher education such as law or medical school after college and would like to reduce their overall student debt.
"Tuition has gone insane everywhere," said Mr. Don DeAngelo, who served as the Adjunct Professor at Grossmont College and CCHS MiraCosta Dual-Enrollment U.S. history teacher. "For a lot of students who are in that particular cost bind, [community college] is like a Godsend so they can save that money for other purposes."
Besides cost reasons, the academic atmosphere of community college benefits high-school students who may have struggled their senior year or who are unsure of what major to pursue.
Eliza Gilbert '19 plans to attend MiraCosta Community College in the fall and then later transfer to a four-year university. She believes the extra time of community college will permit her to to develop her passions without the pressures of a four-year university and assist her in a more smooth transition into college.
"School has never been one of my strengths," Gilbert said. "Up until my senior year, I didn't prioritize school. With community college as an option, I know I can catch up, save money, and figure out a path that is right for me. I will know exactly what I want to pursue before investing thousands of dollars into my education."
Gilbert also considered her unique personal interests when making her decision to attend community college in the fall.
"At community college, I will be able to work at a pace where I can be successful and have more room in my schedule for other activities such as my work as an assistant to a real estate agent and extracurriculars," Gilbert said. "I think my mental health will also benefit from the flexibility of community college."
Community college not only allows for students to identify their passions, but also provides time for students to emotionally mature.
Miss Reid relates her personal experience. She was only 17 years old as a freshman in college. She attended Palomar Community College and then transferred to Sonoma State, which she believes was the best route for her. This way, she was able to emotionally and academically prepare for college.
"It was the best decision I ever made," Miss Reid said.
Despite the numerous benefits of this pathway to a bachelor's degree, high school students sometimes dismiss the idea because they believe they would be missing out on the social environment of college or they perceive a negative stigma surrounding community college. Unlike residential colleges, many community colleges lack on-campus housing so the students live nearby and commute.
"There's a stigma regarding community college, but I encourage people to open their minds," Mr. DeAngelo said.
Miss Reid explains that any perceived stigma is a misconception, especially considering that first and second year students typically take the same general education classes such as English 100, whether at a community college or a four-year. For those students entering college in the fall of 2019, Miss Reid advises to make the choice that is best for each individual.
"Make sure whatever you choose, it is the best fit for you, and you are not going [to a 4-year] simply because it is what your friends are doing," Miss Reid said.
Gilbert likewise encourages students to focus on their individual future. For those students that choose community college, she has an encouraging sentiment.
"I think community college is an amazing opportunity that will set you up for more success than a student diving straight into university," Gilbert said. "You are ultimately doing what is best for you."
This story was originally published on El Cid on May 8, 2019.