Air Guitar's summer bash melts away the stress of school
Quinn Dinkler
By Jill Vallance and Noelle Hayward
May 21, 2019
The sun played its role well in this year's theme of Air Guitar: Summer Bash. The popularity of the annual, time-honored event can be seen from the waves of kids that wait to get into the school at 6 a.m. to secure a spot close to the stage一and this year was no different.
Associated Student Body (ASB) member Jolie Jannone '20, the organizer of the event, was "really scared" when she first got the job because she knew "the expectations that people have for Air Guitar are out of this world."
"Everything went clear and smooth, and I am really happy on how it turned out," Jannone said.
This year, the 17 acts included in the talent show ranged from dancing and singing to breaking wooden boards and drum lines.
"I liked all the diversity of what people did," Claire Duganne '22 said. "It showed how unique everyone is and how everyone can come together just to celebrate each other's uniqueness."
Many students expressed their enjoyment of the acts and had a diverse selection of favorite acts. "I think my favorite act was Sanchez and Blake Erickson's, that was really fun," Eesh Manwani '21 said. "And also Guzik's act was really cool with all the teachers."
In between the acts, the show was continued by Masters of Ceremonies (MC's) Andonia Ananias '19 and Ava Barnum '20.
"It was so much fun," Barnum said. "I'm really glad I did it because I was doubting myself in the beginning because you have to get up in front of the entire school, but once I got up there, it was totally fine."
The festival went through a few changes this year. Instead of using the cemented stage next to the media center as is traditionally done, ASB decided to construct a stage on the opposite side of the quad, next to the black box.
Manwani felt this "was better, especially because it was facing a different way and the sun wasn't in our eyes the whole time."
Another thing that was changed was the voting system for the winners of the talent show; instead of using a panel of teachers, the judging was done through a Google survey link shared to students through the ASB Instagram.
However, Manwani described the problems that occurred with this form of voting, stating only the "people who had access to their phones right away and service" were able to partake in the voting.
On the other hand, Katie Bova '19 thought said "it was really cool to let the students vote for each other this year. It really shows like everyone's support for each other."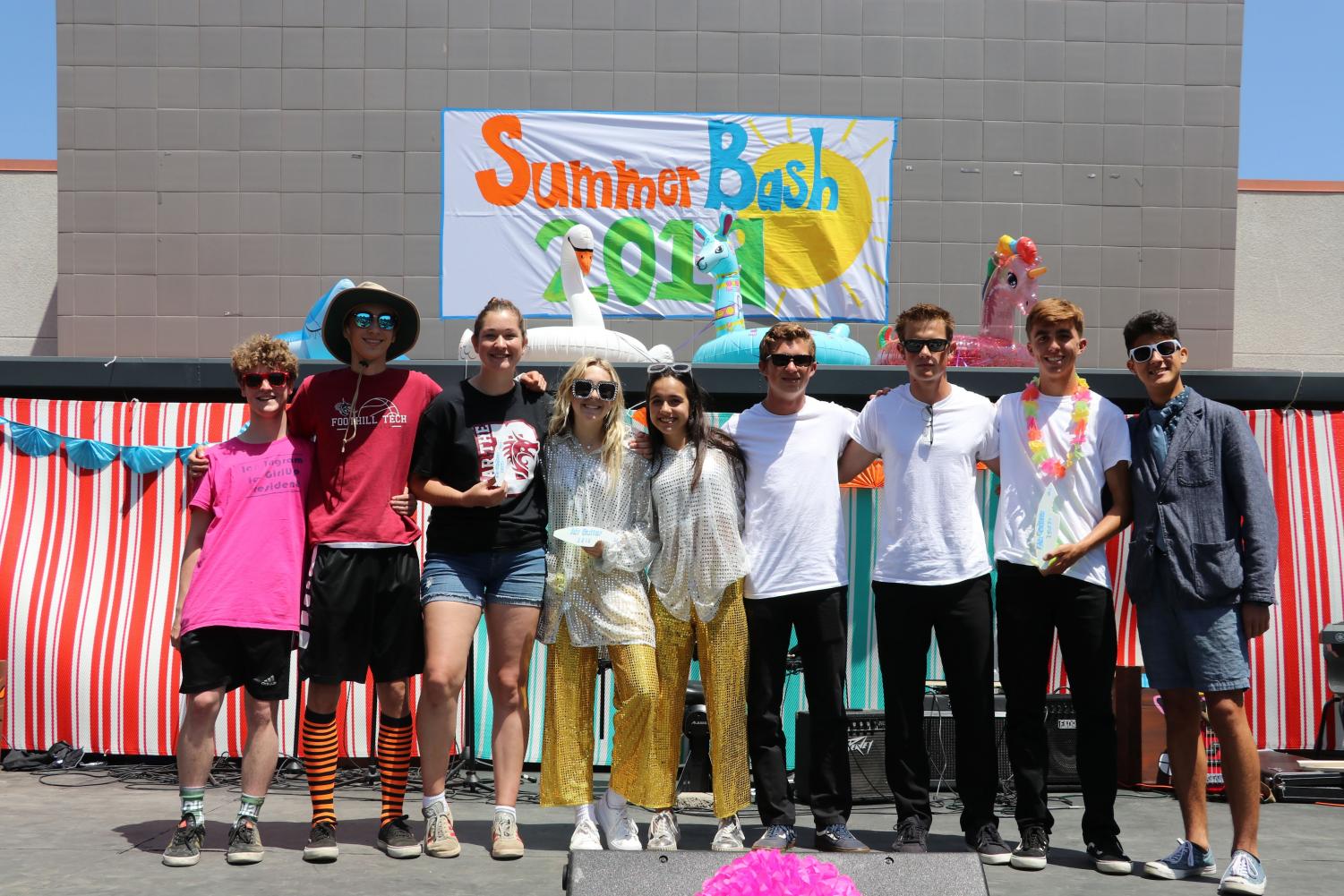 The winners of Air Guitar were a group called "The Swingin' Boys," a band made up of Ethan Crouch '21, Sash Fuentes '21, Zen Li '21 and Aidan Smith '21, all playing the melodica. Second place was given to Sophia Parker '20 and Muriel Rowley '20 for their comedy dance routine. They were followed by Abby Sourwine '19 and Jack Vielbig '19 in third place for performing "The Alphabet Aerobics" by Blackalicious.
Fuentes was "very surprised" his group had won.
"I really enjoyed playing up here with all of my mates," Fuentes said. "It was a really good time, watching everyone else was super cool."
Another year of Air Guitar meant another year for students to continue the traditions of arriving at the crack of dawn to get seats, sitting outside in the hot sun surrounded by friends all day and finishing off the school year with a bang.
Charlie Cook '22 said, "it really made me feel more of a community here, more of a family here […] because I feel more connected to my classmates now after this bonding experience."
This story was originally published on The Foothill Dragon Press on May 5, 2019.