Broughman breeds Rottweilers as part of family tradition
By Mia Constantin, Harrisonburg High School
May 22, 2019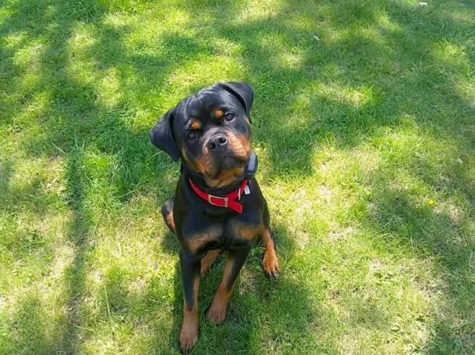 The breeding and training of dogs is a laborious full time job, normally undertaken by adults, but that doesn't stop sophomore Megan Ashby Broughman from breeding and training her two Rottweilers with her mother.
"I helped my mom with training them with tricks and stuff like that. We both handle them. We take them in stores and things [like that] to get them socialized, we take them to the dog park. It really just takes time [to train the dogs]," Broughman said.
Broughman has had both of her dogs, Dash and Tessa, since January of last year, but has had previous long term encounters with breeding and training, Rottweilers especially.
"My families [have owned] Rottweilers for most of our lives, and I've [been around] Rottweilers since I was a baby. They were just the breed of dog that we liked," said Broughman.
In order to buy Dash and Tessa, Broughman and her mom had to drive ten hours to Ohio because there aren't many Rottweiler breeders in Harrisonburg. Before they breed the two dogs, it is important to show the dogs to give an incentive to buyers over prize winning parents. Many current show dogs are relatives of past show winners.
"It can be stressful [to show the dogs at competitions] and it's stressful for us and it's stressful for them, but it's also good to get them experienced [with show competitions]," said Broughman. "They haven't really won any cash prizes [from showing], but they do have ribbons and some trophies from the way they've placed [in competitions]."
The breeding process with the two dogs will start in November of this year and Broughman will set the price of each puppy at $1,000. The hope is that the puppies will sell quickly.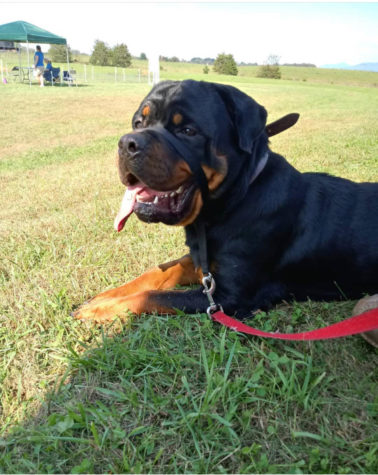 "As long as our first litter sells, we'll continue [breeding the dogs], but if we keep having puppies and we can't find anyone to buy them, you know, we don't want to have 18 million dogs, [we'll stop breeding them]," Broughman said. "If we have a bigger place by the time we have puppies, we will keep one of [the puppies from the first litter]."
Although owning dogs has proven benefits, Broughman has also had unpleasant encounters with her two dogs creating trouble. Both have destroyed valuable pieces of furniture and one once got kidnapped.
"[Dash and Tessa] ate our couch, like ate our couch down to the springs when we left them at home once," Broughman said. "Dash got kidnapped on the last snow day that we had. He went outside by himself for five minutes and when we went outside to get him, he was gone, and was gone for five hours in the snow and came back dry."
Rottweilers, like many other breeds of dogs, are given a predisposed notion that they are violent dogs. Broughman wants to break this stigma because, to her, this isn't true.
"Especially with their reputation, a lot of people think that they are dangerous or that they're vicious, but I think it honestly depends on how you handle them and how you treat them because any dog can be vicious and any dog can be 'the greatest dog in the world.' It just depends on you," said Broughman.
This story was originally published on The Newsstreak on May 14, 2019.