Teachers run in the 123rd Boston Marathon
By Amy Overhulser, Features Editor, Londonderry High School
May 22, 2019
The overwhelming support from the crowd but the quietness and solemn silence of the racers surrounds them. The cheers push them, the support rings in their ears. The rush of adrenaline pumps through their body as they run through the pain and long for the finish line.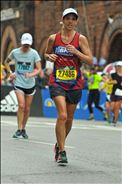 Math teacher Ms. Brennan and Guidance Secretary Mrs. Brown experienced this when they participated in the Boston Marathon on Apr. 15, 2019.
Brown runs in honor of her niece
"There were very few bare spots where we did not have the support of the crowd to cheer us on," Brown said. "Some spots the crowds are 3 people deep. They estimate 500,000 spectators are there cheering us on. It helps you forget the physical aspect, or I should say the painful aspect of running for 26.2 miles."
Brown has run the Boston Marathon five times and although she wasn't planning on running this year, she ran to fundraise for TeamBMC, a charity running program through Boston Medical Center. She applied for the program after she visited the medical center when her niece was born premature and she was reminded of when she was at the same hospital thirteen years ago after her brother was in a car crash.
"It wasn't on my radar to run, let alone fundraise this year, but I knew I had to do it," Brown said.
For Brown, running has become a large part of her life and she can't imagine her life without it. Especially after having three kids, she found that running was her "solace outdoors."
"Running for me has evolved and taken on so many important roles in my life and well-being, I'm not sure I could ever give it up," Brown said.
Brown has had many experiences with running, her first times for weight control or even weight loss, but that has since changed.
"Then I discovered road racing and competing," Brown said. "I loved that and miss those early days of competing and being part of a running club. I got pretty good at it and was consistent in at least placing in my age groups."
The race itself has three different modes of entry; running a qualifying time in a marathon before the Boston Marathon, applying to be a part of a charity running group, or having connections and receiving a bib from an important person. Math teacher Ms. Brennan was able to participate in the race by having a qualifying time.  
Brennan qualifies to run the Boston Marathon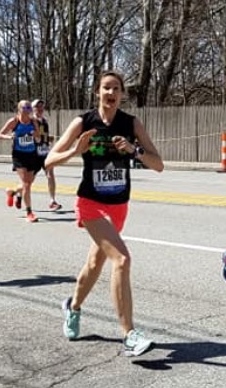 "I participated in a half-marathon and I thought, 'If I could just double my time, I'd be able to run a marathon and why not," Brennan said. "I feel like it's something any long distance runner would think about doing."
Brennan met the qualifying time for the marathon in October of 2017 under fifteen minutes and she registered in September of 2018 after receiving her acceptance email.
"If you beat the qualifying time by a certain amount, you're more likely to run," Brennan said.
Brennan's favorite race has been the marathon where she had a time of three hours and twenty minutes, which qualified her for the Boston Marathon.
"It feels good to be running and working hard at something while doing well and enjoying it at the same time," Brennan said. "You almost never do just one thing. You're always trying to do a million things at once but in this race, you're just focusing on reaching the end of the race and focusing on yourself."
Brown and Brennan both have strong feelings about running, as this activity has impacted their lives greatly and it's an activity they both love.
"I should do yoga and spinning, and I know they are good for me, but nothing else keeps me accountable and motivated the way running does," Brown said. "I just put on my sneakers and go. Just the way I like it."
This story was originally published on The Lancer Spirit on May 13, 2019.