Just Fund It, Texas
New club focuses on the reformation of education funding for McCallum and beyond
By Bella Russo, McCallum High School
May 30, 2019
In a time where it seems like activism is dominated by Instagram rants and hordes of recycled, witty protest posters, Just Fund It TX, a grassroots, student-led campaign has turned to love letters to get their point across. Best of all, the new collective's message is simple: Texas public schools could really use more funding.
"Whenever people talk about funding and legislation, it's always so complicated and jumbled together that no one really wants to participate in it," junior Gwyneth Yeager said, "So our goal isn't to figure out how to solve the problem; that is the legislature's job. Our goal is just to make them aware that we need more funding. We're trying to make it as simple as possible so that people can actually join our cause and help us."
The collective traces its origins to 2018's heated district budget debate. Many of its founding members were drawn to the debate because they were worried that their extracurriculars would suffer as a result of funding cuts. Delani Jah, a sophomore orchestra member, and Emily Freeman, a junior color guard member, were two of the students who spoke to the Board of Trustees about how a decrease in funding would negatively affect the school. However, after campaigning against rumored funding cuts to McCallum programs, the students of Just Fund It TX realized that the issue ran much deeper than AISD.
"
We're just trying to show them how we really do appreciate everything that is happening in public schools, but we need so much more."
— Gwyneth Yeager
"There are 5.4 million people in Texas public schools. That's a tenth of the students in the entire country. It's a lot of people," Yeager said, "And we are being grossly underfunded."
The National Education Association rated Texas 36th in the nation for per-student funding. For the 2017-2018 school year, Texas spent an average of $9,471 per student. This puts Texas pretty close to the center in terms of national ranking, as high spending averages fall in the $23,000 range and low averages land around $7,000. However, this analysis doesn't represent how much funding Texas schools actually need. If more funding was to be allocated to Texas schools, the group believes public schools could benefit from smaller class sizes, the ability to attract and retain high-quality teachers and the opportunity to better engage students with arts, music, computer science and other vital programs. With state recapture distributing funding inequitably to districts with lower property taxes, many are making it clear that education funding needs to be a target of legislative reform.
Just Fund It TX hopes to shed some much needed light on the complicated, often confusing Texas education funding system in order for all Texans to make their voices heard during the debate. Although the club is still relatively new to the game, the grassroots collective has already built a website, created multiple social media accounts, under the handle @justfundittx, and developed a number of campaigns on each platform to spread awareness and advocate for more school funding. Their biggest and most popular project so far is a love letter-writing mission. The goal of the project is to send as many postcards to Texas legislatures as possible. Each postcard includes a handwritten message of why their Texas public school is important to them, what they love about it and what they think could improve with the acquirement of more funding. To draw attention to their cause, the club has been distributing blank postcards, each printed with student designed artwork, around the Austin community and to school districts across the state in the hopes of flooding the state capital with love letters during the current legislative session.
"A lot of [politicians] just don't want to listen to you if they already think [they're] giving you this much, and you don't even appreciate that," Yeager explained, "So we're just trying to show them how we really do appreciate everything that is happening in public schools, but we need so much more."
The group draws inspiration for its constructive protest methods from the nonviolent activism of America's historical social movements.
"All of the most effective protests have been peaceful, like black rights, gay rights," sophomore Marlon Gattis said, "All of the failures recently have been these massively angry protests that lead nowhere. It's refreshing."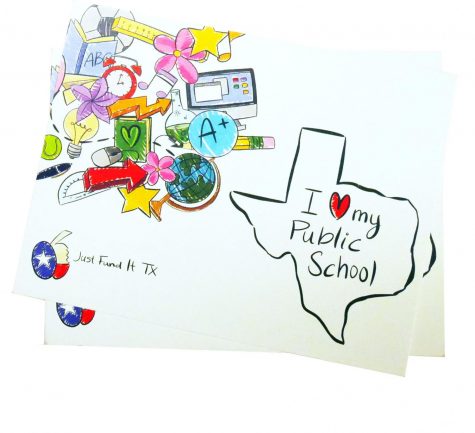 Along with the letter writing campaign, Just Fund It TX also has a petition on change.org that has now collected over 4,000 signatures from individuals across the country. The group has a number of ways for others to get involved. On their website, prospective volunteers can find step-by-step instructions on how to support the cause, including hosting a house party, presenting at a community meeting or writing editorials for local newspapers.
For now, Just Fund It TX has its largest club presence at McCallum, but one of the collective's biggest goals is expanding into other AISD campuses. The group hopes that by establishing a strong base in Austin, their cause will then spread across the entire state.
"We're hoping to reach out to more Austin schools, and by that point, there will be established clubs [in each school]," Denali Jah said. "Getting those clubs set up within the next few years is something that we want to happen. We're not necessarily super hopeful that it will happen in our graduation time, but it needs to be an establishment that will continue past us, if not already by our graduation."
This story was originally published on The Shield Online on April 29, 2019.