Beating the Heat: How Coaches Keep Their Players Safe in Steamy Temperatures
By Rachel Lichtenwalner, Cambridge High School
September 17, 2019
At 3:50 pm, the cross country team bolts through the doors on the left-hand side of the school. Seven minutes later, half of the students are returning from their run.
Faces glisten, necks, arms and legs are red, hair is wet and shirts are stained with perspiration. They lust for water.
And that's from a warm-up.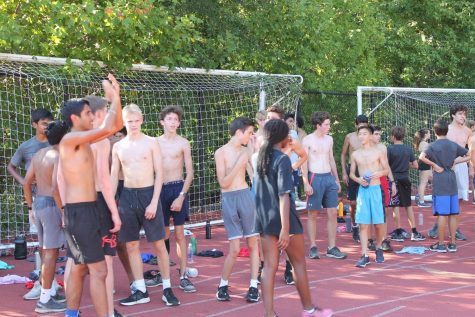 The students' workouts aren't the only reason they're dripping with sweat. The sweltering August heat is heavy during that time of the day, and it can occasionally be dangerous.
According to the Atlanta Journal Constitution, on Aug. 13, junior Imani Bell, a student at Elite Scholars Academy in Clayton County, collapsed on the bleachers while performing a conditioning drill for basketball practice. It was 100 degrees outside.
The Clayton County Fire Department did all they could, but unfortunately Bell passed away at Southern Regional Medical Center.
Her tragic death raises a critical question: How is the health and safety of student athletes ensured in extreme heat?
Cross country coach and social studies teacher Brad Coulter is serious and understanding when it comes to his team training outdoors this time of the year.
"I've been really, really intense about 'if you feel lightheaded or dizzy, I need you to come to me or tell one of the coaches so that we can administer what we need'," he said.
Coulter has many resources when monitoring the well-being of his team.
During practice, he said he always watches the temperature, and if it's too hot, he will cut back on the workouts or shorten the time that the students exercise outside.
Senior and varsity runner Yahya Merchant recalls the change of plans Coulter had to make the first day of school because of the weather.
"We had a tempo workout where we'd run mile repeats, and we'd do five of them, but it was like 96 degrees out," said Merchant.
"The heat index was high, so [Coulter] decided 'okay, we'll break up the workout into four 400s,' which is one lap around the track," he said.
Other cross country coaches will also drive out in the area where the students are running in case of an emergency.
Coulter said another way the students' safety is ensured is by using the wet bulb test, which is comprised of a heat stress monitor with a large bulb on top. It is managed by the two athletic trainers from Northside Hospital that work with the school.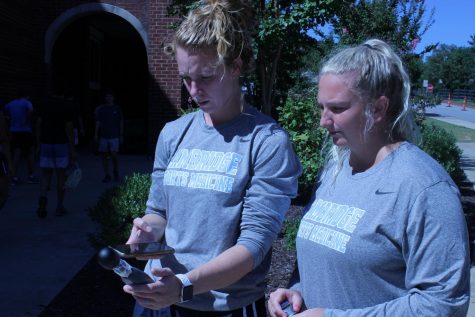 "They have a device that allows them to aim it at the ground and pick whatever the hottest thing we can stand on is, so if it's like asphalt or whatever, they aim it at the ground and it measures a combination of humidity, temperature and a couple other components," Coulter said.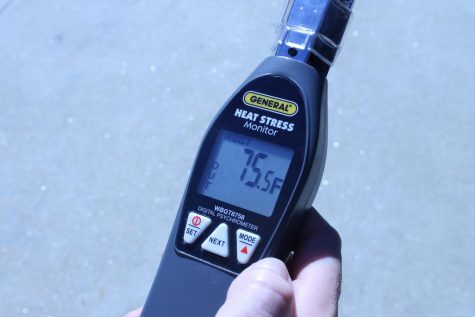 The scale goes from zero to 92. Between zero and 82, coaches can proceed with normal activities. However, 82 to 92 is the zone where caution must be taken.
Football coach and social studies teacher Craig Bennett utilizes the same device with his team.
Bennett said when the wet bulb registers above a certain level, coaches must take additional precautions, such as additional water breaks or the removal of some equipment. If the wet bulb reaches a score of 92, Bennett said he has to take students off the field to prevent potential danger.
"It's just not worth the risk to put a kid, especially in a football uniform, out there when you could go in the mornings and stay away from all that," Bennett said. "Yeah, it's a little inconvenience, but a little inconvenience is much easier than having to deal with the heat-related issue."
This past football season, no players reported heat-related illnesses, but Bennett is prepared with ice towels and an ice bath just in case of a problem.
Merchant, the varsity runner, said he's seen the effects of the weather on his fellow teammates during races.
"I do know a couple of people who have passed out. It was because of the heat and they didn't hydrate properly," he said.
Coulter, Bennett and Merchant concur that hydration is key when staying healthy in blazing temperatures, but it has to be done correctly.
"Oftentimes, athletes think they can rehydrate during practice, and that's a complete myth. They have to hydrate prior to practice," Bennett said, adding that he advises his players to drink a gallon of water before they start exercising.
Getting acclimated to the intensity of the workout is important, too, Bennett said.
"We don't go out the first day and try to test them," he said. "It's a build-up."
Coulter highlights that a good diet is another mechanism for preventing risks while training.
"If you don't have enough sodium, the water doesn't absorb into your red blood cells correctly, and so you need to have the right diet, enough carbs, enough sodium and obviously water is the most important," he said.
Every student is different, and every student tackles issues in a different manner, which is why Bennett said knowing his players and being aware of what they can handle helps him keep them safe.
"I think you gotta know your kids. There's times that I'll ask a kid, 'Hey, you okay? Is this too much?'" Bennett said.
"Some kids will want to stay regardless; some kids will tell you the truth. It's a matter of knowing, just being smart, honestly," he said.
This story was originally published on The Bear Witness on August 30, 2019.