Students verbally commit to different colleges for a variety of sports
Juniors share the process they took to commit to play sports at the college level
By Hannah Chern and Zach Shrader
September 30, 2019
At around the age of seven, junior Jaden Ravnsborg was introduced to the sport of volleyball. After three years of playing recreationally, Ravnsborg has continued her passion for volleyball by playing through a competitive club volleyball team. After almost a decade of dedicating time to volleyball, on April 19, 2019, Ravnsborg verbally committed to play for Kansas State University's volleyball team.
The process of verbally committing is not something that takes place in a week; it is an extensive process that takes time before the first offers. For Ravnsborg, the time it took for her to commit to K-State's volleyball program took about two years, involving constant contact with the coaches and participation in tournaments.
"[My commitment process] was around two years. First, I started off emailing coaches and trying to get them interested in me. Then, I had tournaments where [the college coaches] start to come [watch] me play. Finally, I started to receive emails and phone calls from [the coaches]," Ravnsborg said.
According to Ravnsborg's KC Power volleyball coach Lucas Galmarini, a verbal commitment comes before a contract, so the agreement is not official until the student signs their National Letter of Intent senior year.
"The verbal commitment is not binding until the student-athlete signs the National Letter of Intent their senior year, meaning the school could legally withdraw the spot on the university volleyball team and the financial scholarship that was agreed upon," Galmarini said. "But [withdrawals are] a rare occurrence and it usually takes a significant event to trigger such action. NCAA Division I programs spend a lot of money and time in recruiting and won't make an offer until they have reservations about it."
During the commitment process, the prospective student-athlete and college recruiters must follow rules set specifically by the NCAA. According to the NCAA website, for each sport, there is a recruitment calendar outlining specific time frames where recruiters can contact potential athletes. Recruitment calendars are implemented to "promote the well-being of college-bound student-athletes and ensure fairness among schools particular sport."
For junior Nicklaus Mason, a prospective golf commit, visiting the potential colleges during the contact period helps him decide what college he wants to commit to. Mason is planning on verbally committing to one of the four colleges by Nov. 1: University of Iowa, Colorado University, Kansas University or Kansas State University.
"I was allowed to start taking official visits on Aug. 1 going into my junior year. After my last [official college visit] in October, I will talk to my family and decide what's best for me, committing before the end of the year," Mason said.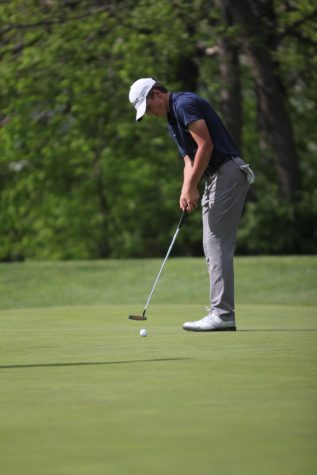 Student-athletes have limited direct contact with college coaches leading up to junior year, according to Galmarini. Therefore, most potential student athletes rely on their club coaches in order to communicate with college recruiters.
Ravnsborg's club coaches have aided her through the process by helping her get in contact with college coaches and find an environment that fits her.
"My coaches at KC Power really helped me by contacting all the coaches and kind of figuring out their opinions on me. [My coaches] know more about the game than I do, and they know where I would most likely fit in," Ravnsborg said.
Similarly, for junior Peyton Wagoner, a University of Central Missouri soccer commit, her club soccer coach helped introduce her to a variety of college coaches and recruiters.
"My competitive soccer coach was the one who introduced and recommended me to various colleges and supported me along the way," Wagoner said. "When colleges reached out to him, [my coach] would always make sure to give me the messages and would talk to the college coaches about me."
Despite facing an extensive committing process, Ravnsborg is looking forward to playing with her K-State teammates and playing in the big league.
"I'm most excited playing in a Power Five conference and playing for all the coaches at K-State Day because they're really amazing people," Ravnsborg said. "I'm also excited to play with all the girls because they're awesome; they all [have] different types of personalities that come together, and I can relate myself to those girls."
As for Mason, he is eager to travel across the country to play the sport he loves.
"I'm excited about traveling if any of the schools I plan to go play all over the country. [College teams] play all year; they go to Arizona, all the warm places. I also go north during the summer, so it will be a lot of fun," Mason said. "I'm looking forward to getting to the team and hopefully play for the national championship."
Similarly to Ravnsborg, Wagoner is ready to be able to play with a divisional team.
"I know a lot of the players, I love the coach and I like the campus. I am excited to play soccer at the college level," Wagoner said. "The UCM [soccer] team won the national championship a few years ago and I would love to have the opportunity to play at that level."
This story was originally published on The JagWire/MVTV on September 28, 2019.