Wildcats Walking the Catwalk
Millard West students walk the strip at Omaha Fashion Week
By Olivia Oeth, Millard West High School
October 1, 2019
For a few weeks each year, the bold and beautiful come together to create a daring and artful runway show for the imaginative. Sixty-five designers along with numerous photographers and models share a weekend for the midwest's most highlighted fashion event: Omaha Fashion Week.
For a biannual show that has only been around for a decade, Omaha Fashion Week has become a considerable occasion for the American fashion industry ranking fifth in the nation with their Spring and Fall renditions. Designers and models return season after season to continue sharing their refined couture through this close-knit platform. Millard West High School houses a few of Fashion Week's teenage models that have stunned the runway for each season in their high school years, including junior Golden Kelly, junior Sam Falter and senior Lauren Schoening.
Getting prepared for Fashion Week, models must submit an application followed by an audition for models to be selected by a designer. Each show usually has a theme in which they scout their ideal medium. Video recordings and notes are taken to perfect their collection whether it be a bridal show or an awareness piece.
"Omaha Fashion Week is bigger than what people think it is. It's a lot of people coming together to create art, and I feel like it's not always seen that way," Kelly said. "It's just so amazing to see working women coming together to create such a cool environment especially when there are pieces of Omaha Fashion Week that have political views. One line this past year in the spring show was dedicated to suicide and suicide prevention whereas this past week in the autumn show, there was a line dedicated to smoking and trying to prevent that."
The models enjoy experiencing this vogue culture away from the more slow paced suburbs of Omaha. Senior Lauren Schoening began modelling in her childhood before pausing to focus on softball, eventually returning to the catwalk where she found her place in Omaha Fashion Week and continued to follow her childhood dream.
"My inspiration for modeling has always been Tyra Banks," Schoening said. "She models with such an ease and passion. After school in middle school I always remember coming home and watching America's Next Top Model and practicing the poses and using her advice she gave the models, telling myself I would be like her one day."
Signed to Develop Model Management, Schoening works more in front of the camera in photo shoots than on the runway although having also walked in Kansas City Fashion Week. Her love for the arts had been a dream in her earlier years, but it became a well loved hobby instead so she could prioritize her professional career in other fields.
"Sadly, my plan as of right now is to have this coming spring season be my last season walking in Omaha Fashion Week," Schoening said. "I plan on trying to keep my contract and do as much modeling as I can on breaks when I'm home from college, but I plan on going out of state and the weeks Fashion Week are held would make it hard for me to participate."
Unlike Schoening, junior Sam Falter finds himself staying in the industry for as long as he can. Although an athlete with a busy schedule, he makes time for Fashion Week so he can stay open to new possibilities and gain enough exposure to move to Los Angeles or New York City.
"I was supposed to walk multiple nights, but I had football, so I only did Saturday," Falter said. "Usually, you'll meet with them (the designers) earlier for rehearsal, getting dressed and tailored, but my designer, Paulie Gibson lives in St. Louis, so I never got to meet him, so I got the clothes the night that I was walking. I just had to walk with the clothes that I had."
Having started modeling at the age of 13, Falter kept with the momentum. Meeting new people unrelated to his life otherwise is one of his motivations to continue. Kelly, on the other hand, not only enjoys the people but the eye opening encounters.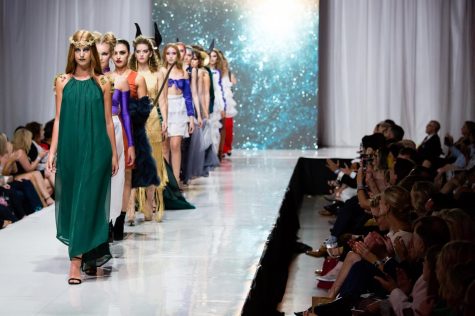 "I enjoy Fashion Week so much. It's one of those things I look forward to each season. After the week is over, you count down the days to the next one. Just the overall energy that comes from Omaha Fashion Week is insane," Kelly said. "Backstage I've seen so many weird things."
Kelly only started modeling near the end of 2017 and has participated in three Fashion Week seasons. Although being a notable face on the runway, her heart lies on the opposite side of the industry, inspiration coming from magazine cutouts and homemade collages.
"I like more designing," Kelly said. "I love clothes and looking at clothes. I'd love to like maybe start designing my stuff because I find that clothing is like architecture and art, but people can wear them everyday."
Artful and crafty indeed, Omaha Fashion Week will continue to shine light on the motivated and outgoing students of Millard West through glitz and glamour. Creating a new world of opportunity and interest lies in the heart of those with an intrepid imagination and uses the fascination of an individual to bring a supporting environment to life.
This story was originally published on The Catalyst on September 3, 2019.