"We've stopped keeping track" EHS school resource officer says vaping is a troubling and growing problem at EHS
The number of confiscated e-cigarettes has risen dramatically this school year.
By Vivian Cedillo and Julian Galvan
October 3, 2019
"We don't even keep track. It is so many now. It has grown in popularity. Back in the day, it was cigarettes. Now it is so incredibly common that we've just stopped keeping track," said Matthew Creaghe, the EHS school resource officer.
Based on the number of e-cigarettes confiscated at Englewood High School, it is not hard to believe that vaping has taken control of high school students. Recent medical news from the Centers for Disease Control report teens are getting their hands on these devices and abusing them.
Officer Creaghe said he sees multiple types of e-cigarettes, "The most common ones are the ones found at convenient stores. It is affordable, convenient, you can conceal them. They are disguised to be everyday items, like a jump drive or a computer flash drive."
The Pirateer Staff has chosen to use anonymous interviews from students, it is illegal for those under the age of 18 in Englewood to purchase tobacco or vaping products. We believe the topic is very important and wanted to get a realistic view of vaping usage in our school.
"No, I don't vape personally I think it's pointless. You get nothing out of it but the bad part is that it is so outta control with young teens, and are getting very addicted," said one EHS junior.
According to the Denver Post, two Colorado teens have been hospitalized with a mysterious vape-related illness. The young adults suffered from respiratory illness. In all, more than 200 people in 23 states have been affected by lung disease that could be related to e-cigarettes.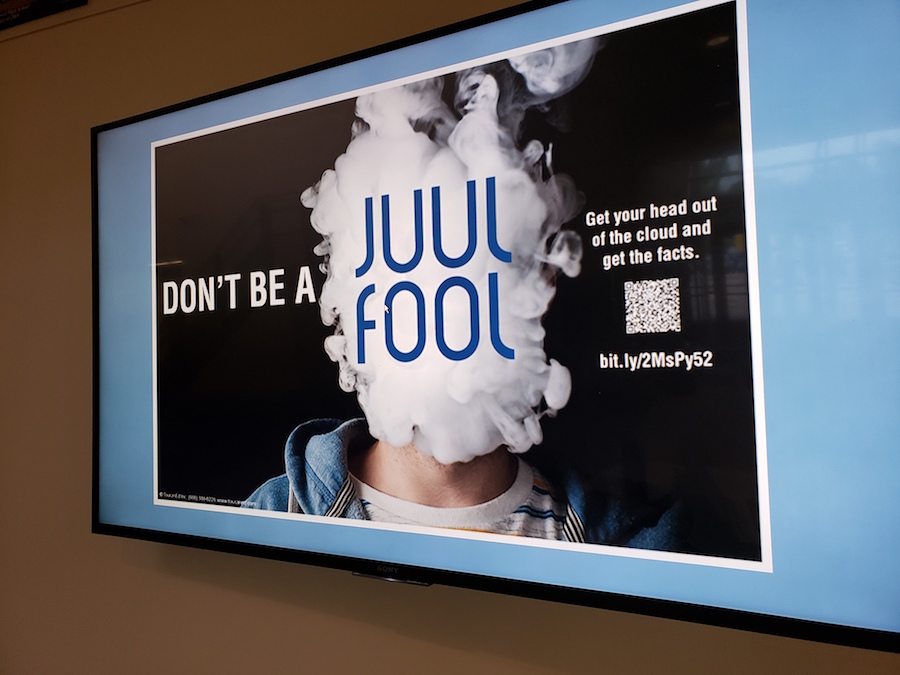 Education for students
Colorado has a high rate of vaping use according to the Centers for Disease Control, who reports Colorado youth use vaping products at twice the national average. One Englewood P.E teacher even took it upon herself to educate and inform her students about the dangers of vaping. Belinda Hayes said during a recent talk in gym class that students need to know what they are taking into their bodies when they draw a puff off a vape pen.
"Vaping is different than a cigarette, they are not regulated with the FDA. Thinking its an alternative for smoking cigarettes but it's worse you can get five-times more addicted to it than regular cigarettes," said Hayes.
Recent medical research found vaping caused pneumonia in some teens, moisture had built up in their lungs. Doctors report vaping as causing a disease called popcorn lung, which damages the lungs' smallest airways and can cause a teen to cough and feel short of breath.
Hayes believes vaping companies have especially been targeting our young adults, "They know you are so desperate for rebellion and be an individual and break out of what people want them to do. They introduced new fruity flavors that lure kids in, they are vulnerable to new and different things. They become addicted at a young age and that follows them to adulthood and the company continues getting billions of dollars."
Cigarettes have a strong smell and a pull on your lungs when the smoke is breathed in, vaping is not the same. Students say it doesn't feel like they are doing damage to their bodies because vaping smoke isn't as strong. Peer pressure still has a strong pull on students and a few say they started vaping because their friends took up the habit.
How it began
The idea of vaping may seem very new but there have been types of electronic cigarettes since the early 1900s. The first time electronic cigarettes were referenced was in 1930 which was a patent granted to Joseph Robinson. It was never commercialized and it is not entirely clear that even a prototype of this device was manufactured.
The Consumer Advocates for Smoke-Free Alternatives says Herbert A. Gilbert is credited with creating the first device that closely resembled the modern e-cigarette. He reports receiving a patent in 1965 and created prototypes, but failed to commercialize it. The fact that you have to be 18 or older to buy a vape doesn't stop teens from getting their hands on them.
A junior at Englewood High School admits to vaping, "Yes, I do vape. It's something I think it is really fun but, I know I'm addicted. It's hard to get away from something so addicting."
Vaping effects on a teen body
Students carry them around just as if they would their phone. Many say they know how addicting and damaging they are for you and the crucial effects of it yet, they still choose to do it. But, some students refuse to harm their bodies and are realizing the dangers of vaping.
A freshman at Englewood High Schools says, "I have before but it's not something I would do every day. I would do it here and there because if you do it constantly your lungs will give out on you."
Some of the students said they think vaping is a big mistake, "No to me it a waste of time," said one-tenth grader, "I feel like it's unproductive."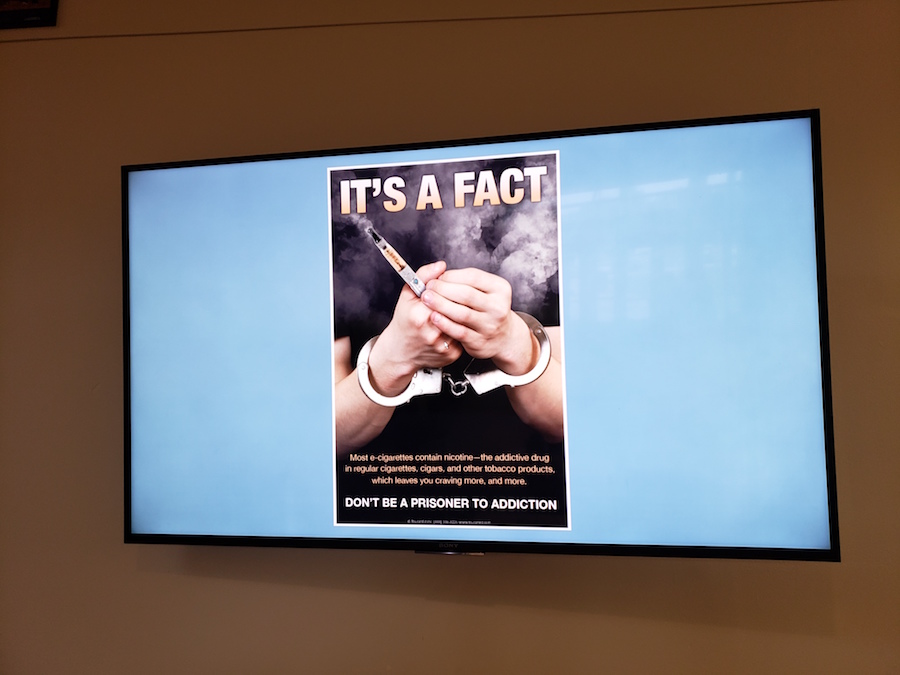 One of the most concerning issues is where students are getting the vape, "Some of my friends tell me that they get their vapes from close family members," said one EHS senior.
One junior said they are getting them from friends who are of age, "Yes, I do vape, I get it from my friend who is over 18." Some say they try to tell their friends to stay away from vaping, but they aren't very successful, "No, I don't want to die young and have lung problems."
Hayes will keep teaching the subject in gym class, hoping that even one student won't pick up the habit.
"With all the information coming out recently with lung disease, it's awful not only for your lungs but your brain. Obviously, it is going to affect your brain, especially for teens. I'm concerned because students don't know how bad it really is and use it as an alternative from smoking cigs."
The rules are clear
EHS Dean Thomas Rode has been at the forefront of informing students as well.
"They try to make excuses but it's not a secret, everywhere you go it's shown, when you watch television, walking down the street. It is not like they are unaware of how bad it is for you."
Rode says he has confiscated well over 20 e-cigarettes in just the first month and a half of school.
"I think this is a big problem across the state and across the nation, not just EHS."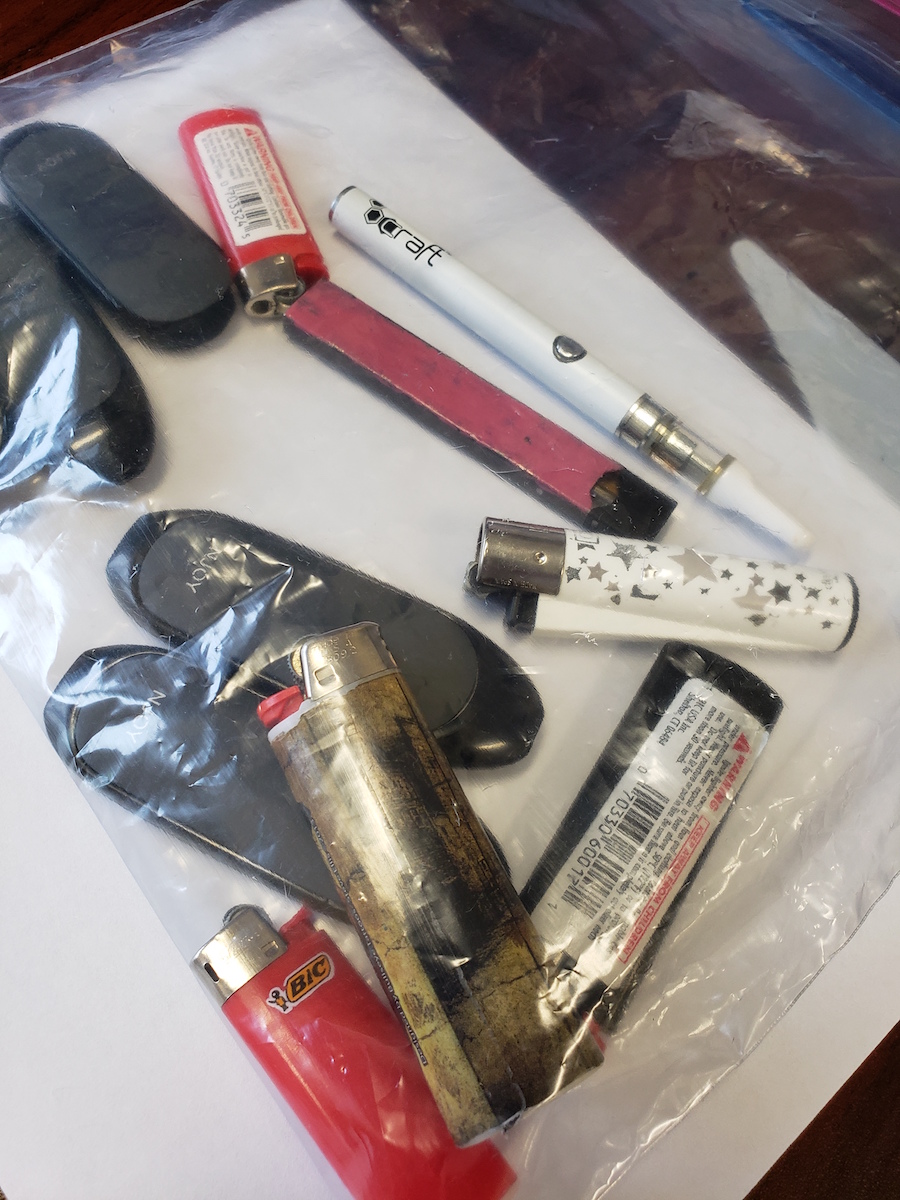 When talking about the problem, he traced the fad in high schools back to a 2016 report from the US surgeon general. He says it cited a 900% increase in e-cigarette use by high school students.
How do we combat the issue?
Rode says it has to come from the community and the home, "Well we need help from local businesses to limit the sales to minors, we need families to help monitor student behavior and most of all we need students to educate themselves about the dangers of vaping on their long term health."
Rode says the rules at the school are strict and written with the intent to inform and educate students before they become addicted.
"Obviously if you are caught it comes with consequences. We take your vape device, your first offense is a suspension. The second offense is a longer suspension and the third offense would be a suspension and a ticket from the police department for tobacco products and a ticket if you're caught with THC vapes."
Officer Creaghe says the items are confiscated, as well they are searched to see if they contain more than nicotine, such as THC and depending on the individuals' age, criminal charges may be filed. In Englewood, the age for purchase tobacco products of any kind is 18 including vaping devices.
No sale
To make it harder for students to get e-cigarettes, Denver City Council, just a few miles from Englewood, unanimously voted on September 30, 2019 to raise the minimum age for buying tobacco and nicotine products from 18 to 21.
According to KMGH, the law goes into effect immediately. It reports the law will also remove the sale of tobacco products from vending machines. Those caught selling to teenagers will be inspected and subsequently fined for any violation of the law.
Denver is the latest city in Colorado to enact these rules, however, KUSA TV reports Edgewater, Aspen, Avon, Basalt and Carbondale have already raised the minimum age to 21.
The latest bill was put forward by the Colorado Department of Public Health and Environment. It hopes to help lower the state's rate of teen vaping – the highest in the nation, according to a 2018 study from the Centers for Disease Control.
As of this story, the CDC reports vaping-related illnesses have jumped to 805 nationwide with deaths rising to 15.
This story was originally published on The Pirateer on October 2, 2019.