A New Era of Entertainment: Meet the School's Biggest TikTok Stars
By Rachel Lichtenwalner , Cambridge High School
October 25, 2019
David Dobrik. Loren Gray. Baby Ariel. Jacob Sartorius.
Even JiffPom the dog.
These are only some of the biggest celebrities on TikTok, a popular social media and entertainment app.
While the school isn't home to stars quite as prominent — the most-followed account on the app is Gray, who has 34.4 million followers — there are a few students who are gaining a surge of popularity.
Junior Carter Kench is one of them. He downloaded TikTok in December 2018 and currently has over 93,600 followers and more than 4.2 million likes on all his videos combined.
Kench said he installed the app because he thought it was a joke.
After using it for a short amount of time and posting content to barely any fans, "Out of nowhere, my videos just started getting like 500,000 views. After my first video that got like 200,000, it just went up," he said.
His video with the most views has 2.2 million. It was filmed at a store in Alpharetta, Spirit Halloween, where he argues with an animatronic female zombie wearing a black wig and a floral dress.
In a separate video, he punches the decoration's head, denting it, thus resulting in his expulsion from the store.
Kench said he enjoys uploading dance videos, too, but he likes making comedic skit-like content better, which usually attracts more people to his account.
He creates his TikToks mainly at home and sometimes at school. He even made some at his past job at Chick-Fil-A.
Now, he's working at a haunted house and has started producing videos there, as well.
"TikTok has seen my high school life," Kench said.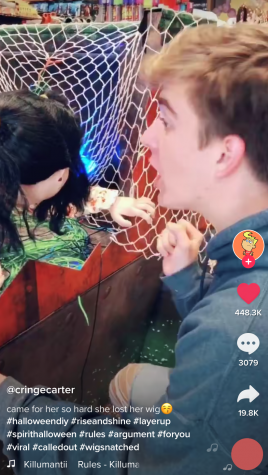 Sophomore Paige Jaeger said she was one of the first to install TikTok before it really became popular. She set up an account with fellow sophomore Robin Borden, and together they have over 121,200 followers and 2.7 million likes.
After TikTok bought Musical.ly, a similar app, the girls decided to give it a try.
"We were like, 'They changed it up, let's just get it.' And so we got it, and our first video got a lot of views," Jaeger said.
She contributes to the majority of their content, however, and Borden isn't in it as much as Jaeger.
Jaeger's videos rack up thousands of views. The one that received the most attention was a clip of her dancing behind her house.
It was played over 6.4 million times.
"It's a stupid video, but it started a trend of people kind of making fun of me," Jaeger said with a laugh.
Stupid as it may have been, it sent her follower count soaring.
"Over time, I kinda hit like 52,000 [followers], and then that one video with the six million views got me the rest of my 100,000," she said.
Many of her videos are either skits or dances and are predominantly made in her bedroom, backyard or at school. She said she likes embarrassing herself in them because that's what her audience enjoys seeing.
Jaeger's acclaim on the app has even landed her a profile on the website Famous Birthdays.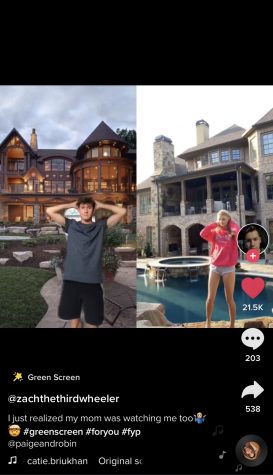 Senior Chooch Carroll got TikTok in January. She has since acquired over 164,100 followers and more than 5.5 million likes.
Her most viewed video is her making a joke out of a Vine that went viral years ago when the app was popular. It has been seen two million times.
However, different clip started her TikTok famous career.
"It's very inappropriate, so I'm not gonna [say] it nor accept the fact that I posted it," Carroll said with a laugh.
She creates videos related to softball and makes skits and relatable memes. Most of them are made in her apartment. Sometimes she'll make them in her car during her lunch period at school.
She said she wants a fourth tattoo and has been thinking about starting a Venmo account to share with her TikTok followers so they can donate money to help her purchase it.
According to Carroll, it isn't easy being TikTok famous — staying popular can be a handful.
"It actually takes a lot of work to maintain. If you don't post for like four days at a time, your views will go down," she said.
There are lots of factors to contemplate when producing a TikTok. Carroll said she has to think about what the TikTok community likes to watch and avoid controversial topics.
The time of day of when to upload a video is also crucial to consider.
"The prime time to post is after 3:30 p.m., which is when everybody gets out of school. That's how you know you're gonna get the most likes," said Carroll.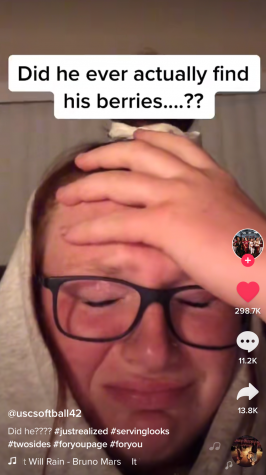 Kench, Jaeger and Carroll said being unique and humorous and keeping up with what's new are important to upholding their status.
"Some of my videos, I do think they're good and original and funny, and those are the videos that usually do good," Kench said.
Jaeger said she tries to balance being trendy and comical in her content.
Getting stopped at school certainly isn't unusual for the three either.
"I was making a TikTok out in the hallway and as I was making it, one person was like, 'I follow you,' and the other person was like, 'I was stalking your account last night,'" Kench said. "It can be a little crazy sometimes."
He said instances like this occur "all the time."
The same happens to Carroll.
Once, when she was hundreds of miles away playing in a softball game in Texas, a girl recognized her, reaffirming if Carroll was the girl she thought she was. The two soon became friends.
Carroll said similar occasions have happened at games closer to home, as well.
"I've been at games before and I will be mid-batter and the batter will turn around and look at me and be like, 'Oh my God. You're the girl.' And I'm like, 'Yes. Yes I am,'" she said.
This story was originally published on The Bear Witness on October 25, 2019.