Getty Fire closes Milken and other Jewish campuses, winds as high as 80 mph expected tonight
12 homes destroyed so far; evacuation and warning zones extend from 405 freeway to the beach
By Molly Litvak, Community Editor, Shalhevet High School
October 31, 2019
At 6 a.m. Oct. 28, senior Leah Alkin was woken up by her dad and told they needed to evacuate the house because of a big fire nearby. After packing up some clothes, books and pictures, they fled their house and entered a frenzy of traffic on the Pacific Coast Highway.
"I looked out the window and I didn't really think it was going to be that crazy," said Leah, who lives in Pacific Palisades in an area near the mandatory evacuation zone. "But the entire sky was red and black. It literally looked like apocalypse."
The cause of Leah's evacuation was the Getty Fire, which broke out around 1:30 a.m. Monday morning (Sunday night) on Sepulveda Boulevard near Getty Center Drive in Sepulveda Pass. At a news briefing Tuesday afternoon, Los Angeles Mayor Eric Garcetti announced it started when a eucalyptus branch fell onto a power line, which he called "an act of God."
Since it started, Milken Community Schools, American Jewish University (AJU) and the Skirball Cultural Center have been closed, along with 19 LAUSD and charter schools and private secular and Catholic schools throughout the Westside. UCLA and Santa Monica College were closed Monday but reopened Tuesday. Mount St. Mary's University remains closed.
Milken has been closed since Monday and might be closed Wednesday. Milken senior Sarah Pretsky said their Head of School, Dr. Sarah Shulkind, announced that she would let students know Wednesday morning at 5:30 a.m.
The Los Angeles Fire Department ordered mandatory evacuations throughout the northern Westside, including 7,091 residences as of Tuesday night. Mandatory zones are areas of Brentwood, Bel Air and Pacific Palisades, in all cases north of Sunset Boulevard, west of the 405 as far as Temescal Canyon Road, and north to Mulholland Drive.
The evacuation warning zone, where Leah lives, covers the rest of Pacific Palisades and extends all the way to the Pacific Ocean, west into Malibu and north to the southern edge of the San Fernando Valley.
The LA Fire Department reported Tuesday night that 12 residences had been destroyed and five damaged. The fire currently had spread over 665 acres and was 15 percent contained, thanks to a break in the wind during the day.
The LA Times did not mention Milken in a list of closed schools as of 9:42 tonight.
Last year, the Boiling Point reported 11 Jewish schools were closed on Dec. 7 during the deadliest wildfire season in the history of California.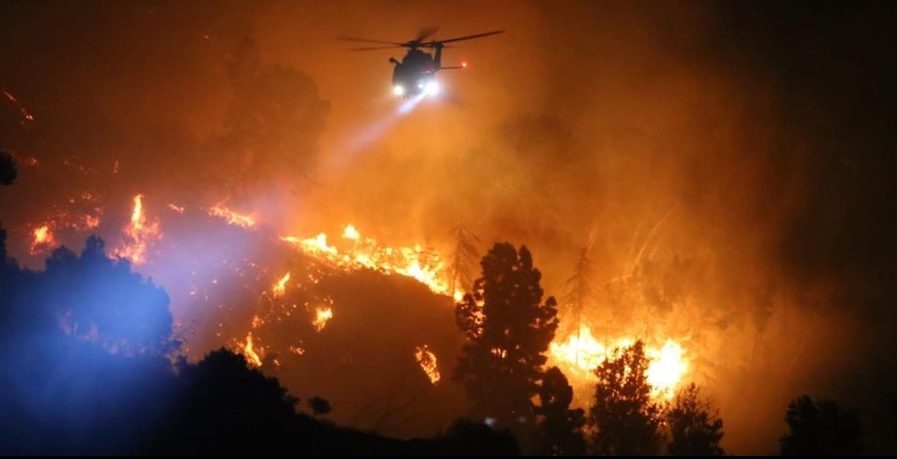 The Getty Fire and Tick fire in Los Angeles County, in addition to the Kincade fire in Northern California, are among 10 California wildfires currently burning statewide, according to the California Department of Forestry and Fire Protection, All are expected to be greatly worsened by hurricane-force Santa Ana winds, which were expected to begin blowing at 11 p.m. Tuesday night.
Just to give folks idea of where the Getty Fires are, it's almost the halfway point between Santa Monica & Downtown LA. Dead Center Los Angeles. Always thinking about our heroes, the gathered Firefighters 👩‍🚒. pic.twitter.com/4mnjenmTBX

— Maximiliano Bretos (@MaxBretosSports) October 29, 2019
The Kincade Fire, which has been burning since Oct. 23 has caused the evacuations of over 200,000 people in Sonoma and Napa counties, according to media reports. According to the California Department of Forestry and Fire Protection, it had burned 76,138 acres of land as of Tuesday at 11:12 p.m.
Leah said she was staying with her mom outside the evacuation zone, and that she and her dad still haven't unpacked. As of Tuesday, their car was still loaded with belongings because they fear they will have to evacuate again tonight.
The National Weather Service's website writes that the Santa Ana Winds "are warm and dry and can severely exacerbate brush or forest fires, especially under drought conditions." In autumn, these winds can bring hot temperatures into California, which has received 0.03 inches of rain since July, according to LA Almanac.
The National Weather Service has issued a red flag warning, which warns of potential for rapid wildfire spread, beginning at 11 p.m. tonight and extending through 6 p.m. Thursday. The wind event, which the service says could be "one of the strongest in recent memory," is predicted to contain winds reaching up to 80 miles per hour.
They are being called "hurricane-force winds" because a Category 1 hurricane has winds of at least 74 miles per hour.
California Governor Gavin Newsom announced a statewide emergency on Sunday due to the fires.
Milken's Sarah Pretsky said that her school's being in danger almost every year worries her.
"I think it is scary that the fires are so close to Milken but as unfortunate as it is, having these fires near are school is kinda routine and happens most years," said Sarah, "especially because Milken's location is very vulnerable.
"The scariest part of it is that a lot of the Milken community lives in the evacuation zones, so it is sad seeing my friends have to leave."
Her fellow senior Jacquelyn Stern, who lives in Brentwood, is prepared to evacuate as of Tuesday night.
"Yesterday was scary because at 4 a.m., every minute there was a new siren," said Jacquelyn, referring to Monday. "And in between that noise I was getting the alarms on my phone. I've also never had to actually think about what I would take with me if I had to evacuate."
---
This story will be updated as more information becomes available.
This story was originally published on The Boiling Point on October 30, 2019.