Senior creates an Instagram account with De Soto senior to share people's stories
Senior Maddie Valencia's account has featured 17 members of the community and their messages
By Steven Curto, Mill Valley High School
November 4, 2019
One July evening, while sitting in De Soto senior Chase Culver's living room, senior Maddie Valencia and Culver discussed creating a public Instagram account to provide an outlet for people in the community to share their stories and experiences. After their conversation, both Valencia and Culver got to work on creating an account, and twenty-four hours later they had made their first post.
Culver and Valencia were inspired to start the account, which now boasts 365 followers, because they both believe that everyone has a story to tell and they were meeting new people over the summer who they connected with through hearing their stories.
"We decided to make it because we meet so many people on a daily basis that have so many different stories and this was kind of a way for us to be able to share people's stories and have people be impacted or inspired by others' stories," Valencia said.
When creating the account, both Valencia and Culver knew a creative username was essential to ensuring that people followed the account and understood its purpose. Eventually,  Culver came up with the username @ofpeopleforpeople.
"I came up with the name @ofpeopleforpeople because it possesses the word "people" twice and I feel as if people are our account's central focus, Culver said. "Along with this, the account is pictures, stories, and creations of people, and they are all created/shared for people."
To get their new Instagram account some traction Culver and Valencia posted a link to the account on both of their personal Instagram accounts along with a description of what this Instagram was going to be.
As a team, Culver and Valencia both provide different skill sets that make the account run more efficiently. Valencia, who has a passion for writing, edits people's stories, while Culver, who has a passion for photography, takes the people's portraits.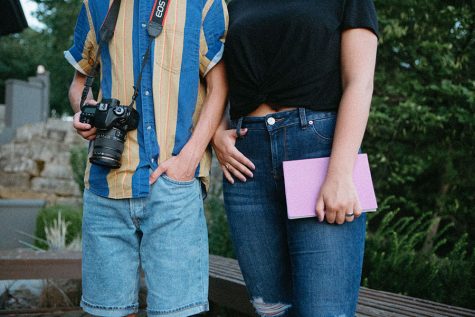 To ensure that every story is articulated the way the person featured wants Valencia sends her edited copy back to the person for approval and then takes that final version and uploads that as an Instagram caption.
With each person's story, Culver tries to take the portrait in a location or in a way that corresponds or seems appropriate to the story they told.
"Locations of which we shoot at are commonly determined by the subject's best interest," Culver said. "We have some posts that are scheduled to be posted soon that possess more emotional meaning and we are beyond excited to share."
Both these processes of getting the story finished and taking someone's portrait can take a long time, with some people's stories and pictures taking around two months to be completed. 
When finding someone to feature on the account, Valencia and Culver will either reach out to people through friend and family recommendations or have people reach out to them through direct message.
"Chase and I either reach out to people or we have people that reach out to us wanting to share their stories," Valencia said. "We set up a time where we can go into meet them and just kind of get an idea of what kind of story they want to talk about."
So far, Culver and Valencia have featured 17 people's stories on this account since its creation in July. 
Among these 17 people featured is senior Anna Paden who worked with Valencia over the summer and was approached with the idea of being featured with a quote.
After being approached Paden decided to proceed with being featured which she was incredibly ecstatic about since she doesn't see people getting an outlet to share their story and be creative.
"I decided to do it because I really loved the idea of giving everyday people a platform to be creative and tell their story, and you don't see that a lot today," Paden said.
With the publication of her quote, Paden is hopeful that people become inspired and awed by the power music has on individuals.
"I guess I hope that people who read my quote think about music much deeper than on a surface level," Paden said. "My quote is extremely short and simple, but it really makes the reader think about how much of an impact music has."
After having had the account for months, Culver is thrilled that he and Valencia created it and has seen the positive effects this account has had on the community with people even personally coming up to thank him for sharing someone's story that they connected with.
"I think the account has had a positive impact on the community because individuals have come up to me and expressed their gratitude for our posts and how the content has sparked thought in their personal lives, Culver said. "Along with this, people have connected with those featured on the accounts; building relationships with new people."
Both Valencia and Culver want to expand the Instagram page to have individuals from all over the state of Kansas or even the country be featured in order to allow their followers to hear a wide range of stories. 
"Our future plans with this account is to expand," Culver said. "We want to be able to reach out to people from all over the state and even other states, and we want to hear everyone's stories." 
Despite all the added work that running this account has put onto both Valencia and Culver's already busy schedule, Valencia said that through running this page she has been more open and understanding toward people.
"This account has made me be more open with people and more understanding because I have no idea what they're going through behind closed doors," Valencia said.
After being featured, Paden is extremely happy that she shared her passion for music on this Instagram account, and is thankful for the chance to inspire others.
"Whether you know it or not, someone is watching, someone is listening to you and someone is paying attention to what you have to say," Paden said. "The very thing you have to say could inspire and makes someone's day."
This story was originally published on The JagWire/MVTV on November 1, 2019.