Hail to the chief: Class president takes on plunger boy role
By Sally Parampottil, Coppell High School
November 4, 2019
"I believe that we will win!"
With that line, an eruption of baby powder explodes from the student section in one of Coppell High School's many traditions, led by CHS senior Leo Swaldi.
Clothed in a plumber's outfit (either black, white or red) and wielding a plunger bearing the signatures of friends, athletes and members of the student section, Swaldi embodies a different Coppell tradition: the plunger boy.
The history of the plunger boy began in 1998, when facing Southlake Carroll in football. When the Cowboys' rival flung insults such as "white trash" and "dirty", many Coppell students embraced the idea. Overalls and jorts were introduced, as well as the very first plunger boy, CHS class of '99 graduate Luke Pierson, who carried the same plunger which is passed down each year and led the student section.
"For plunger boy, it's just chosen by the past senior class," Swaldi said. "So [2019 graduate Nathan Payan] really chose me, as well as the student section committee. I get to pass it on to whoever I think deserves it, whoever I think will fill that role the best for next year."
What was once a refute against taunts from a team Coppell no longer plays has become much more.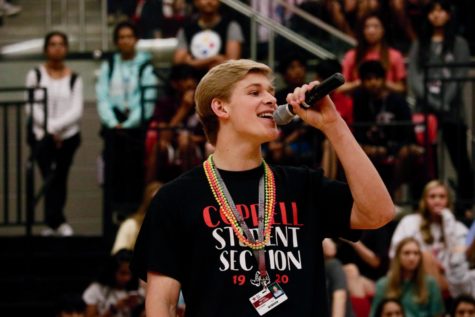 "The plunger boy is someone who people look up to because he has the spirit of the school," CHS senior student section committee member Rushil Nakkana said. "He stands up for what the students believe in, so [Leo is] one of the best people that could be in that position. We all look up to him as a leader."
Swaldi is not just another name in the list of plunger boys past – he is the first person to also be senior class president.
"I'm merging the two in a sort of way; I am the student body president and taking the plunger boy and trying to be the face of Coppell," Swaldi said. "In the past, it's always been two separate people. It's cool that we're doing one figure because it's a lot easier to manage. A lot of things overlap between student body president and plunger boy, just building up the school spirit of [CHS], so it's been a lot, but it's been worth it."
This is Swaldi's first year in student council.
"I was ecstatic, I really was," Swaldi said. "I was surprised because I didn't really know much about [student council] at that point. I was a little nervous for that same reason, but I was excited to get onto this next year and to grow and learn as a person and to bring out the school spirit of this school and push our school forward for the future."
In addition to those two roles, Swaldi also bears the weight of his classes – half Advanced Placement (AP) and half International Baccalaureate (IB).
"This year has been really good," Swaldi said. "I have been able to find a deep motivation that I kind of lost junior year. This year, I found a pretty good balance, and my mindset has changed, with college apps out of the way and whatnot. I know I'm going to be moving on to the next level soon, next stage of my life, so I'm really trying to prepare myself, get myself ready and get in the right mindset."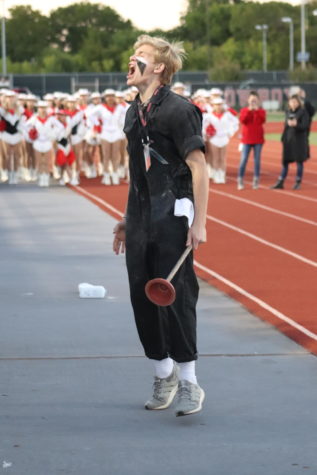 As plunger boy, Swaldi attends every football game. He also attends volleyball matches and will lead the student section in soccer matches and basketball games.
As an officer, Swaldi is able to lead the student section in both planning and execution. Not only is he the face of school spirit, Swaldi dedicates time for deciding and organizing pep rallies, fundraising and other school events through student council.
"It's a big time commitment because we're planning everything in the school," CHS senior class parliamentarian Diya Patel said. "Along with our individual duties, together we have to plan all the events at the school. We have [student council as a] class every other day, but then along with that, even at home, we have to finish what we don't finish in class. It's a big commitment that you need to have time for."
Patel and Swaldi both plan and lead the school's pep rallies. Swaldi is vocal about his main goal for the year: building back school spirit, which he works towards through his dual role.
However, this was not always the plan.
"Before I was plunger boy, I never thought I would be plunger boy," Swaldi said. "I really didn't. I always thought it was a really cool thing, but being the student body president, I just didn't think I had the time to fill in that role. I didn't think I was even in the mix at that point, I thought it would be one of my friends or someone else in our class."
Despite initial doubt, Swaldi does not regret assuming the role.
"I'm so glad I did take up the position, that I was chosen, because it's brought so much growth to me," Swaldi said. "The hardest part is stepping out of your comfort zone and forgetting about what people think about you and just screaming at the top of your lungs. So many people are relying on you to make their Fridays great, they're relying on you to be that voice that's always screaming, always telling people to do chants and just always getting the energy up and going. That's something that wasn't me before this, but it's become me on Friday nights."
This story was originally published on Coppell Student Media on November 1, 2019.