Anna McClellan
Butyl hydroxytoluene. Crotonaldehyde. Diethylene Glycol. Polycyclic Aromatic Hydrocarbon. Propylene glycol. Valeraldehyde. These chemicals are just a few of the thousands that go into e-liquid, which is heated up and inhaled using what most people refer to as vapes. All of these chemicals have an effect on users. Some of them can cause serious lung diseases like popcorn lung, which is caused by the chemical diacetyl, according to the United States Department of Labor. Some of them are carcinogens, such as formaldehyde, which can promote the spread of cancers.
Earlier this month, the CDC confirmed 1,479 vaping-related injuries and 33 deaths in the United States over the past six months. These deaths are linked to a new respiratory illness that can lead to trouble inhaling, vomiting, headaches, dizziness and many other symptoms that vary depending on the user. These problems are similar to the symptoms of being "nic-sick," a term that describes the occasional side effects of vaping that occur within the first 15 minutes of exposure to nicotine.
"I think one major factor [of teens vaping] is obviously the fun flavors, and a lot of people do it as an alternative to cigarettes, which I guess makes sense, but I think it's, in the same way that big tobacco companies glamorize smoking cigarettes, it's very glamorous," a Mac student who used to vape told The Shield. The student requested anonymity to avoid possible punishment for having vaped.
At McCallum, students are starting to realize the effects of vaping. "I just heard people were dying so I was like, 'I don't wanna die' so I quit," one student told The Shield. The student requested anonymity because they did not wish to get their friends in trouble.
Interim principal Brandi Hosack is concerned as well. "Stop vaping!" She pleaded. "It's not about breaking school rules. It can kill you, and that's what I'm scared of."
Scientists are not yet sure what is causing this new disease, and there may not be one answer. One theory is THC, or tetrahydrocannabinol, the chemical in marijuana that causes the feeling of being "high." Because it is only legal for recreational purposes in 11 states, users in other states rely on the black market for it. This means there is a greater risk of dangerous substances ending up in it. In fact, the majority of the people who reported developing injuries or illnesses to the CDC had used THC devices.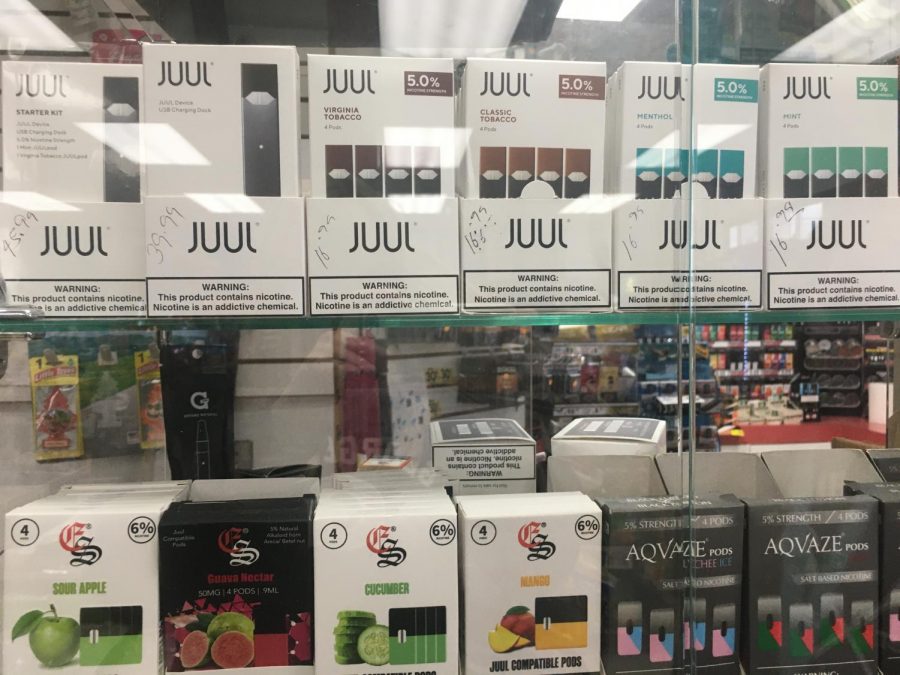 This correlation is also reflected in a report described in an article published by The Wall Street Journal in September, in which 76.9 percent of the 514 patients monitored claimed to have used vapes containing THC. However, the remaining 23.1 percent did not, while still experiencing similar symptoms.
"What I think is going on is a guy wants to make some money, and he buys the packages, which you can buy on Amazon or eBay, then they just whip up their own formula and put whatever they want in it," an anonymous source told The Shield. "It's dangerous because that's what is going around [and] that's what's causing all these problems."
The student requested anonymity because they did not wish for their peers to know of their experience with vaping.
Those who vape at Mac have reacted to the CDC report in different ways. To some, the CDC findings are a big deal; to others, the report hasn't changed their habits at all.
"It's sort of like on the cusp of being not-so-horrible and being really horrible," the student explained. "You can get a nicotine buzz, and it's over within less than five minutes and you can go on with your day."
As students become more addicted to these devices, however, they become less willing to acknowledge their addiction.
"Before I quit, I kept telling myself, 'This is the criteria for having an addiction, and I don't fit that criteria, so I'm not addicted,' Even though it was like an everyday thing, and it wasn't good," the student to The Shield.
The student is not the only one who feels this way, and this is partly because of how easy it is for people to bring vapes everywhere they go. Although there is a plethora of vapes on the market, the brand JUUL has gained popularity because JUUL products can be concealed in sweatshirt pockets, socks and even the palm of one's hand, since it is only about 3.5 inches in length. This makes it difficult to discourage students from bringing them to school with them, and enables users the opportunity to vape frequently throughout the day.
The THC devices are even worse, causing more harm and deaths, but that doesn't mean that regular vapes are not also causing issues.
The McCallum administration is looking for ways to help prevent kids from vaping, but Hosack stressed that ultimately, it's up to the kids to make the choices themselves.
"You still make your own decisions when it comes to when you show up to school, what you bring to school with you, [and] what you choose to engage with at school," Hosack said. "Those still have to be your decisions. All I can do is to hope to educate you enough that you make good decisions."
Though there is still much to learn about the health effects of vaping, scientists agree that it has a significant effect on users. It's addictive quality makes it difficult for people, especially teenagers, to quit.
This story was originally published on The Shield Online on October 31, 2019.