The end of football?
The future of football could be in jeopardy due to increasing concerns over player safety. Will we, at Saint Stephen's, always have tackle football?
By Dylan Davis, Saint Stephen's Episcopal School
November 6, 2019
In recent years, concussion studies have shown that football has a startlingly high concussion rate: 6.4 concussions per 10,000 athletic exposures (an athletic exposure or "AE" is defined as one athlete participating in one game or practice).
As a result of the hard-to-swallow numbers, the safety of tackle football in America has been a constant topic of controversy and turmoil.
Football at Saint Stephen's is no exception.
This year, in response to the growing concerns, our athletics program made an unprecedented move: they transformed the longtime middle school football program from tackle to flag football.
This was a difficult change, but many believe the transformation will make a positive impact in protecting our student-athletes from harmful injuries.
Athletic Director Coach Paoletti said, "There were several reasons why we transitioned from middle school tackle football to middle school flag football. The first reason was that the Aspen Institute published a new study in September, 2018 that recommended that young people under the age of fourteen should refrain from playing tackle football. A second reason for the change was the popularity of flag football and the ease of joining a local age-appropriate league for our middle school team."
So where does the concussion buzz come from?
In 2015, the award-winning film Concussion was released. The movie vehemently attacked the NFL and football in general for the adverse effects of concussions. The film brought concussion research to the forefront of American minds. Millions of Americans who had previously celebrated big hits and the toughness began to question what they were actually celebrating. The studies, published and then displayed in the film, showed that repeated collisions eventually led to chronic traumatic encephalopathy (CTE), a severe disorder.
CTE is just a fancy term for brain degeneration.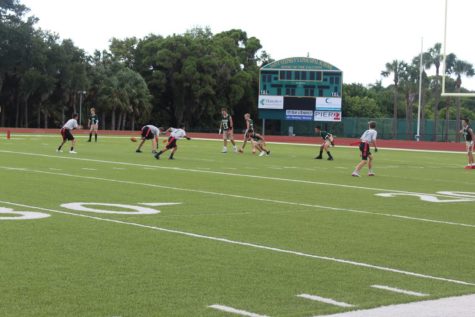 Leading concussion researcher Bennet Omalu, the Chief Medical Examiner of San Joaquin County, California, said "Chronic means long term. Traumatic means associated with trauma. Encephalopathy means a bad brain."
CTE is no joke. Eventually, CTE can lead to memory loss, impaired judgment, impulse control problems, aggression, depression, suicide, and in some cases, progressive dementia. Check out this link for more on the disorder.
As a result of these findings, many changes have been made to protect the sport and its players. There have been numerous improvements in the equipment the players wear and the rules that govern their play.
For one, the new design of helmets features increased padding that reduces the amount of impact generated by a collision. In terms of gameplay rules: the kickoff distance was shortened (to reduce the speed at the time of collision), and referees tightened down on helmet-to-helmet contact, enforcing penalties and at times, ejections.
In 2018, after the introduction of new and improved helmets and rules, the NFL proudly announced that the number of reported concussions had been reduced by 29% from the previous year; this is an incredible accomplishment helping to drive the movement of better safety of players.
Despite improvements to the safety of the sport, many people are still fearful of football. Parents all over America were surveyed in 2018 in an NBC poll as to whether or not they would let their child play football.
48% of the Americans surveyed said they'd encourage a child who wanted to play football to play a different sport: that number was up 8% since the same question was asked in 2014.
In 2016, research was published that suggested that collisions were most problematic when the brain was not completely developed. At that time, an acceptable age to start safely playing tackle football was twelve. Since then, concerns have escalated further and now the accepted safe age for tackle football is fourteen. Hence the shift in our middle school.
Little league football and middle school football have taken the biggest hits as participation has taken a dramatic drop. The player turnout for SSES middle school football has decreased every year despite the success of the varsity program.  Saint Stephen's is a prime example of the country's shift from tackle football to other sports or alternatives, like flag football.
Coach Paoletti said further, when asked about the future of tackle football and the possibility that someday it could become a thing of the past, "Personally, I do not think that high school, college or professional football is in jeopardy of going away any time soon. It might look a little different than what we have now, but all sports transition."
"I think we will always have football, at least in my time, because it is part of our American culture," Paoletti added.
Transitioning to a flag program has many benefits for our school: player safety is heightened, it's less expensive, there are more leagues popping up, and both boys and girls can safely participate.
"
I think we will always have football, at least in my time, because it is part of our American culture"
— Athletic Director Paoletti
On campus, the views on concussions and hard-hitting tackle football can be surprising. Mr. Jamie Moore, the English Department Head at Saint Stephen's and a former Florida Gators football fanatic offered a critical perspective.
Moore said, "Between all of the different nationwide studies, and as a Florida fan seeing the side effects on some of our players, particularly Aaron Hernandez, I could not continue supporting the sport."
Aaron Hernandez was a star football player for the University of Florida and the New England Patriots. After many years of playing football, and suffering from CTE, he was charged with the murder of two people. In jail, Hernandez committed suicide.
His brain was studied and it was determined he had the worst case of CTE ever recorded, leading many to wonder whether or not there was a correlation between his actions and his severe CTE. For more on Aaron Hernandez, head to the linked story.
Mr. Moore took a hard line on the topic. He said he does not watch football anymore because he doesn't want to give the sport any support, and also because he doesn't want his son to fall in love with the sport like he once did.
Mr. Moore says his son, Wilson, will not be allowed to play because "his brain is more important to me than a game."
Without question, the future of tackle football is cloudy. However, there are still opportunities for the sport we love to be saved.
New technology, improved rules, and creative solutions like flag football can help protect the sport and the players. Saint Stephen's, in hosting one of these programs, is looking to be a part of the change that saves football.
This story was originally published on The Gauntlet on November 4, 2019.