We Will…We Will…Block You: Homecoming Game Recap
School spirit illuminated Echo Park during the Homecoming football game as footballs soared through the air, students were crowned royalty, and the manpoms flipped out.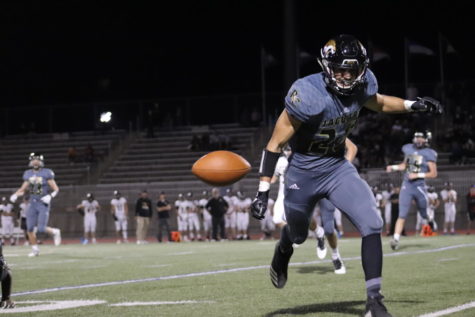 Gianni Bonnici '20 reaches for the hail during the third quarter of the homecoming game at Echo Park Sept. 19. Bonnici is one of the four football captains for the Fall season. "The game kept getting more exciting and the crowd was going wild. We cheered a lot when we scored the first touchdown," Tanvi Rami '22 said.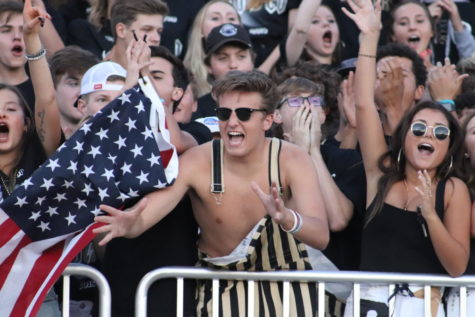 Golden Boy, Dani Haddad '20 prepares in anticipation to catch the senior megaphone at Echo Park during the Homecoming Football game Sept. 19. He led chants throughout the bleachers to cheer on the football team. "It was crazy, everyone was screaming and the school spirit was amazing! I was so excited to be at the game and show support for our team," Nikhila Naryana '22 said.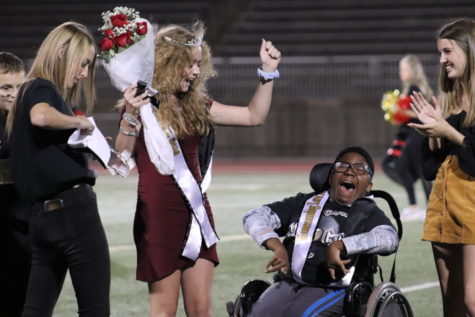 David Keefe '21, a royalty nominee, celebrates his victory as Homecoming Lord at Echo Park during Halftime Sept. 19. Prior to the announcement of his win, students chanted his name, in hopes that he would win the title.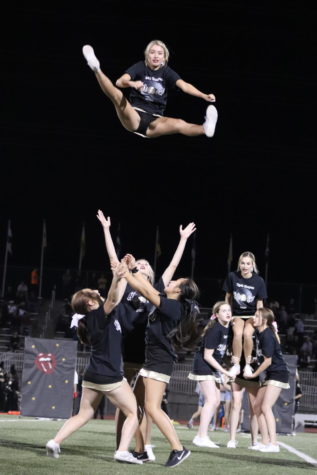 During the cheer halftime routine, flyer Reagan O'Riley '21 gets thrown into the air over Echo Park Sept. 19. The cheer team danced to classic rock music that coincided with the "Rock 'n' Roll" homecoming theme. "The team was really in sync and practiced a lot for this game," Anna Stevens '22 said.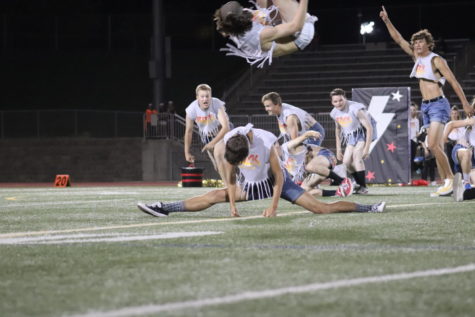 Matthew Mejia '20 gapes as his fellow manpoms execute a dangerous stunt during halftime at Echo Park Sept. 9. The manpoms rehearsed their routine with the poms and performed during the Homecoming assembly. "We were losing pretty bad, but when the manpoms performed, it gave us back our school spirit," Elise Barton '22 said.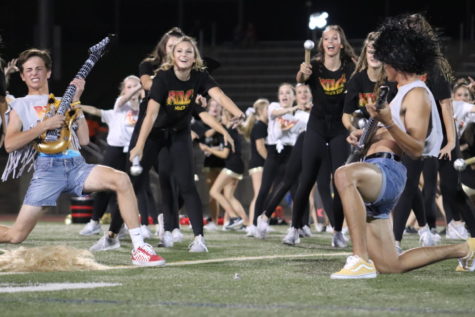 Manpoms Jack Sloan '20 and Cody Lange '20 play blow-up guitars during an appearance in the Poms' homecoming performance at Echo Park Sept. 19. Their attire featured extravagant wigs, Rock 'n' Roll shirts, and frayed tank tops.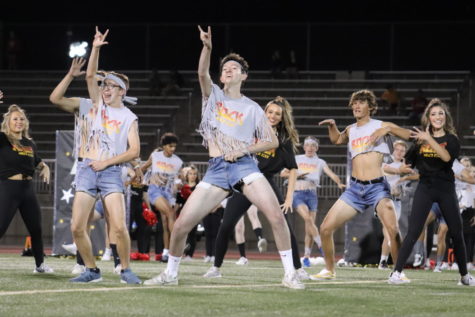 Manpom, Sage Wheeler '20 strikes a pose during the manpoms halftime performance at Echo Park Sept. 19. They opened their performance to the song "Bohemian Rhapsody" by Queen.
This story was originally published on The Rock Newspaper on September 30, 2019.