The Rise After The Fall
2019 Marching Season Concludes, Cedar Park Claims Third Straight State Title
By Noah Hedges, Cedar Park High School
November 8, 2019
Marching productions for the Cedar Park band come with about a year of thought. As soon as one season ends, directors are already finding music to put into a show, along with different concepts to go with the musical selections. This season, the production came after a disheartening end to the 2018 season… Icarus: After the Fall.  
"This show was designed in hopes to show people to never quit after failure," junior trumpet Khyla Ruskin said. "The idea came about last year on the drive home from a competition that we were unsuccessful at. This year we wanted to show people how we may have fallen and gotten too close to the sun, but we got up again and flew."
The marching season began as early as July 15 for the leadership team at leadership training. The drumline then rolled back into school on July 18 to start working on their craft, and to become as clean and precise as possible. On July 25, the whole band family was finally together again, ready to make a new plethora of memories in the season that was to come. 
"The energy on the field on August first was electric," junior clarinet McKenna Song said. "It was the first day learning drill and everyone was hyped. We were ready to make the show the directors worked so hard to design for us to come to life. On that day, everyone realized that we were all working for the same goal, to come back and throw down. Everyone on the band knows what that day felt like and that feeling is what we used to drive us through rehearsals throughout the rest of the season."
Summer band is the longest part of the season, as more than half of the hours of rehearsal over the whole season are spent on the black top in the blazing hot months of July and August. Most of the improvement in marching bands comes during these few weeks, from learning how to march, to putting a vast majority of the production on the field.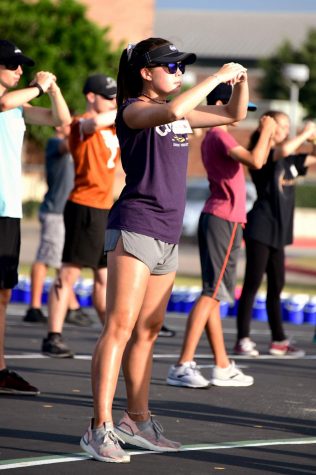 "As far as summer band goes, we dive into the season well before the first day of school," Song said. "Summer band is where the freshman learn what marching band is and the returning band members get back into the swing of things. It may be tough but it's a place where our foundation is built and it greatly affects the success of the season."
Once school began this fall, the band had already been showing up to school for almost a month, and the hardest part of the season had concluded. The first few weeks of school were still full of rehearsal, but there wasn't nearly as much time for improvement as there was during summer band. 
"After the results of last season, there was a huge push to do something special this year," Ruskin said. "When summer band came around, there was a different energy surrounding the program. We were ready to throw down and show everyone what Cedar Park marching band means."
The drumline opened up the competition season with the Dripping Springs Invitational Drumline Contest, on Sept. 21. This contest was the line's first look at the other groups in central Texas, as well as their season-long competition at the Lonestar Classic Contest in November. In the 2018 season, Cedar Park came away from this contest with a gold medal, along with their fourth straight front ensemble caption. This season, the drumline placed second at what band kids call "Drip," while earning no captions. This opened the season in a very strong manner, as the drumline carried their confidence with them into band the following week.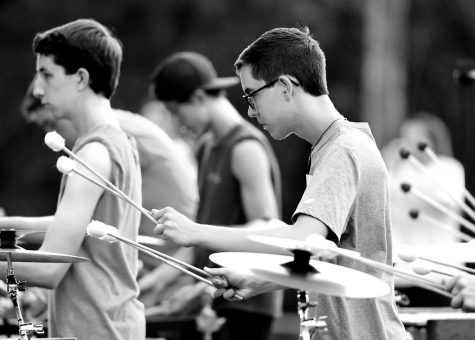 "Dripping Springs is the first competition of the year," senior Pit Captain Cole Sylvester said. "The percussion section gets very excited because it is much more personal and competitive with other LISD schools such as Vandegrift and Vista Ridge."
The first "pit-stop" of competition season was the Austin Regional of Bands of America. All of the biggest bands in Texas came down to Austin to compete for a regional championship at Kelly Reeves Athletic Contest in Round Rock on Sept. 28. The notable bands that attended the regional this year are big band names such as Vandegrift, Claudia Taylor Johnson, Leander, Vista Ridge and of course, Cedar Park. The competition is always stiff at this competition, and sure enough, that was held true this season, as Vandegrift earned the gold medal, and Cedar Park placed fifth in one of the most competitive competitions of the season. 
"BOA Austin was just a good time for the band to show off all of the hard work that we put into summer band and all of our rehearsals," senior trombone Elizabeth Simpson said. "It showed judges and other programs that we aren't the same as we were last year and we're stronger than we'd ever been before. It gave the band confidence for the season because we were in the top five at finals following the sad result of last season."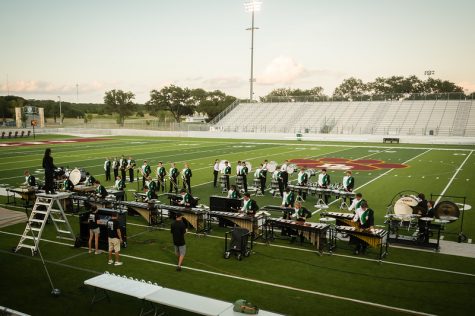 The second most painful part of the season is known as the cleaning process. Every single minute of rehearsal is used to do the same thing, over and over again, to rinse and repeat the drill, the music, and the feeling of performing at the highest level. This season, they finished their show in the week before Texas Marching Classic, which aided them, giving them about a month to clean different parts of the production.
"Having the whole show on the field so early this year was incredibly beneficial to the success of the band this season," junior Drum Major Julianne Savage said. "Being able to spend an entire month just cleaning and refining all of the details allowed us to execute an extremely precise, powerful, moving and inspiring last performance at State."
The band attended TMC on Oct. 5. The last time that Cedar Park attended TMC in competition, they came away with the gold medal, along with the Percussion, Auxiliary (Color Guard) and General Effect captions. In 2018, Cedar Park performed as an exhibition to open finals, but this season, they were back in competition. Cedar Park won first in class, getting the Music, General Effect, and Percussion captions. They then proceeded to place fifth, sitting behind Rouse, who was one of the biggest contenders for the state title.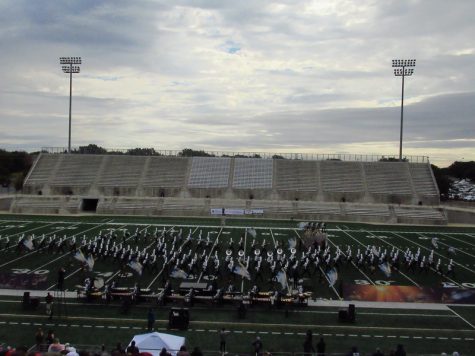 "TMC was a wake up call for us because Rouse does not normally beat us in competition," Sylvester said. "I think the whole band took it as a sign that nothing this year was guaranteed and how hard we had to work to get what we deserved."
Competition season was then in full swing, and the run for Cedar Park's third consecutive state title took off, starting with UIL Region on Oct. 19, which sent them to the Area competition. The judging panel in UIL competitions is very different from that of BOA competitions, so the UIL Region contest was a good look at how are show was stacking up for the UIL score category.
"UIL Region was our first step toward winning state," Song said. "It's the first competition in which we can truly see how our show will do with the UIL rubric. Before Region, we had only performed at competitions that score differently than UIL, so Region gave us the opportunity to understand what the judges wanted to see and how we could better improve ourselves in our journey toward a state title."
Postceding UIL Region came the UIL Area H Contest. A lot of strong bands were attending the Area H Contest on Oct. 26, such as Rouse, Kerville Tivy and new addition to LISD, Glenn, who attended their first ever state championship competition. Cedar Park came out strong in this competition, earning a 95.58 in finals, winning, and advancing to the state championship.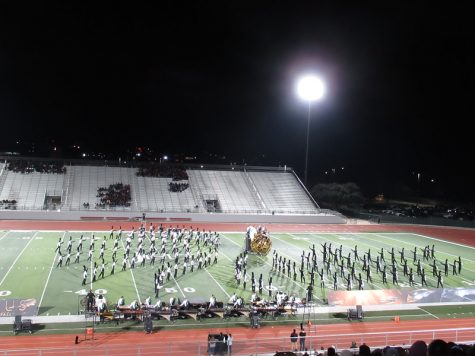 "Area was a whole different ball game," Ruskin said. "We went head to head with one of our biggest competitors, Rouse. When it was announced that we were ranked first after prelims, the whole band wanted to maintain that status. Our area finals run was stellar because it was a great showcase of our abilities. When it was announced that we were Area H champions, there was a really positive buzz surrounding our ensemble."
The final week of preparation came around, which lead up to BOA San Antonio on Nov. 1 and 2, and the UIL State Championship. BOA San Antonio is similar to BOA Austin, but the competition at San Antonio is much more aggressive, as the competition itself is classified as a super regional, as opposed to a normal regional. Six states were represented, as Vista Murrieta High School visited from California, along with breakout class A band, Collinsville High School, who came from Oklahoma. BOA San Antonio over the years has slowly become the most competitive competition in the country. In 2017, Avon High School competed in the glorified super regional, coming into Texas from Indiana, ranked in the top five in the nation. Avon was essentially shut down, as they got fourth at the super regional behind Claudia Taylor Johnson, Hebron and Vandegrift. Cedar Park was the only UIL 5A band to make finals in 2017, and if that isn't enough, they placed sixth in prelims and eighth in finals. 2018 was a turn for the worse, as Cedar Park failed to make the finals at the super regional.This season brought a similar story, but the hurt from missing finals wasn't as harsh because the goal of the season was to get their third straight state title, according to senior head Drum Major Alyson Jia.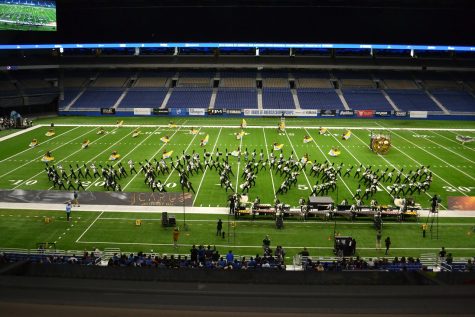 "We missed finals, but because of the extremely stiff competition, it wasn't a given that we'd make finals either," Jia said. "It was still cool because three of the LISD schools did advance, and we were really proud of them. Knowing that the season wasn't over for us because we still had State, that made it easier to realize that we couldn't give up or let missing finals affect our coming rehearsals and performances. That is the theme of our show, anyway."
All of the blood sweat and tears lead up to the UIL State Championships, held on Nov. 4 and 5. The competition wasn't quite as competitive as a BOA Super Regional, but there was still a lot of talk going on surrounding the UIL State Championships and who was going to take home a gold medal. Rouse was coming off of a fourth place finish, beating Cedar Park for the first time in school history, as well as a second place finish behind Cedar Park at the UIL Area H contest. Other notable schools such as Wakeland, Weiss and Highland Park all had strong showings at BOA Austin.
"This year was super awesome because all three 5A LISD bands advanced to the state level," Savage said. "Being able to bond with Rouse and Glenn through this process created a on of hype for the band and came with endless support from around the district."
After the Area Contest, scores were calculated, and Cedar Park had the highest score in the state with a 95.58, followed closely by Rouse with a 93.53. Cedar Park took the field first in State Prelims on the morning of Nov 4, and the performance was very energetic. The crowd was very slim, as the only people in the stands were die hard Cedar Park band parents.
"When we heard that we were going first at state prelims, there were mixed emotions," Song said. "We felt good because we knew that we could throw down and set the bar for the rest of the day, but we were also a little nervous because we felt confident, but we didn't know it we could get the results that we wanted due to our early slot. In the end, I think that performing first was a positive thing for our band. It created a sense of urgency and drive within the band and we were able to see how we matched up to our competition, who performed later in the day. We had a great performance and I think performing first set us up for success in finals."
After the prelims performance, the band had a rehearsal at Comalander Stadium down in San Antonio to further improve in hopes for a finals spot on Tuesday night. The drum major retreat was held on Monday night, and Cedar Park made finals, as well as drawing the 4:00 p.m. finals performance slot. 
"State prelims retreat was pretty exciting," Jia said. "We were pretty confident that we would be able to perform again based off of out performance in prelims, but the way that finalists are announced is always nerve-wracking because if you're announced toward the end, you become a little bit scared that you maybe did not advance. When we were announced, it was another opportunity to perform, so while we were excited, we were also determined to make the last performance of the year the best that we could."
The morning of State Finals came around, and the time had finally come. All the hard work that was put in by every single member was finally put to the test. The biggest story from State Prelims was the fact that Highland Park took the upper hand over Cedar Park by seven, but Cedar Park has a history of coming back stronger than ever in their finals performance. 
"On the morning of finals day, I saw an energy in the band that I hadn't seen all year," Savage said. "Everyone was counting, watching and doing every single thing they were supposed to do, to the best of their ability. The sheer focus and strive for perfection brought me to tears. They were on fire and ready to throw down in that dome one last time."
The performance in itself was the most energetic and amazing thing that the judges had seen all day, according to the score sheets. Every single performer on the field gave their absolute best effort to finish off the season on a high note, and sure enough, the whole entire production flew, according to junior Vibraphone Daniel Ziegler.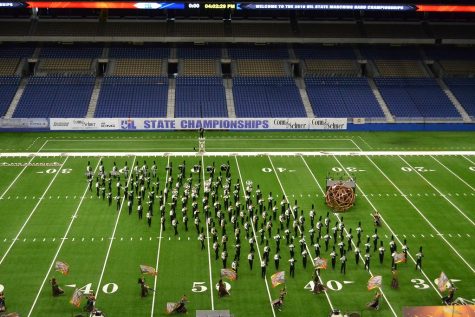 "What an absolute joy it was to perform that show," Ruskin said. "Everyone was really locked into doing all of the things, all of the way. I'll be honest, I have never had fun performing until that run. After we finished the last note and the horns came down, a huge smile spread across my face. Seeing the audience on their feet truly meant something special. It meant that we did our job, which is to move and inspire. Walking off the field, everyone was crying because we knew that no matter what we ranked, we left it all out there, Everyone in this program loves what they do so much and being able to create an incredibly emotional and beautiful production together is something we wouldn't change in a million years."
Since Highland Park placed first in prelims ahead of Cedar Park, retreat was a nail biter for not only the crowd, but the performers on the field as well. The announcer pledged Rouse as the fourth place finisher, and as time was crunching, there were two bands left… Cedar Park and Highland Park.
"During retreat it was super nerve-wracking but also insanely cool to be one of the last bands waiting to be called," Savage said. "Standing still, holding back all the emotion in the middle of the drum major arc was one of the hardest things, but it was such an honor to be able to represent the band." 
Highland Park was crowned the silver medalist, which gave Cedar Park victory at the UIL State Championships. Cedar Park has now come home with the state title in four of their last five appearances, as well as earning their third consecutive state title.
"Back to back to back is incredible," Jia said. "I know that all of these students have given so much time and effort over the past three months to make the show what it was, and it definitely paid off in the end. We carried on the Cedar Park tradition of moving and inspiring, and as a family, we created something that we should all be extremely proud of. It was a great end to our season."
The season was long and hard, but the memories that were made in the minds of the performers in the Cedar Park band in the 2019 season will forever resonate with them, according to Ruskin. Current juniors and seniors now have two rings, and the freshman and sophomore class earned their first taste of victory with a gold medal. This is a prime setup for the 2020 season, as Cedar Park will be attending BOA Grand Nationals in Indianapolis in November 2020.
"This season was absolutely life changing," Savage said. "The presence of the band was so different from what it was in the past two years in every positive way. From the minute we started summer band, I knew that Cedar Park had something special this year. After the last note of our very last performance I was completely overwhelmed with emotion; we simply stood there as one, taking in all of the applause, knowing that we had just left it all on the field. At that point, the results didn't matter, for we knew in our hearts that everything had been done to the best of our ability. Getting to stand in front of such a strong family of musicians and performers was an experience like no other and I am so honored to be able to do it again next year."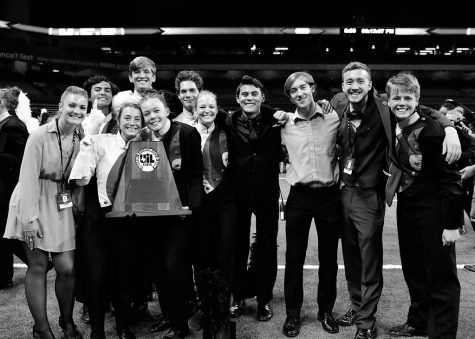 This story was originally published on Wolfpack on November 7, 2019.