A Critical Balance: The Need for School Bus Drivers
A shortage of school bus drivers is impacting the nation, and North Allegheny is experiencing it as well.
By Andrew McLaughlin, North Allegheny Intermediate High School
November 20, 2019
We've all been there: it's six-thirty-something in the morning and you're struggling to stay awake. Sitting at the bus stop, you lift an eyelid to see the school bus flying around the bend, lights flashing. Yawning, you climb aboard, maybe greeting the driver before trudging back to your seat. "Why does this bus come so early?" might be a thought that works its way to the front of your tired brain at this early hour, but something you probably don't think about is the importance of the bus driver in this situation. What if he or she didn't drive this school bus? How would you get to school? These questions likely don't cross the mind of many students, but they're important issues that are especially relevant today.
Students often underestimate the importance that bus drivers hold, which is unfortunate – after all, they are the people that allow the transportation department to function effectively. The task of potentially transporting every student in all grade levels every day of the school year is a truly monumental task, but one of the greater undertakings is getting enough bus drivers to accomplish this goal. To gain a better sense of the system of school bus drivers, NAEye spoke with Chuck Cubelic, who is the Assistant Director of Transportation and Operations at North Allegheny. "At North Allegheny, we currently do not have the number of drivers that we would like," Mr. Cubelic said. Although the school district has 80 full-time bus drivers, more are needed.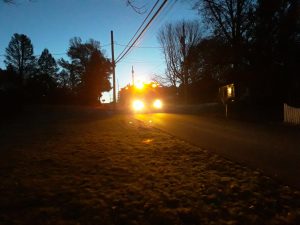 Many schools, including North Allegheny, have such an early high school start time due to transportation difficulties. In fact, one of the main reasons that school starts so early indirectly involves the often overlooked bus driver. When there aren't enough drivers or busses to be used at once, bus runs are forced to be staggered to avoid conflict with other building levels' start times. The NA high school start time was possibly going to be moved to a later hour this year, but it couldn't be done due to a lack of available bus drivers. Beyond our area, classes have even been canceled in Maine, Michigan, and Florida in the past year because of a lack of school bus drivers.
Recently there has been a notable shortage in obtaining a sufficient number of drivers to transport all North Allegheny students. The negative effects of a bus driver shortage can range from more crowded buses to a hindrance in changing the school start time, which has been a major issue of importance at North Allegheny. Mr. Cubelic backs up this fact, stating that the shortages "could add another challenge to the complexity of the proposed bell time changes."
"
The negative effects of a bus driver shortage can range from more crowded buses to a hindrance in changing the school start time."
500,000 school bus drivers in America (which itself has been on a decline of 4% a year) transport one-third of the country's students to public school every day. Nationwide, 90% of school districts have some shortage in getting enough drivers, and more than a fourth of school districts have shortages that they call "desperate."
According to a 2016 report by the National Association for Pupil Transportation, which consisted of a survey largely made up of Transportation directors around the country, 56% of the surveyed population said the school bus driver shortage is getting much worse and nearly all of the respondents rated the shortage as their number one concern in school transportation.
To get around this issue, some school districts are relying on other employees to fill the shortage, including teachers. However, the need for a commercial driver's license can be a further hindrance in procuring a sufficient amount of school bus drivers.
The shortage of school bus drivers is a nationwide issue, and it has impacted North Allegheny.  Mike Berk, executive director of the Pennsylvania School Bus Association, added "[All Pennsylvania school bus driver contractors are] all having problems," according to the Pittsburgh-Post-Gazette. Furthermore, Pittsburgh Public Schools has developed more efficient bus routes this school year and has also considered placing middle school students on city buses for transportation to and from school.
The shortage may not be apparent to you on your daily bus ride, but there are unforeseen effects that the bus driver shortage is having on other programs. For example, auxiliary organizations often encounter difficulty in obtaining sufficient transportation to move students to off-site school events, such as sporting events and field trips. Mrs. Steele, a GOAL teacher, said that the Gifted Education department has been asked to "consider other, in-house options when it comes to transportation" for extracurricular field trips, and she also added that "we need to call much more in advance to get a bus."
"
We've been asked to consider other, in-house options when it comes to transportation."
— Mrs. Steele, GOAL Teacher
Most students likely do not think about the complex logistics of being a school bus driver; many likely take their driver for granted. Commenting on the complex administration when it comes to the Transportation Department, Mr. Cubelic cited a major challenge as the demand to be at work every day in all types of weather.
School bus drivers also have to conform to strict hours that may not be the most desirable working situation. Most bus drivers start their shift at 6:00 AM or earlier. However, Mr. Cubelic stated that many drivers like the free time in between the morning and afternoon bus runs. Some bus drivers at NA do work other jobs, but the complications of such an arrangement has likely deterred many potential candidates. 
The startling need for school bus drivers at North Allegheny isn't going unnoticed by administrators, however. Mr. Cubelic was quick to note that the district is "actively recruiting and advertising that the district is hiring new bus drivers." As stated previously, the hours may prove a hindrance in hiring an adequate amount of drivers, but North Allegheny is trying to remedy this, with Mr. Cubelic saying that NA "offers a competitive benefits package and salary for bus drivers."
Mr. Cubelic also brought up the topic of the economic causes of the driver shortage, stating that due to the "robust economy," many people are choosing to go to other jobs that offer better benefits and that "the bus driver shortage is no different."
Even with these challenges, the Transportation Department is bringing an optimistic standpoint to the need to recruit drivers, saying that  "the reputation of the district is exemplary and [will continue] to attract great personnel. Without our school bus drivers, we would be in a position of great disadvantage to both students and parents. So, with a better knowledge of the school bus drivers, you can hopefully be more appreciative of your own driver in the future. A simple morning greeting can go a long way to making your bus driver feel valued, and therefore give him or her a sense of pride in such an important job.
This story was originally published on NA Eye on November 20, 2019.