Howdy, dude: Californians migrating east to affordable opportunities of the Lone Star State
By Shreya Beldona, Coppell High School
November 25, 2019
Don't California my Texas.
The bold statement aimed at the increasing rates of Californian migration to Texas seems to refer to one issue — red versus blue. However, the issue and tensions spawn from much more than political ideals.
Searching up "San Francisco" yields beautiful images of the quintessential skyline of the city with the Golden Gate Bridge in the background, classical colorful "Full House" Victorian-style homes, palm trees and scenic bay views.
With just one word, the entire perception of San Francisco changes.
Searching "San Francisco homeless" exposes one of the biggest issues facing California today. People are found lining the sides of streets, sprawled out on the sidewalk in tattered sleeping bags or camping tents with their belongings in black plastic garbage bags.
In fact, the homelessness problem has become so unsightly that it has caused residents to put out boulders on sidewalks to deter the homeless.
Nearly a quarter of all homelessness in America comes from California alone. This rate is almost five times the amount of homelessness in Texas as of 2018.
Homelessness closely correlates with an even bigger issue facing California: unaffordable housing.
The average price of apartments per month in Los Angeles is about $2,029. However, the median income of residents of Los Angeles is $54,501. Though this leaves about $30,000, it does not include the cost of utilities, gas, food and transportation.
Assuming residents fill up gas once a week and the average cost of gas is about $3.53, the annual cost of gas would add up to more than $3,500. Additionally, auto insurance costs about $1,200 a year. Utilities cost about $127 per month for a 915 square foot apartment which results in over $1,500 annually.
The cost of food in Los Angeles tends to be higher than the U.S. average, so residents spend about an average of $500 a month or $6,000 on food annually. Renters insurance averages about $195 a month or $2,340 a year.
Angelenos earning the average median income bear a tax burden of about $15,000, excluding property taxes. All these costs added together equal about $29,500, leaving only $500 left for any other expenses.
Coppell High School theater director Karen Ruth moved to Texas from Los Angeles in 2017 after living in California for 15 years. She moved after realizing neither her husband's profession nor her profession required them to stay in the city. Ruth also moved due to the high cost of living.
"My crappy two-bedroom apartment in Los Angeles, it was about $2,500 a month," Coppell High School theater director Karen Ruth said. "The price to live in L.A. is astronomical. Everything has a huge tax to it. Fast food costs more. Gas prices are so much higher."
Families also have to worry about another key factor: quality of education.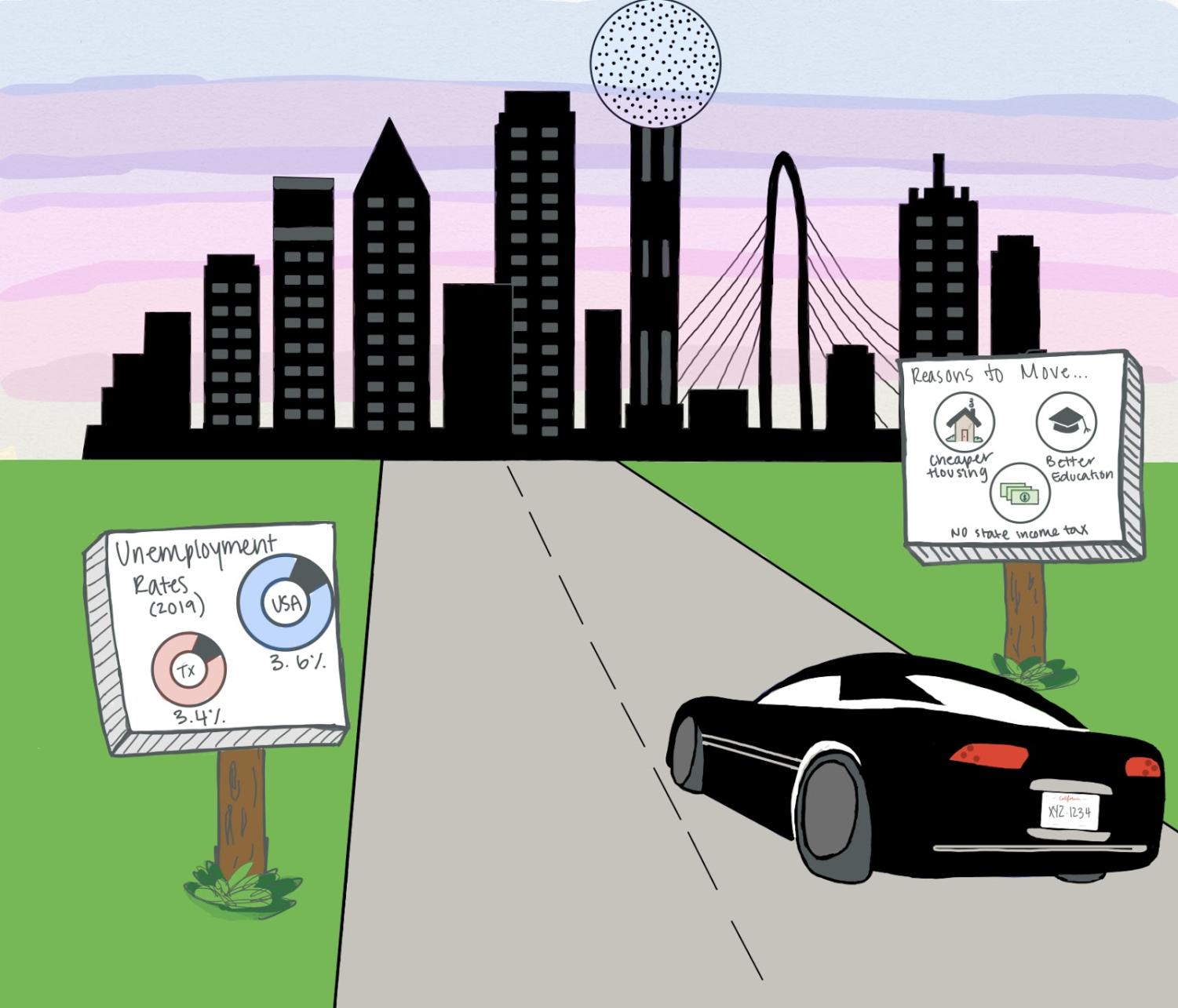 Once highly coveted, public schools in California, especially Southern California, tend to fall short of meeting expectations.
In 2019, California ranked 43rd out of 50 in the country in per-pupil spending.
In fact, to allow almost every student in California to have a chance to go to college, California would have to spend 38% more on education.
"One of the things that came as a shock [about Texas] was the amount of money that has been invested in schools and education," CHS spanish teacher Armando Becerra, who moved from San Diego, Calif. to Coppell, Texas in August said. "The things children in these schools receive is crazy compared to a school in California."
These things include iPad Airs, Apple pencils, Apple TVs, new Smartboards and new projectors.
Though the per capita GDP of California is $58,619 compared to the Texas per capita GDP of $53,795, the per capita GDP does not tell the full story of the economy of these states.
Texas's labor force participation rate was 63.7% versus California's 62.0% as of September 2018. Though the difference might seem negligible, the percent difference equates for several individuals.
A higher labor force participation results in more jobs and therefore less poverty. California's labor force participation rate is very indicative of the poverty issue plaguing California.
Yet residents are not the only individuals moving from California; many firms have decided to move to Texas, specifically the Dallas area.
Large companies such as McKesson (a healthcare and pharmaceutical company) and Jamba Juice and have moved their headquarters to the Dallas area. Even Honda has been speculated to consider moving to the DFW area after Toyota moved its North American headquarters to Plano in 2017.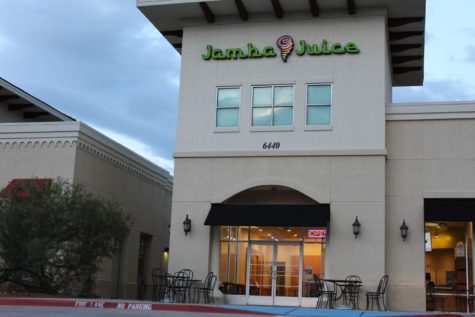 There are multiple reasons why companies are moving to North Texas – and why North Texas is welcoming them.
With no state income tax or corporate income tax, the DFW area is very appealing to companies. The local government in Texas is also allowed to grant tax abatements in the hopes of luring companies to their city to create more jobs. In fact, Texas gives away more than $19 billion a year in incentives to entice companies.
These factors all contribute to the growing rate of migration from California to Texas.
But what are the effects of this migration on Texas?
Dallas area residents need to look no further than their own communities
As of May 2019, Dallas is at the top of the homebuilding market in the entire country with 34,523 homes built annually. In fact, out of the top 14 cities at the top of the homebuilding market, four (Dallas, Houston, Austin and San Antonio) are from Texas.
In recent years, the price of houses in Texas has increased due to the price of land, shortage of skilled workers and government regulations.
The struggle lies in trying to build affordable homes at the increasing rate of demand. Dallas residents can see the 4,922 houses built in the Dallas area with new and growing housing developments such as Cypress Waters in Dallas and Castle Hills in Carrollton.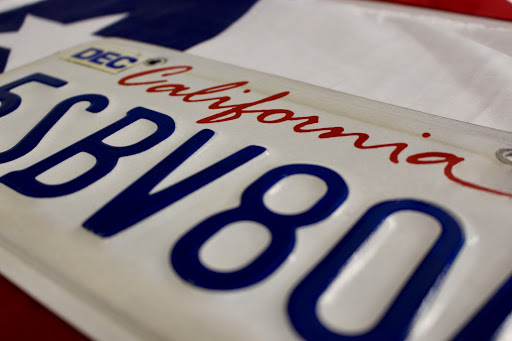 But the change is more than just the price and number of houses being built. The style of homes being built is also changing.
"A lot of prospective buyers, especially if they come from coastal California, [want] changes that come from a design element," Director of Communications with the Metrotex Association of Realtors Bill Head said. "Buyers like a lot of windows and coastal colors. Buyers like having more greenery and bigger backyards."
These changes are apparent in an area right next to Coppell: Cypress Waters.
One of the key features of developments in Cypress Waters is its walkability score – how far walking to daily activities from a household would be.
Due to the mixed use development land in Cypress Waters, the ease of walking/traveling to locations is easy.
"If I'm moving from Los Angeles or San Francisco, [I would] refer to the walkability index," Head said. "Moving to downtown Dallas or Fort Worth is very expensive, and [prospective buyers] find the affordability of the suburbs to be much more appealing and you still have that same walkability. The Sound [at Cypress Waters is] where you can come out of your townhome, condo or your apartment and it resembles a city."
In terms of business migration, the more, the better.
"The more companies that move into the area, the more companies that pay taxes," IB Economics and Theory of Knowledge teacher Jared Stansel said."This means [Texas] has a greater tax revenue base to fund education. The higher quality of education we can afford, the more we can benefit future generations and give job opportunities."
Texas is aggressive in luring companies for economic benefit. The state created 391,000 jobs in 2018 alone.
Though more students from this migration might put a stress on the quality of education provided, Head is confident the quality of education in Coppell will be upheld.
"A lot of Dallas districts are doing what Coppell is doing," Head said. "Coppell made adjustments with CHS9 and adding elementary schools [such as Lee elementary and Canyon Ranch elementary]. Schools just have to make modifications. [Coppell] is very lucky with our bond packages."
Either way, Texas's identity rooted in family and tradition can still be found.
"Texas loves itself, and I love that," Ruth said. "I love how much pride Texans have in their state and how jazzed people are that they are in Texas."
This story was originally published on Coppell Student Media on November 22, 2019.