ALL FOR ONE AND ONE FOR ALL: THE PANTHER NATION
Powell football was united once again with injured teammate Ethan Asher in time to face the Star Valley Braves in the 3A state championship
By Emerson Wormald, Powell High School
November 26, 2019
The power of one. The brotherhood forged through their teammate Ethan Asher. Could it be that a semi-final upset in Cody was preordained only for the mere fact of reuniting a team with the player who's been in the hearts, minds and prayers of an entire community?
A win over Cody. A loss to Star Valley. But the reality? A true win of devotion as the Powell Panther football team finally had their #3 back on the field — hand in hand. Back to back.
Those in the stadium knew it was more than a football game. Walking onto War Memorial Field for the final coin toss with Ethan Asher proved one thing: We are all people no matter the rivalry. There were no Panthers or Braves in that moment. Looking back, it was an Ethan Strong season; an epic way to end the final game of the season with restoration power.
The power of one. The power of team.
The 3A State Championship Game that took place at War Memorial Stadium in Laramie on, Nov. 15 reassembled the Powell Panther Football Team for a last stand. The game didn't end how the Panthers desired, as the Star Valley Braves won 49-13, but the journey to get to state was worth more than any state title.
"This game …" senior Brody Karhu said as he looked off into the distance at a loss for words. "It was just amazing honestly. What we did to get here, and how many people didn't expect us to get here, we just blew a lot of minds when we got here.
"At the beginning of this season, when Ethan went through his injuries, Tiffany and Andy brought it up and said, 'Give him as much time as you can because he wants to see you guys again. He wants to be at a game. Give him as much time as you guys need' and by that, she meant make it to state. That has always been a serious drive behind us. Knowing that if we do make it, it's going to be a blessing right there."
Ethan experiencing his first game of the season was the most important aspect of making it to state.
"It was super special [for Ethan to be at the game]," junior Jack Pool said. "All of the emotions we carried through the season because of his accident came to a head and we got to see our friend again."
Knowing that Ethan was at the game, motivating them, was the main priority. Of course, they wanted to win, but it wasn't their main focus. They centered their attention on being able to see their friend, teammate, and brother again.
The challenges that the Panthers have had to overcome have been greater than most have ever known. However, the Powell Panthers have proven to overcome. Not many people will ever know what it feels like to have a brother come to his one and only game when he was originally presumed to be a part of them all.
"It meant the world [for Ethan to be at the game]," senior Carson Olsen said. "Being able to have him there, and to know he was cheering us on."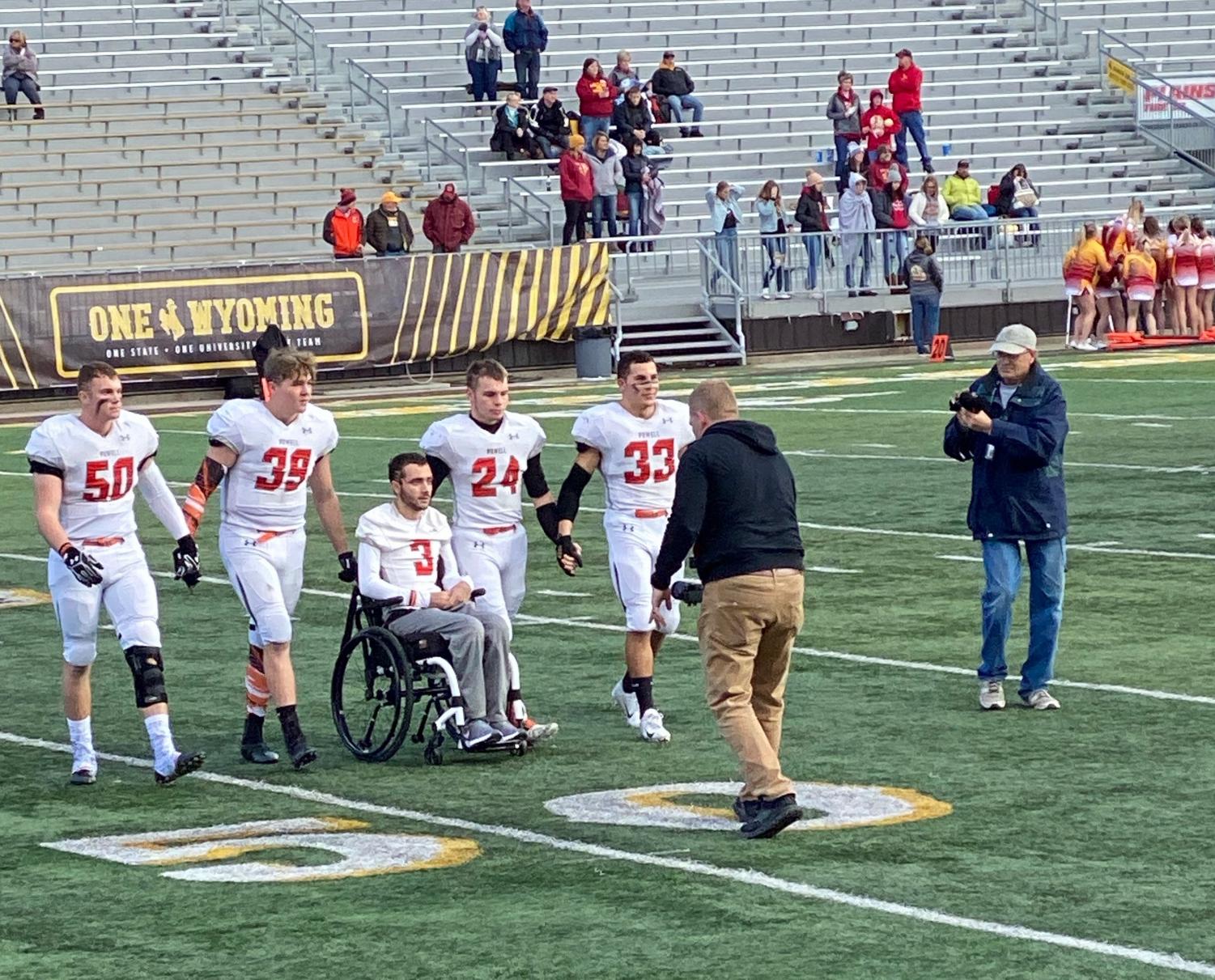 Olsen continued, reflecting on the season that saw the Panthers go 6-5.
"This season is memorable because of all the adversity the team has overcome. It shows that we have a great program and the players this year had dedication to make it. Also the community of Powell came together and cheered us along our way."
For their #3 to be back at a game meant something different and special for everyone.
"It meant a whole ton to me and the whole team [for Ethan Asher to be at the game]," sophomore Toran Graham said. "It was amazing to see him and it was amazing to see how much he has improved. It was nice to be able to show how much he meant to the team and me personally."
Since Ethan could be there himself and express his thoughts and feelings, he revealed how much it meant to be at the game with his brothers.
"It means a lot to be here because they made it here without me, you know. It means a lot for them to be here, and for me to see them, because they are my teammates," Ethan Asher said.
"
It means a lot for them to be here, and for me to see them, because they are my teammates"
— Senior Ethan Asher
The crowd in the stands could see what the entire season came to. Every single game and every single practice was played for Ethan. Every single drop of sweat, the bruises and scars were all worth it for their #3. The players slogan this season was "Chase the Ship" meaning: make it to championship for Ethan just so he could be there and see his team again.
"Ethan felt like he was back with his brothers and his teammates," cousin to Ethan, sophomore Jayden Asher said.
This season was one of the most important in Panther history. It was a memorable season because of Ethan. The unity this team and this community has created has been that of family. The sense of one. One team. One community. One Panther Nation.
"I think [Ethan] will see how God has impacted our small town community and how he has brought us all together as one," Jayden Asher said. "Ethan's journey has spread, not just in our community, but also nationwide and it's breathtaking to see how much people would love to be a part of his miracle. Ethan's accident and Ethan making it to state has proven to us all that if you have faith in the Lord nothing will be impossible."
The faith that has taken over Powell shows the power of one. Mother of Ethan, Tiffany Asher, continues to remind PHS that through the tragedy, Ethan is alive and improving every day. He could have been gone, but instead, he is advancing in his recovery. This season has had its difficulties—a fallen brother, nonetheless, the opportunity to play in the state championship was meant to see Ethan again.
"This season has been a rollercoaster," Pool said. "We started out strong then hit some rough patches. I would say it was memorable because of the events we overcame and how we surprised everyone by making it to the championship. I would say it affected my future by teaching me that whatever comes your way, there is always a way to overcome it."
This 2019 season, the Powell Panther football team has conquered adversity making it a power and momentous year.
"I will definitely remember Ethan and going to state," Graham said. "I love every member on this team."
There is no I in team when it comes to the Powell Panthers. Every single teammate has each other's back and no brother is left behind.
"We started as a team and we finished as a team," Coach Aaron Papich said gesturing to Ethan.
"
We started as a team and we finished as a team"
— Coach Aaron Papich
Ethan was able to travel to state. Just a few weeks before, Ethan was unconscious an undergoing several emergency surgeries to help him survive. Now he has achieved so much headway that he was able to banter with his friends. Not just use his voice, but to truly crack some jokes and remain positive through it all.
"I think the community felt very inspired to see Ethan at state and I think people were in awe of God's work in Ethan and to see how far he has come," Jayden Asher said.
This season is one that PHS will remember and keep close to their hearts. It has taught the school and the team some very valuable life lessons that they will keep close.
"Life's about the memories you make with your brothers," Coach Waleryan Wizniewski said. "Life's about more than yourself."
This game and this Powell Panther football team proved to everyone how even though tough situations can happen, they overall, can be overcome. The team fought together even though the final game did not conclude the way they wanted it to. They were still smiling and overjoyed because they knew it was more than just any football game.
It was their brotherhood, their family and their fellowship with one another that made this season so unforgettable. Together, as one, they accomplished true teamwork. The power of one. Team, fans, students, community — One Panther Nation. #EthanStrong
This story was originally published on The Prowl on November 26, 2019.