Undefeated
Football team captures first state championship since 2005
By Ryan Moore, De Smet Jesuit High School
December 6, 2019
For the second time in a week De Smet, ranked 14th in the nation and 1st in Missouri for football, has gained yet another state trophy after the football team's victory over Joplin at Mizzou's Faurot Field.
Just two years ago the team won a combined three games in the 2016 and 2017 seasons, however, they came into the 2019 season with bolstered expectations with returning college recruited seniors Lanell Carr, Armon Wallace, and Jordan Johnson all leading the way.
"It felt good to be a senior because I got to help this team over time," Senior defensive tackle Armon Wallace said. "Going from a 1-9 season to a state championship required leadership and determination, for all of us, to develop myself and my teammates."
The "three-headed monster," which consists of college recruits, who have been playing together since little-league, Taj Butts, Rico Barfield, and Darez Snider all as active running backs, held great promise and proved to be the key to the offense.
"It was great being apart of a group of guys that you can depend on to get the job done," Snider said. "We made sure that we challenged each other every practice so we could handle business at the end of the week."
"
I worked super hard to get where I am right now. It wasn't easy, I was a scrawny kid freshman and sophomore year, but I knew I had big shoes to fill after Nate [Martens] left and I knew I had to put in work."
— Quarterback, Michael Wheeler
This 2019 team went on to have a perfect season beating CBC twice ending their 37-game win streak, something no De Smet team has done before in ten games against them.
The team came into the state championship with confidence leading with an average of almost 40 points a game and allowing around one touchdown a game for the whole season.
Joplin, also undefeated, came out strong quickly getting a lead of 12-0.
"We had never been in the position of being down before so I was a bit nervous," Senior right tackle Sam Winter said. "I knew our defense just needed to make some adjustments."
De Smet recovered after a running touchdown by Barfield and an interception by junior cornerback and wide receiver Jakailin "JK" Johnson that lead to a score going into halftime (14-20).
"We were all confident going into halftime," Senior quarterback Michael Wheeler said. "We made a few adjustments and the coaches helped us and we figured it out going into the third."
De Smet's defense was crucial to their victory and held Joplin running back, Isiah Davis, who averages 163 yards per game, to just 91 yards, one of his worst rushing performances of the year. The defense forced five turnovers in this game alone against a team that only gave up four over the course of the season.
The defense quickly forced two fumbles and helped the Spartans to two early scores after halftime. Joplin had no answer, as De Smet put up 21 unanswered points in the second half, leading to a 35-20 victory over the Eagles.
"It takes a little bit of everything," Head Football Coach Robert Steeples said. "Offense, defense, special teams. We did it all when we had to."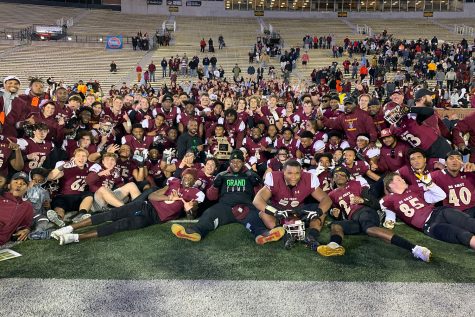 Wheeler was forced to play a bigger role as the offense had to adapt to Joplin's effective run defense. He took over as full-time quarterback after week 10, did it all on offense throwing for 206 yards with two touchdowns while also running for 66 yards and one touchdown.
"I worked super hard to get where I am right now," Wheeler said. "It wasn't easy, I was a scrawny kid freshman and sophomore year, but I knew I had big shoes to fill after Nate [Martens] left and I knew I had to put in work."
Steeples revived the program and was a part of the De Smet 2005 state team, the last De Smet team to win state for football, as a cornerback and now wins again, this time as a coach.
"The game of football," Steeples said, "has been to me something so awesome that I get enjoyment out of watching other people enjoy it."
The team caps off the season with an undefeated record of 14-0, and with a state title, they will go down as the winningest team in school history.
"At the beginning of the year, we practiced and worked as if state was every Friday, so when we got there we were prepared," Notre Dame commit Jordan Johnson said. "It meant a lot to be able to lead the guys one last year and be able to accomplish our goal."
This story was originally published on The Mirror on December 5, 2019.