Moussa completes family trend on Egyptian national team
By Sally Parampottil, Coppell High School
December 9, 2019
As the third sibling to play basketball for an Egyptian youth national team, Coppell senior guard Adam Moussa comes from a basketball-oriented family.
His father, Hesham Moussa, played professional basketball in Egypt. His older sister, Coppell High School 2011 graduate Reem Moussa, played basketball at Rice and now plays in the European league. His older brother, former CHS student and Creating Young Minds Academy 2016 graduate Kareem Moussa plays basketball at Delaware State as well as for the Egyptian professional team Etisalat.
Now, Adam carries on the family legacy as he plays for the Egyptian U17 national team.
Adam was introduced to basketball when he was 5 years old, attending practice with his father from time to time. At that age, he also played table tennis. At the age of 7, he won the Dallas Open, a table tennis tournament where he defeated an adult in his mid-30s.
However, table tennis is not as popular in the United States as in the Egyptian culture, and after realizing this, Adam decided to drop the sport and continued to develop his basketball skills.
"At first, I'll be honest, I hated [basketball]," Adam said. "Getting forced into it, I started liking it. It started becoming fun, winning all the games when you're younger."
What Adam used to dislike soon became a deep love, and now he spends four to six hours a day practicing outside of team practice with Coppell.
"We don't [have a basketball net at home]," Adam said. "We have four memberships to different courts (PickUp USA Fitness, The CORE, 24-Hour Fitness and LA Fitness) that are open at different times, so we can go whenever."
The Moussa siblings, all deeply immersed in the sport, practice together whenever they can.
"Basketball became our life," Mr. Moussa said. "It's nice because, at home, they would communicate, they talk. It's very nice to have the whole family doing the same thing. It's gathered them together."
Despite the bright accomplishments of both of his older siblings, Adam is not weighed down with expectations.
"I don't feel any pressure because I know I'm different than them," Adam said. "Also, [I had] more opportunities than they both did. I got to practice with them, I got to learn from their mistakes, see what they did, see what they didn't do. Even in life, choosing colleges, different states and stuff like that. I get a bunch of choices and I know which ones to make and which ones not to make from their mistakes."
Now spending his summers in Egypt and the rest of the year in Coppell, Adam can transfer skills from one team to the other. Having participated in the World Cup last summer, facing highly skilled teams such as France, Adam brings experience to the high school team.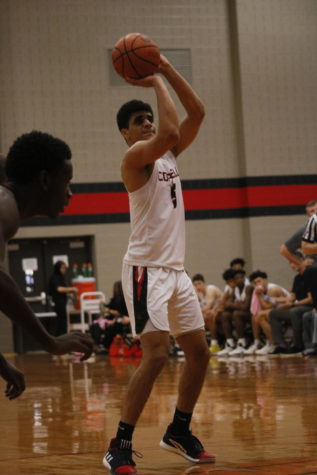 "Playing on that level and playing against the level of competition he probably plays, he's obviously putting himself in a situation where he's playing against high caliber talent," Coppell coach Clint Schnell said. "Bringing that over allows him to be a leader on this team and recognize certain situations he has been in from that experience that our guys haven't."
Schnell, who has known Adam since he was a young kid and attending basketball camps, notes the change from his junior year (his first on varsity) to today.
"Last year, he was more of a supportive role," Schnell said. "He had moments where he started games and moments where he lead us in scoring and assists. Going into his senior year now and having experience from last year, he's one of our leaders. He's one of the most experienced guys we have on our roster. A lot of nights, his play will dictate how successful we are."
Mr. Moussa did not travel with Adam when he went to Egypt last summer and has only seen him play for Coppell. From his experience as a coach and player, a defining trait he sees is that Adam truly cares.
"Sometimes you go somewhere and they say, 'hey, I don't care,' and that's a popular phrase," Mr. Moussa said. "But he cares. [Adam] cares about his team, he cares about his players, he cares about his coach. He cares so much to win the game. He doesn't believe in losing."
For Adam, caring affects how he acts throughout different moments in a game.
"I'll be honest, I'm very emotional," Adam said. "I try not to show it, but sometimes, it's the emotions of the game. I'll get mad at myself. I try not to get mad at my teammates – that used to be a problem for me in middle school – but now I just get mad at myself for mistakes and fix it. When we do something good, I get really hyped for my teammates, even if I'm on the bench with foul trouble, I'll try to get as hype to them as possible because I know they'll do the same for me."
In the future, Adam does not have a specific school in mind. While he intends on studying engineering in college, his main goal is to remain close to his craft.
"As long as I can make a living playing basketball, I'll be happy," Adam said.
This story was originally published on Coppell Student Media on December 3, 2019.