Greta Thunberg finds local angle on climate change
Speaking on grounds of L.A. City Hall, she ties fires to global warming
By Jacob Joseph Lefkowitz Brooks, Shalhevet High School
January 6, 2020
Thousands of protesters gathered outside of Los Angeles City Hall Nov. 1 heard the leader of the world's youth climate change movement connect wildfires that were burning that day near the Getty Museum to the dangers of climate change.
Greta Thunberg, the 16-year-old Swedish activist who is the main proponent behind worldwide demonstrations called the Global Climate Strike, used fires that were still burning in Los Angeles that day as an example of natural disasters being exacerbated by climate change around the world.
"Today in California, we can see the wildfires happening right around the corner, wildfires that are being intensified by the climate crisis," said Greta.
While she was speaking, firefighters were working to put out the Getty Fire in Brentwood and the Easy Fire near the Reagan Presidential Library in Simi Valley, both of which had burned homes and thousands of acres in the preceding days.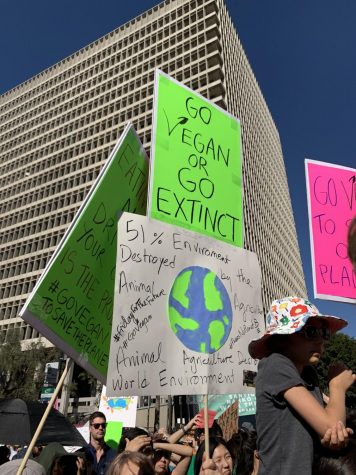 "It's not just here," Greta said. "Everywhere around the world, we can see these horrible
environmental feedbacks that countless people are suffering and dying from. Right now we are living in the beginning of a climate and ecological breakdown. And we cannot continue to look away from this crisis anymore."
As she spoke, shouts of "I love you Greta!" could be heard in the crowd.
Ms. Thunberg was far and away the most notable speaker at the event. But the rest of the speakers at the event focused more specifically on more local issues. They urged California Gov. Gavin Newsom to more severely restrict fossil fuel development, and publicized climate change's effect on minority populations.
A sign above the stage where speakers spoke read, "Governor Newsom — It's your chance to choose: our future or fossil fuels."
Gov. Newsom was in Sacramento that day, however.
Most speakers were from minority backgrounds and spoke from a community perspective.
Among them were students from Anahuacalmecac International Preparatory High School of North America, a charter school in Los Angeles which teaches in an indigenous language — Nahuatl, spoken by the Nahua people who are native to Mexico.
Students from Anahuacalmecac gave the same speech consecutively, each in a different language: Nahuatl, English and Spanish.
"We call on Gov. Newsom to meet with indigenous youth and elders across the state including our indigenous school community," said the student who delivered the speech in English. "To listen to our original instructions and change the course of humanity away from away from self-destruction and toward a world renewal."
Jesus Villalba, a founding member and state leader of Youth Climate Strike Los Angeles, said that the vast majority of Californians living near oil wells live in low-income communities and communties with a majority non-white population.
"The situation that we're in right now has been caused because of centuries of the effects of systems of oppression on our people," said Jesus.
"It is no surprise that in our communities of color we have the most oil wells, and that we are extracting oil next to little children's bedrooms," Jesus said, "And it's nasty. It's disgusting."
The event was organized by Youth Climate Strike Los Angeles, the same group that organized the larger Sept. 20 march. It took place mostly in front of the west face of Los Angeles City Hall on Spring Street, where the speakers spoke on a small stage.
At 1 p.m. the crowd, which numbered approximately 4,000 people at its peak, began to march down Broadway, between downtown's imposing skyscrapers. Broadway was blocked off from 1st to 4th streets for the protest.
The beat of demonstrators' drums accompanied the procession's lively chants. Moving onto 4th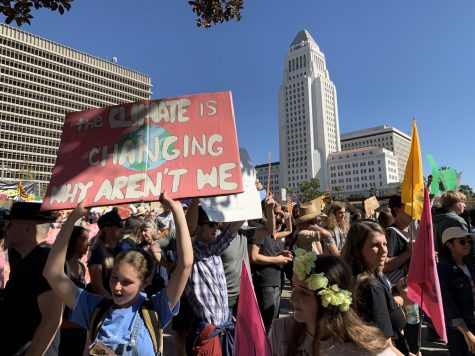 Street, the crowd stopped in front of the Ronald Reagan State Office Building, where the governor's Los Angeles office is located.
Research has shown that even wells drilled recently in California are in communities with above-average poverty rates. A 2018 study by the Center for Biological Diversity found that more than three-quarters developed since 2011 are in areas with above-average poverty rates for the state.
Speakers Cemre Gonan and Dulce Ceballos, members of Youth vs. Apocalypse, said ban on oil rigs within 2,500 feet of housing.
According to the U.S. Energy Information Administration, California ranked seventh last year among U.S. states in barrels of oil produced, at 169,166. Texas was in first by far with 1,609,075 barrels. Next were North Dakota, New Mexico, Oklahoma, Colorado and Alaska.
However, the state's production has steadily decreased since 1985, when it was at 394,002 barrels, even as the overall country's production has increased, the Energy Information Administration says.
But Gov. Newsom has not turned a blind eye to the question. Last month, for example, he signed 6 bills aimed at combating climate change into law, including one that prohibits California public land being used to construct oil and gas infrastructure. This was in response to a controversial plan by the Trump administration to open up approximately 800,000 acres of federal land in California for oil and gas wells.
The governor also fired Ken Harris, the head of the state Division of Oil, Gas and Geothermal Resources, last June. Gov. Newsom pointed to an increase in permits for fracking under Harris. The governor said he had not been aware of the increase.
And the state's budget, released in May, stated that the government "recognizes the need for careful study and planning to decrease demand and supply of fossil fuels, while managing the decline in a way that is economically responsible and sustainable."
Still, activists at the rally said Newsom was not doing enough to curb California fossil fuel emissions.
Studies have shown that warmer temperatures in early spring and summer lead to drier soil
"We should allow for demand to take control and we should allow for the people to get what they want," Jesus Villalba told the crowd. "And that is clean energy. And that is something that Gov. Newsom is not listening to, but he will listen now because we will make him."
Ms. Thunberg focused less on California in her speech than other speakers did, instead criticizing leaders around the world.
But apart from the fires burning that day, she did bring up wildfire damage in the city of Paradise, Calif., which she visited prior to speaking. Paradise, located in the Sierra Nevada foothills in Northern California, was devastated by the 2018 Camp Fire. The largest wildfire ever recorded, it was responsible for at least 38 deaths in Paradise, and it destroyed 95 percent of the town's buildings.and drought, conditions in which wildfires can spread extremely quickly.
A stream of the event can be found here.
This story was originally published on The Boiling Point on December 3, 2019.