As Climate Crisis Worsens, La Salle Curriculum Lags Behind
By Maddie Khaw, La Salle Catholic Preparatory High School
January 16, 2020
"Our future > your fortune," read a sign held by junior Isa Sale at a climate change inaction protest in downtown Portland in September 2019.
Sale's sign was one among hundreds of others in the midst of the thousands of activists that day. Other signs said "no place like home" and "make Earth great again."
As demonstrated by this protest, whose participants were mostly high schoolers, and many other similar protests around the globe, youth activism around climate change has grown in recent years.
In the classroom, though, not much has changed. At La Salle, as is the case with most schools nationwide, climate change education is not a core area of focus. 
There are mountains of scientific data accumulated to confirm the reality of the climate crisis — and the reality is that it has become a dire and urgent situation. The consensus within the scientific community is that climate change is "both real and man-made." 
"We are in a climate crisis," said the United Nations 2019 report on climate change. "Science is telling us that the impacts of climate change are happening now, and faster than we had predicted."
The report also said that although "the goal is within reach," in order to achieve the necessary changes to slow the effects of climate change in a meaningful way, "urgent and unprecedented social and economic transformation" would be required.
In 2016, the Portland Public Schools Board unanimously passed Resolution No. 5272 in an effort to promote 'climate literacy' among students of all ages in the Portland school district.
The resolution mandates that climate change and climate justice be part of the curriculum in all district schools and reads, "climate literacy is essential for the success of Portland Public Schools students, both as members of their communities and citizens of the world… It is vital that students reflect on local impacts of the climate crisis, and recognize how their own communities and lives are implicated." 
With the new mandate, the Board of Education directed the superintendent in collaboration with those involved in Portland Public Schools (PPS) to develop an implementation plan to provide educational opportunities to address climate change and climate justice across all schools and ages in the school system. 
Since La Salle is a private school, it is not held to the same requirements as schools within Portland Public or other surrounding public school districts. Thus, educators here possess the freedom to create their own curricula and are not bound to Resolution No. 5272 — or any other PPS guideline, for that matter.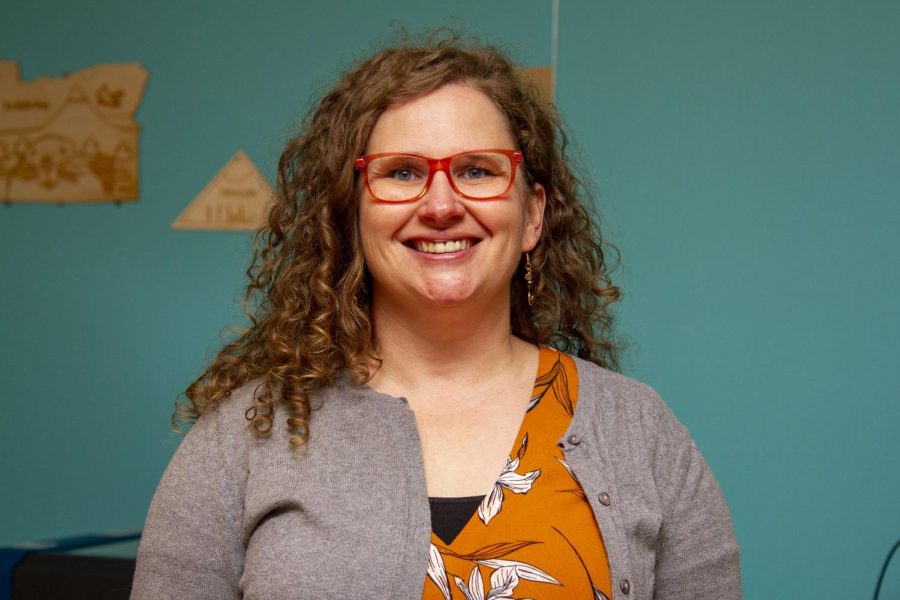 The members of the science department at La Salle work together to develop the curriculum in regards to climate change among other scientific topics, led by Science Department Chair Ms. Carie Coleman and overseen by the Vice Principal of Curriculum and Professional Development, Ms. Alanna O'Brien.
Together the science teachers decide on the basis of the material that will be taught in each class and which topics will be covered. With that curriculum, each teacher operates differently than the next in regards to how they choose to deliver and present that material to students, and how they guide their students in interacting with the concepts being taught. 
"I make sure that we're covering what we think are the most important topics, skills, and concepts that students need to be informed citizens," Ms. Coleman said. 
She also said that while knowing that not all students will choose to pursue scientific fields after high school, she wants to "make sure we graduate informed citizens that have a foundation in social justice, and to make sure that they understand that the world we've been given is something that we need to take care of."
Ms. O'Brien said that she was aware of the PPS board's climate literacy resolution. She views this implementation as positive and said that "Portland Public is on the cutting edge of developing that curriculum."
Without the curriculum requirements that PPS has — but with a goal to cultivate critical thinkers and informed citizens — a member of the La Salle community might wonder, what does the science curriculum here include about climate change, if anything? 
As of now, there is no formal unit or chapter for climate change education in any of the science classes.
Rather, Ms. Coleman says, it occurs in lessons and units throughout the year.
"The reason why I do that [is] because I want to show how integral it is and how it affects so many different things," she said. "I used to do it as just a standalone chapter, and I think it gets kind of siloed into just this one topic, of just climate change — you do climate change, then you move on."
"Climate change is an insidious issue," she said. "It affects everything that we do."
Ms. Coleman said that climate change pertains to both Chemistry and Biology, with Chemistry involving its causes and Biology exploring its effects.
The causes and effects are woven throughout each of these subjects without having a specific course, lesson, or chapter designated towards the general topic. Chemistry focuses on concepts around gases and heat transfer, and two of the units in Biology are ecosystems and evolution — and climate change, according to Ms. Coleman, is a natural aspect of all of these subject matters.
This year, the order of science classes has switched. After this year, sophomores will take Chemistry and juniors will take Biology, whereas the previous system was vice versa. This year is a transition period, with both tenth and eleventh graders taking Chemistry, so no Biology classes are currently being taught.
Ms. Coleman said that she has wanted this switch to happen for a while, as it is more effective to learn about Biology subjects with a foundation in Chemistry behind it.
Both Ms. Coleman and Ms. O'Brien believe that climate change is an important subject to address with students, and both believe that the current curriculum at La Salle is insufficient for educating students around the issue.
Ms. O'Brien described the science curriculum in regards to climate change as an "area for growth," and Ms. Coleman said that it needs to be "improved" and "updated." 
"The rate at which climate change is occurring now, and also the rate at which we need to change our behaviors, is bigger than ever," Ms. Coleman said. "We're redesigning Chemistry this year, we're going to be redesigning Biology next year. This is something that I think needs to be more [in] the forefront, and we have the opportunity to do that."
Exactly how the science department will do that is undecided. For now, they are focusing on developing the curriculum for sophomore and junior Chemistry classes for next semester.
One of the challenges of teaching climate change is the depth of the subject. And with the other course requirements for Biology and Chemistry, teachers don't necessarily have the time or space to dive deeply into climate change as its own subject. Rather, science classes provide more of a basic introduction to the matter, at least relative to its overall complexity.
"A chapter is a great introduction to bring in some of those basic concepts," Ms. Coleman said. "But to really, truly understand something, I think it would have to be its own standalone course."
The idea of a course dedicated to climate change has floated around the staff and administration, and Ms. Coleman said she would "absolutely" consider making it its own unit within an existing science class, but so far these ideas have not been met with any action.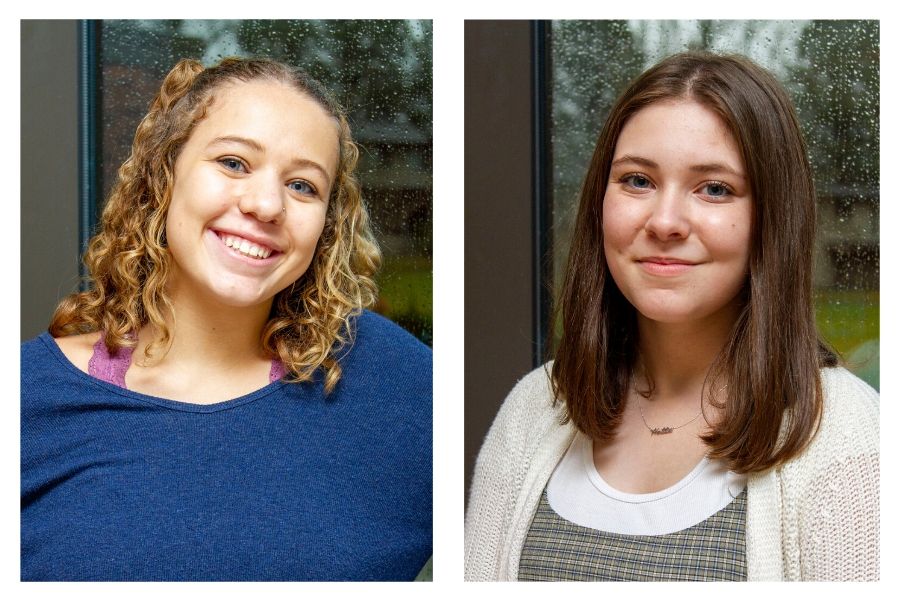 At the end of their junior year, seniors Olivia Fobi and Hatte Hamilton decided to take their own action, brainstorming ideas for what they could do to help combat climate change.
Now, the pair leads La Salle's Climate Control Club, whose purpose Hamilton says is to "[unite] people to make a bigger change, especially in our own community."
They came up with the idea last year when reading and watching news about climate change. As they consumed more and more news, they grew more and more anxious about the issue — and their desire to do something about it also grew.
Fobi said that the idea of the climate crisis becoming "irreversible" was "anxiety-provoking," and that it prompted them to want to "make an impact."
Hamilton said that nature has been a huge part of her life, and that she wants to make an effort to preserve it. 
"Experiencing nature has had such a huge impact on my life and who I am as a person," she said. "I have so many amazing memories, and trying to imagine a planet without some of those… it's hard because it's like you're throwing away such an important part of your life."
"I don't want to have other people not be able to experience what I got to take from the environment," she said.
After the FSC fair earlier this year, 160 people had signed up for the club, adding up to more than one-fifth of the student body. The club meets each month, working on making changes to live more sustainably and to counteract the negative effects of our population on the environment. 
They use the maker space to create things like scrunchies, headbands, jewelry, and reusable sandwich bags, and they are planning to sell their products on Etsy. They plan to donate 100% of the proceeds from these sales towards climate activism organizations.
Aside from their club, Fobi and Hamilton also created their own independent study period that is focused on climate change. Taking place during seventh period, the two are the only students in the study, which is led by Ms. Coleman.
They use their study period to learn about climate change and its effects and to brainstorm ideas for and plan out club meetings. One factor that the pair puts emphasis on is that the sources from which they get their information are "reliable and not political," Hamilton said.
This idea of avoiding the political debate around climate change was also touched on by both Ms. Coleman and Ms. O'Brien. All four of them agree that climate change should not be a political issue at all, but rather an exclusively scientific matter, and that the mass politicization of climate change plays a role in steering teachers away from climate change education in classes. 
"I feel that this is something that we need to take more seriously," Ms. Coleman said. "I think that we tend to shy away from that because of the over-political nature of climate change, and not just the science of it."
Aside from the political and scientific aspects of climate change, the issue is also connected to social justice.
Mr. Ryan Darmody, Religious Studies Department Chair, said that one of the topics that is focused on in junior year religion is stewardship, meaning "care for the resources that we've been given by God." 
In light of stewardship, the Catholic Social Teaching class explores care for creation, which, Mr. Darmody says, lends itself to environmental issues and climate change. He hasn't fully planned out this topic's curriculum yet, but said that a "fair estimate" would be that environmental issues — under the idea of stewardship — will be covered during the second semester of junior year religious studies in the time frame of a typical unit for his class, which is three weeks. 
Ms. Coleman described the climate crisis as "dire."  She also referred to it as being "almost past the point of no return."
The PPS board took action to implement a protocol for climate change education in schools, and two seniors at La Salle took their education around the subject into their own hands.
However, what La Salle will do to incorporate a more formal climate change curriculum — if anything at all — is still to be determined.
This story was originally published on The La Salle Falconer on January 15, 2020.