Play on Plagiarism
World premiere of "When We Get Good Again" explores the causes and consequences of cheating
By Snowden Farnsworth, St. George's Independent School
January 22, 2020
"When We Get Good Again" had its world premiere Jan. 10 at Theatreworks at the Square after being workshopped over a year before. It is the eleventh New Works production that Playhouse on the Square has produced after introducing The [email protected] Playwriting Competition in 2011. The production closes on Jan. 26.
According to the synopsis provided by the playwright, James McLindon, the play explores "when brilliant, idealistic, but poor college student Tracy is tempted by a lucrative job selling term papers to her classmates to pay her tuition, she begins to wonder: Is it ever okay to put being good on hold?"
"'When We Get Good Again' is set in a college campus in Boston, and it is about four people who are involved in the academics somehow. They all have these goals and these things that they really want to achieve that make them feel successful, and they will stop at nothing to get them. What that means is that they find themselves in a ring of plagiarism," Courtney Oliver, the director of 'When We Get Good Again,' explains. "The play asks the audience and asks the question of the characters of at what point is bending the rules okay? What point is pure morality better than the drive to get ahead? And what do 'bad choices' look like, and are they really all that bad?"
Brooke Papritz, a Resident Company Member of Playhouse on the Square, plays the role of Tracy, who she describes as "a strong, independent girl" who will "stop at nothing to make sure she achieves her goals."
"The storyline surrounds my character getting roped into a paper-writing business for college students and the relationships she makes through the process," Papritz said.
One of the three relationships Tracy forms throughout the course of the story is with Nadiya, played by Caroline Simpson. Nadiya is an 18 year old college freshman from Ukraine who speaks broken English. She turns to cheating so that she can get by in college to support her family who is living in her war-torn native country.
"I think out of everyone, Nadiya is the most justified. She has the most hardship in her life compared to the other characters, and she is brilliant. She says she knows the answers, she just needs English. It's hard to say that what she's doing was actually bad," Simpson said. " I mean it is wrong, but can you blame her? I guess overall, none of it can really be completely justified. However, going back to the amount of pressure put on students today, sometimes something's got to give, and sometimes you have to find a way to deal with the problems in your life, legally or illegally."
Simpson originated the role of Nadiya from the very beginning at the table read in 2018, which means that she was the first person to ever bring the character to life.
"I was in the staged reading of the play as well, so I've been with the show since it's been at POTS [Playhouse on the Square]," Simpson said. " I was glad the playwright [James McLindon] was really thorough and specific with his characterizations because when I read the script, I knew exactly who Nadiya was."
Papritz, who has been a part of the New Works series before, also spoke to the potential challenge of being a part of a new play.
"Originating a play is super exciting and also super scary. Because you are the first one to work on it, there aren't easy resources like YouTube or the news to help fill in gaps for you." Papritz said. "You, along with your director, have to really make sure you have [a] solid grasp on the character. We were lucky enough to have the author involved which was a wonderful tool I feel very lucky to have had. He was so open to answering our questions and was a huge resource along the way."
James McLindon wrote authentic characters that were easy to relate to despite their flaws, according to Papritz.
"I related to Tracy in many ways," Papritz said. "While I was never as booksmart as Tracy, I share a similar drive to her. Her struggle with doing what she needs to do to get by when it conflicts with her morals is something I so relate to as a young woman negotiating life."
Simpson, who's recently played Penny Pingleton in "Hairspray" at Theatre Memphis and Peter Pan in "Peter Pan" at Playhouse on the Square, tackled a role that she considers out of her comfort zone.
"Under all of my real life goofiness, there's a lot of serious inner emotional life as well, and I think roles like these are a nice outlet for some of that," Simpson said. "I think when you get a role that is different from yourself, you really have to put yourself in their shoes and ask, 'What is it that motivates this character? Why do they make the choices they make?'"
Essentially, Simpson says that the reasons are because of the pressure the characters are put under. She explained how pressure on students has escalated since she graduated high school in 2009.
"The advent of electronics and social media has created a firestorm of new situations that were not there in the mid-90's and before that. I feel like computers have made schools stretch their students to do more because while the electronics help you to do things faster, they now free you up to do more work," Simpson said. "I'm grateful that submitting essays online wasn't something I had to deal with because giving deadlines that you have to electronically submit something at 5 PM Wednesday versus at your actual class 10am Friday seems a little unfair."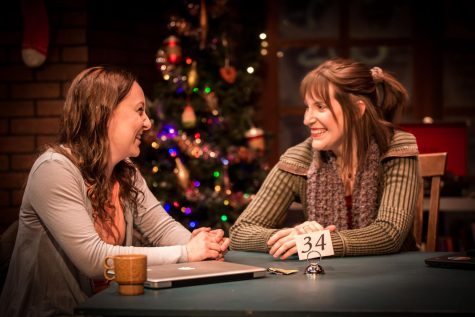 Papritz agrees that the pressure placed on students is unfair.
"The expectation these days is to go to college. Period. It doesn't matter if you have no idea what you want to do, or don't have an academic career in mind, the pressure to go to college is there." Papritz said. "It was like that when I was applying to college, and it hasn't changed. We need to change this pressure. How can we expect someone to pay $25,000 for a year of school when they don't even know if they want to be there, let alone what they want to study?"
Oliver, the director of "When We Get Good Again," speaks of one of the underlying issues that the play addresses.
"College students or those that are in high school that are going to college put so much pressure on themselves to the point that they're endangering their emotional [well-being]. You know, there's just so much pressure. You have to do everything perfectly, everything correctly."
This pressure, along with more available technology, has created a world where the fictional plagiarism ring in "When We Get Good Again" is plausible.
Donald McCabe from Rutgers University conducted a survey of 24,000 students at 70 high schools and found that 64% of students admitted to cheating on a test, 58% admitted to plagiarism and 95% said they participated in some form of cheating, whether it was on a test, plagiarism or copying homework.
Many schools, including St. George's, have implemented honor codes in order to combat these statistics, but an article published by the New York Times includes many studies proving that they may not be as effective as intended.
While there's no way to tell if these statistics apply to St. George's, the school has an honor code that was created in order to foster an honest environment where the percentage of plagiarism would be zero.
A major part of the St. George's honor code is that "A St. George's Student does not lie, cheat, steal or excuse those behaviors in others."
Yet, in today's world of easy internet access and harsh standards placed on high school students, many could potentially find themselves in a compromising position.
Oliver says that watching the play brings you to the mindset of "being a young adult and having to make grown-up decisions that you're just not ready to do yet."
"I mean, everybody in this play has a rough time," Oliver said. "That's why they have to resort to plagiarizing. They have to resort to these measures because they can't keep up to get ahead. So everybody has pressure on them, but [the play questions] how we deal with that pressure and to what extent."
At St. George's, it is important for students to hold each other accountable in hopes that students don't resort to cheating as a way to deal with this pressure. St. George's also has the Honor Council and implements a strict policy against plagiarism and cheating, but there is still always nuance in each situation as there is in the play.
"There's a line that Brooke [Tracy] responds to that's 'That's the lesson? Don't get caught?' And I mean, even though bad things happen to the people who get caught, the true moral of the story doesn't feel like an after school special telling you not to cheat," Simpson said. "Maybe my view on it is a little skewed since I don't really get to zoom out and see the story as an audience member, but I think if anything it'll maybe make you think twice about cheating."
Simpson adds, "Even though the takeaway of the play isn't black and white that cheating is bad, it at least makes you weigh in with yourself on where your moral compass is on the subject."
Papritz looks forward to the potentially healing conversations that may take place between parents and kids who see the show together.
"I'm hoping it'll open up interesting conversations for adult and child relationships too and [conversations about] the generational gap things that I think that this play talks about, like the differences between how boomers recognize what's going on here versus the [what the] Gen Z kids think."
Oliver says that she "hopes that you will walk away with thoughts and conversations about morality and about forgiveness and about personal connections and relationships and about the pressures that we put on our young adults today."
This story was originally published on The Lodge on January 21, 2020.