Single Mother and Daughter Find Hope After Reaching Out For Help From School Community
For years, digital media senior Jenna Beberman kept her home life a secret at school. Then, she created a GoFundMe page that helped her find her voice.
By Isabella Ramirez, Dreyfoos School of the Arts
January 23, 2020
Jenna Beberman had just turned 18 when her mother Laurie Beberman started having seizures again.
In November of 2019, Ms. Beberman told her daughter she was having "auras," nocturnal focal aware seizures that lasted about 30 seconds each—the result of a childhood car accident that left her with permanent brain damage. As a single mother, Ms. Beberman depended on the care of her only child Jenna, who sometimes stayed up all night making sure she was OK.
Along with epilepsy, Ms. Beberman struggles with ulcerative colitis, osteoporosis, and shingles. This leaves her unable to work and burdened by living expenses and medical bills.
Jenna has been looking for a job to help bolster the income they receive from disability. "It was so tight. Every month was so tight," Jenna said.
Until this year, Jenna kept her home life hidden from school except for a few close friends. She told a few of her teachers when they noticed her falling asleep or crying in class. "I couldn't tell people because it was too complicated," Jenna said. "It was really just way more than I could even comprehend myself."
Ms. Beberman became depressed and her health declined. That is when Jenna realized she needed to reach out for help. "I was in a condition where I didn't know where to come up with the money," she said. "I had to do something. It was so urgent."
On Nov. 22, Jenna took a leap of faith and decided to share her story publicly. She called it, "Help Laurie and Jenna live." With the goal of raising $10,000, she published a GoFundMe page detailing her recent home life experiences and struggles. It was the first time her story went beyond her inner circle of friends.
"
I feel like the most grateful person in the universe. It has just completely saved us."
— Jenna Beberman
Jenna anticipated receiving "maybe $100, minimum." But, within a day of posting the GoFundMe page, she raised $1,000 for her and her mother. The school community responded with overwhelming support, with students Jenna didn't even know sharing her page on Instagram and donating.
In the beginning, Jenna and her mother felt "ashamed" to tell their story. Ms. Beberman had trouble opening up, and Jenna was afraid people at school would view her differently. However, that was far from the case.
"It was really just a warm response. [My situation] was changing me so fundamentally that it was just impossible [to hide]," she said. "I'm just so glad some people care."
Since being published, the GoFundMe page has raised $4,638 with over 150 donors. All the proceeds from the fundraiser have gone toward medicine, doctor visits, and insurance copayments for Ms. Beberman. "I feel like the most grateful person in the universe," Jenna said. "It has just completely saved us."
After she came back to school from Thanksgiving break, students with similar home situations began coming up to her and sharing their own stories. Hearing from others made Jenna realize that her story was "not unique at all."
"Sometimes you feel like you have no one that understands," Jenna said. "It's interesting to be able to share that with people and be like, 'Mom, I feel not so alone right now.'"
As a digital media major, Jenna turned to art as her outlet. Photography became a way for Jenna to capture moments her mother, who suffers from memory loss due to her brain damage, might not remember. She described taking photos as "the only thing we had."
Much of Jenna's art throughout the past year and a half focused on nightmares she's had since her mother's condition worsened. What at first started as a creative block became a form of inspiration for her art concentration.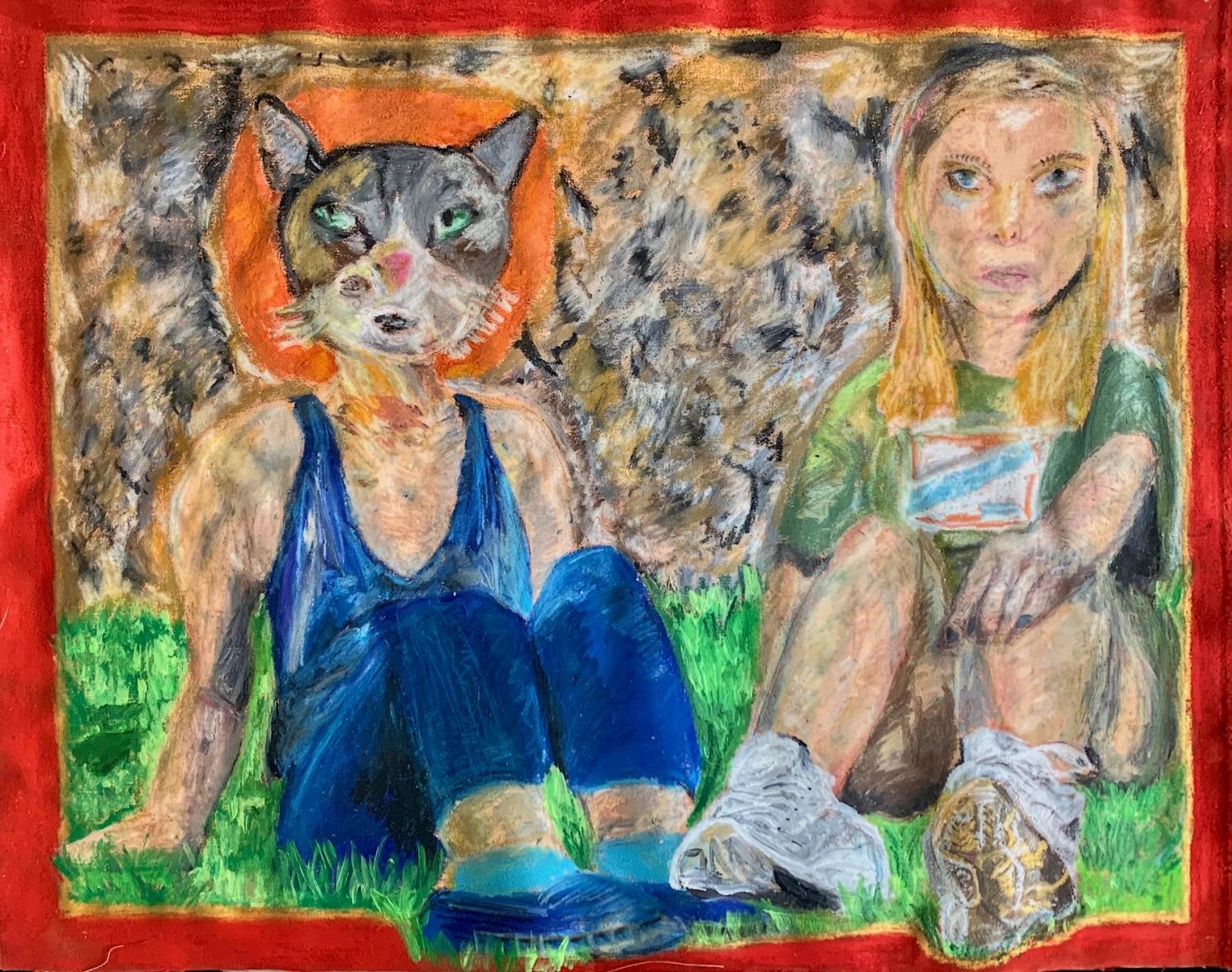 In the 2019 Summer Art Show, Jenna displayed a double portrait of herself and her mother. It was based on a nightmare she had where Ms. Beberman had a "cat head" and met Jenna in a field. "There's constant inspiration coming to me even though it's sort of in a negative way," Jenna said. "It just helps to get it out."
Both her art and the support she received from the school community helped Jenna see her situation in a positive light. The life lessons and experiences she gained inspired her to write her college essays about her mother. She believes there's a purpose for everything.
"I'm a better artist. I'm a better daughter, a better friend. I'm a more dynamic person," Jenna said. "That's all I could ask for."
She hopes that telling her story will provide students in similar home situations the strength to deal with and share their own. She wants them to know that they "aren't alone" and that there are resources for them.
"Reaching out asking for help was one of the best things I ever did for me."
This story was originally published on The Muse on January 22, 2020.