Inspired by Bryant's legacy, Knights mourn his death
Basketball star, Oscar winner, shrewd businessman shows student athletes value of hard work, will to win
By Lindsey Plotkin, McCallum High School
January 28, 2020
When talking about basketball, or just sports in general, everyone knows the name Kobe Bryant. Bryant, a five time NBA champion, 18 time All-Star, two-time NBA Finals MVP and 2008 NBA MVP for the Los Angeles Lakers is known by many around the world as one of the greatest basketball players of all time.
On Sunday around 11 a.m. Pacific Standard Time, or 1 p.m. Central Standard time, TMZ reported that Bryant's helicopter crashed in Calabasas, Calif., killing all eight passengers and the pilot in the tragic accident.
It was later reported by TMZ and other sources that Bryant was traveling with his 13 year-old daughter Gianna to her travel basketball game. The Bryants were traveling with two of Gianna's teammates, three team parents and an assistant coach. Bryant was known for travelling in his helicopter as his way to beat the famous Los Angeles traffic.
Bryant not only left his other three daughters and his wife Vanessa behind, but he also left his legacy. Bryant was known on the court for his "Mamba Mentality" on and off the court, the impact he had on the game of basketball will never be forgotten. Bryant's success and work ethic has inspired others with the same "Mamba Mentality" who hope to be the best at what they do.
Many students and student athletes across the world have been inspired by his passion and dedication to the game of basketball. Bryant's media presence, even after his retirement, with his short film, "Dear Basketball" and for many other reasons showed his work ethic off the court.
"Kobe was an inspiration to not just myself but anyone who has ever touched a basketball," said class of 2019 graduate Emmett Sweeney. "On and off the court, no one has a better work ethic. He taught me that whatever I was doing, whether it was basketball or not to give it your all."
"Kobe has definitely influenced my basketball career," said junior Rob Wade. "The first NBA Finals I can remember was the Celtics and Lakers in 2010 when he took down KG and Paul Pierce. I try to model my ambition and drive to win after guys like him and Michael Jordan."
While many McCallum student athletes could say that watching Bryant play his game on television was a beautiful thing senior Jazz Aguilar got to see him play in person courtside at a San Antonio Spurs game. She said it was a surreal experience.
"I got to watch him in one of his last games when I performed at halftime with my dance crew for the Spurs, and he is truly a legend," Aguilar said. "When we were practicing we were on the Lakers side and we got to watch him walk by and high five some of the players, even though we were told not too. Saying I was able to high five one of the most iconic players to touch the court was amazing."
Many enjoyed watching Bryant play for many reasons, some because of family, some because of his passion and others because of the joy he brought to them while playing the game.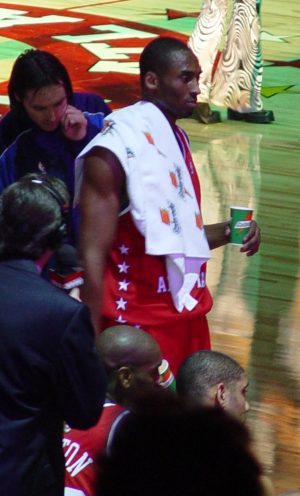 "Growing up I went to my uncle's house a lot and he loved Kobe, Kobe was his favorite player," senior Cole Davis said. "Watching Kobe was like watching a superhero, he made you feel why he's where he was at, and he showed why he was the best in the game. Kobe to me is a role model. The harder you work, the better you'll be. Watching him made me want to be the best."
"You see this dude on TV and nobody can guard him," Albert Garza said. "He's hitting fadeaway threes, contested shots and as a kid, you're just like, 'Dang I want to be like him.' A role model. Somebody you just look up to and always know it's always something positive coming from him."
"I watched a lot of his games," junior Edward Johnson said. "I would say that watching him on the court brought me joy and excitement."
Many basketball players have been forever influenced by his impact on the game. Many McCallum basketball players reflected on how Bryant's influence and what he taught them.
"Don't let anybody grind harder than you," Garza said. "It's not about the seen hours; it's all about the unseen hours you put in to get where you want to be and always having this mentality that nobody is better than you."
"He also showed me that basketball is a mental sport not just physical," senior Alicia Scott said. "I watched him play a few times, and it was great and watching him showed me what leadership looked like on the court. When I watched him put his jersey in his mouth I knew he was going to take over the game which was so cool to watch."
"Watching him play and hearing him talk about basketball, he never skips the easy things, he always practices them," sophomore Elijah Garza said. "It was good seeing him go against Lebron and seeing him have fun while playing the game."
"I looked up to him when I was a child and I was interested in him so he was like an idol to me so that's why I wanted to play basketball," freshman JD Owens said. "I looked him up on the internet 24/7, I watched his highlights and I wanted to see if I could mimic his moves. He represented an influence since so many kids looked up to him. I thought I could try to be just like him."
Bryant's mentality not only influenced basketball players, but all athletes. He taught them lessons important to sports and life.
"He's definitely influenced me as an athlete because you never think about all of the best players of all time and don't think about Kobe," sophomore Wyatt Cunningham said. "Just his character on and off the court really taught me and so many other people on how to carry themselves no matter what they are going through."
"Seeing him compete at a very high level made me want to be the best player and inspired me to work every day and never give up and always chase the bag," junior Trini De La Garza said. "Knowing when you want to be the best, you have to cut certain things out of your life and make priorities so you know no one can work harder than you. Another big thing is just competing no matter what and never letting the guy on the other side of you beat you,  'I will respect him, but I won't let him beat me.'"
"My club soccer coach always talks about the Mamba Mentality," sophomore Mia Gomez said. "So living by that mentality through playing soccer has really influenced my play and work ethic. He was one of the athletes of his generation and changed the game of basketball and sports in general."
Seeing Bryant in the media helped senior Gage Bausman learn about his work ethic, and the high standard that Bryant held himself to.
"Kobe has always been a strong presence in the media, even after his retirement," Bausman said. "I attribute that to his tenacity and willingness to follow his interests until he mastered them. He wasn't just the largest player on the court, or the strongest. He just had the ability to out-think and out-hustle his opponents. That's something everyone has potential for, but few can achieve like he did. There's a reason everyone remembers him for his 'mamba mentality.' Off the court he continued with that tenacity, he learned like five languages, won an Oscar, earned millions from smart investments."
Bryant's off-court life wasn't perfect. He faced a felony sexual assault charge after an incident at a Colorado ski resort in 2003, but prosecutors dropped the charges at the request of his 19-year-old accuser. The accused filed a civil suit against Bryant, which was settled out of court.
Bryant reconciled with wife, built a family and rebuilt his public image over the course of his 20-season NBA career.
While Bryant may no longer be with us, his legacy will forever be remembered. Different people will have different ways of remembering him, and all are special to each person. Whether it's listening to quotes and speeches like Albert Garza, or just remembering all of his greatest moments,.
"I am most definitely buying some of Kobe's shoes and a jersey," Scott said. "I will also write his number and name on my basketball shoes along with his daughter's name."
"I'll always have a place for Kobe in my heart," Davis said. "But for right now, I'm going to keep my poster of him forever, because legends never die!"
— with reporting by Hannah Zuniga and Javier Vela
This story was originally published on The Shield Online on January 27, 2020.